A year in the life of a Young Adult Volunteer
Published on 2 August, 2017
Isabella Fagiani, 23, from Niagara Falls, New York, writes about her extraordinary year as a Young Adult Volunteer at Castlemilk Parish Church, Glasgow, as part of a Presbyterian Church of America (PCUSA) exchange programme.
The first time I heard the story of how Castlemilk Parish Church came to exist at 1 Dougrie Road, I was covered in goose bumps.
It is a story that goes beyond their move into their new building, past the ordination of their current minister, past the union of East and West parish churches, all the way to the start of the scheme with the remarkable people who still make up the body of the kirk each Sunday morning.
It's a story with a whole lot of God working in mysterious, michevious, and wonderful ways.
During my year as a Young Adult Volunteer (YAV) serving in Castlemilk, I've continued to find myself covered in goosebumps as the story gets told.
It's a story that minister Sarah Brown has provided me with chances to tell since it's become part of my story. While I've found myself in this story for the year, it is one of many stories shared that will stick with me long after I leave.
Community meals
Part of my time in Castlemilk has been participating in a pilot programme to create a dignity framework for community meal providers which meant peer visits with other meal providers.
As we gathered last week to finish up this work, we reflected on the process.
Neil Young, director of St. Paul's youth forum spoke about how powerful it was and is to share the story of their project with visitors. These story telling opportunities showed those involved with these projects that theirs is one worth visiting, that their story is incredibly valuable, and that their story is one worth telling.
Within Priority Areas, the broader Kirk, and in the world, we all have of stories of how we came to be in the place we currently are, doing the work that we do. As time goes on, the story changes as more pages are written and often some details become less important.
The story of Castlemilk Parish Church is no longer just about the journey to the promise land; it includes what we've been doing since we arrived. "By sharing our story we realise the distance we've traveled to get where we are," said Neil Young. And my goodness, we have come quite a ways.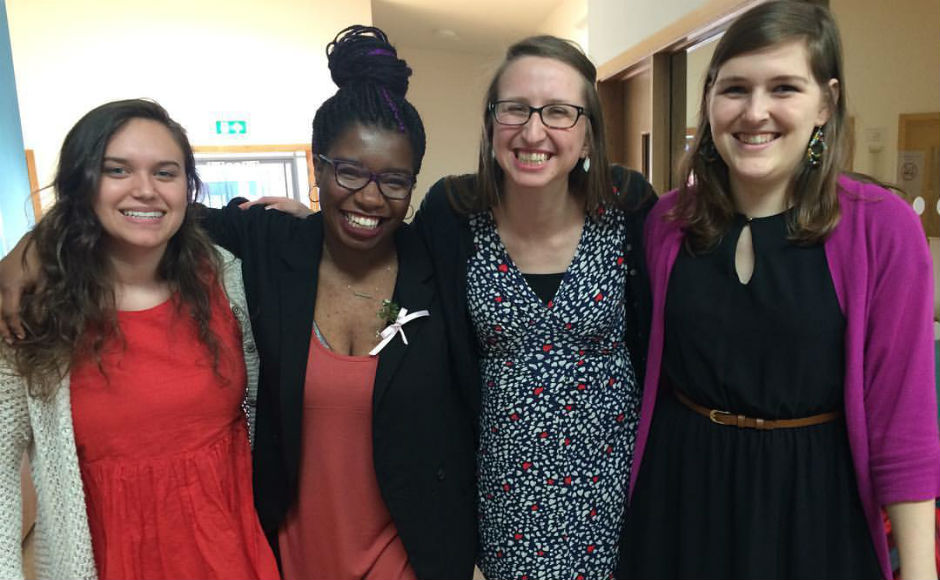 As this year wraps up, I realise it has has been filled with ordinary moments, ordinary people, and has happened a relatively ordinary place which have all compiled into something extraordinary.
In the ordinary of the day to day with frustrations, joys, moments of wondering what on earth we are doing, we can forget that what we're doing, creating wee pockets of God's kingdom on Earth, is extraordinary. It's easy to forget the distance we've travelled.
A few examples from this year of the extraordinary:
A recording studio inside a church with a music project for youth and adults.
An organisation that works with kids day in and day out and let's their ideas guide programming
Pensioners who have more energy and enthusiasm than teens do in someways who gather together for fun as recycled teenagers.
A carpenters workshop where everyone is welcome to come create, have tea, and know they belong.
These things are happening in the four churches my fellow YAVs and I have been placed in. There are countless other stories like these.
Living out the gospel every day
I head home not sure how to explain what I've been part of this year. My idea of church has been upended from Sunday mornings and mid-week gatherings to living out the Gospel day in and day out in all we as a church do. Castlemilk Parish Church is doing this. Priority Area churches are doing this.
It's been an honour to journey with Castlemilk Parish Church during their first year in a new building that allows them to serve at the heart of the community.
Although I am unsure how to explain, I head to the States carrying stories to share. Lived experiences that make me weep, anger me, give me goosebumps, provide me joy, encouragement to keep going, and ones that make my belly ache from laughing.
My home church does the same Christmas pageant every year and while that probably needs a wee update since we're going on 16 years of my family attending, it always ends with the hymn Go Tell It on the Mountain. The point is this: Go tell it on the mountain that Jesus Christ was born. Shout loudly and proudly about what is it has happened.
Sharing God's love
So that's my plan, I'll go and tell about it everywhere as often as I can. I'll tell people the story of who I am and where I have come from. I'll speak for the places I have been. I'll share the stories of what I've seen. I'll share about the people I've come to love and know as family.
I'll share about God's love and goodness which is not meant to be squished in a box but radiating out all over the place far bigger and more powerful than we can imagine as we share in community together.
And my hope is that people within Priority Areas will continue to share their stories from the mountains. After all, the hills are all around in Scotland.