How to pray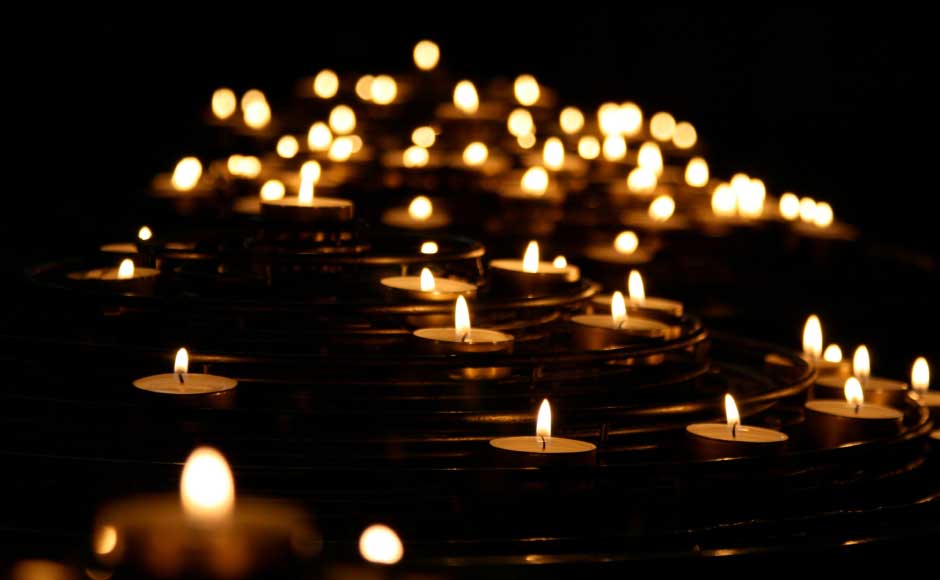 No matter who we are, where we have been, what we are like; everyone can start where they are and begin to pray.
We do not have to wait for a special teaching, a particular moment or spiritual feelings. We can quite simply begin as we are and take it from there.
Talking to God is for everyone
We are often asked the following questions:
What is prayer?
Why do people pray?
How do you pray?
What are you meant to say?
The truth is that depending on who you ask, you will get a different answer! Prayer is something that is unique to you, it is you talking to God. What you say, how you feel and your relationship is unique!
But if you're not sure where to start we have adapted information from Pray Now to help you on your way.
Getting started
It has been said that we learn to pray by praying, not by reading about it. That said, speaking with others and listening to their understanding of prayer can help us reflect upon our own experiences. How to Pray is therefore a collection of thoughts and ideas to help us think about prayer, especially if we are new to it, returning to it or simply want to refresh our prayer life.
One helpful approach is to take as little as five minutes in your day to pray. Each minute is spent on one of the words your parents were always trying to get you to say:
Hello

When we meet with people we know we would rarely pounce upon them with a list of apologies or requests. Usually, we would take the time to say hello, look at the person, shake hands, offer a drink of something or some food and ask how they are.

Similarly in prayer we might look for ways to say hello to God. This could simply involve being quiet for a short moment, reading something from the Book of Psalms or focusing your attention on your breathing.

Prayers written by others, like Pray Now, can be of great help. Other ways are lighting a candle to welcome Christ the Light, settling into a favourite chair or making a hot drink symbolising a desire to rest with God.

It may be worth remembering that we never have to come into God's presence because we are always with God. Times of prayer are simply more intentional moments to make ourselves aware of the ever-present love of God, to remember that 'in Him we live and move and have our being' (acts ch 17 v 28).

Each of these hellos remind us that we have started a conversation with someone important to us and will help us to resist the things that might pull our attention away from spending this time with God.

Sorry

Saying sorry in prayer may be best thought of not as a grovelling word, but as a healing word. When in our daily lives with others we admit where we have got things wrong and say sorry, relationships can heal and grow. This is also true of our relationship with God. Rather than berating ourselves for our daily misdemeanours, God invites us to draw close and be open about who we truly are.

What am I sorry about? What I am ashamed of? Martin Luther King said "The first rule of prayer is: do not lie to God" and this is what we aim for; a growing sense of God's love that helps us to share all that we are with God.

The first rule of prayer is do not lie to God.

Martin Luther King

George McLeod said "We should never rise from our prayers still wondering if God has forgiven us." Yet this is often difficult. In such moments, arranging to speak with a trustworthy person who understands something of our journey into prayer can be invaluable in helping us deepen our sense of forgiveness and a healed relationship with God.

Thank you

Much prayer is in response to something God has done first. This is especially true in our prayers of thanks. While there may be much we are aware of and grateful for, a quiet pause before we begin can help us avoid long repetitive lists of thanks.

Take a moment to look over today or the day before and try to remember moments where something good took place.

Though I may have missed them at the time, where can I now see qualities like (from 1 Corinthians 13:4-7) patience, kindness, honesty, joy, protection, trust, hope, perseverance? Were these ways in which God was showing love to me?

Similarly, we can look at the bigger picture of our whole life, noticing things we may have taken for granted: life-changing opportunities, people who have nurtured us, something that helped us overcome a difficulty or struggle. What has been good for me in my life and how do I now wish to show that I am grateful?

After offering our thanks to God, we may also feel moved to thank others when we see them next. This helps us join our prayers with our living, completing the cycle and begins to tune us in to the moments of God's goodness throughout the day.

Please

The Bible is full of instances of people asking God to bless and protect themselves or others. Many of these requests can seem selfish and self-serving, overly bold or even petty. They might seem to lack the kind of 'spirituality' which we expect to see in these faith-filled characters. Perhaps though, their quality lies in their honesty. Their requests, unpretentious and very human hint to us that prayer is primarily a relationship to explore, not a technique to be perfected.

When it comes to asking God for something, we do not need to pretend to be saints. Author C.S. Lewis said 'Pray what is in you, not what ought to be in you'. This is where we begin and where we might often return to, honestly telling God what we need and asking for it. This relationship does not demand that we are good, but that we are honest, open to the possibility of growing and changing.

A short pause before we begin can be helpful here too. Notice what concerns come to mind and simply talk to God about them. What is worrying me? What has been at the back of my mind? Do I know of someone with a need for comfort or encouragement? This can help us connect with the requests that come from within. In this way we are baring our hearts with honesty to a loving and living God.

Goodbye

With one another we usually have a pattern for saying farewell. People might hug, shake hands, nod and smile and perhaps make arrangements to meet again.

Times of prayer can benefit from similar actions and words. While we know that we do not leave God's presence, bringing clear closure to the time that has been set apart helps us avoid prayers that fizzle out or drift into distraction.

It can be helpful to move towards the end of your prayers with a time of quiet, moving from talking to God to listening to God. If a particular thought comes to mind, you might spend this time talking about it, or simply holding it before God.
The Lord's prayer
Finally, using the Lord's prayer is a wonderful way of gathering all your prayers into one. In doing so we say with people around the world and across century's the words of Jesus that teach us how to pray. These are the words that celebrate the welcome, forgiveness, grace and goodness of God.
Our Father in heaven,
hallowed be Your name.
Your kingdom come,
Your will be done, on earth as in heaven.
Give us today our daily bread and forgive us our sins,
as we forgive those who sin against us.
Save us from the time of trials,
and deliver us from evil.
For the kingdom the power and the glory are yours,
now and forever.
Amen
Pray Now
The extract above was taken from Pray Now: Revealing love which is a collection of modern prayers that can be used by all denominations, by individuals, prayer groups and leaders of worship. Within its pages our relationship with God is explored through the theme of Paul's Hymn of Love.
Drawing on the first Corinthians definitions of each kind of love, this book of prayers by the popular Pray Now Group is about all human relationships and is particularly ideal for confirmation and those conducting and attending weddings, the prayers lead us to a deeper understanding of what it is to love God and to love your neighbour. The 31 daily prayers and prayer activities are set in a different context for each of 12 months and, through repeated reflection across a year, they provide readers with support and inspiration for a deeper, still and reflective relationship with God.
The current edition of Pray Now is titled People of the Way. The People of the Way theme invites you to explore what it means to be a 'person of the way' and part of a 'people of the way' through prayer, reflection and activity. Every day in the Christian life is an invitation to discover more of what it means to follow Christ: in our personal spiritual journeys, in our encounters with one another, in our experiences of God's world and into a future yet to be revealed.
Pray Now is a collection of modern prayers that can be used by all denominations, by individuals, prayer groups and leaders of worship. Each year, our relationship with God is explored through a theme. It gives a place to start when you feel you have no words of your own, and prayer activities that allow time to think and space to listen. They also prompt action and movement when the words just don't seem enough. The Pray Now Group is a team who care deeply about the role of prayer in our lives. Drawn from an ecumenically minded Church of Scotland group, their work is written for a wide, diverse and international readership.
How to order
Pray Now is produced each year by the Office of the Resourcing Worship team, part of the Mission and Discipleship Council. It is published on its behalf by Saint Andrew Press, the Church's publishing house.
Pray Now can be purchased in hard copy, or Kindle version from the St Andrew Press website.