Don't worry I'll be back by lunch - poignant last words of Holocaust heroine
Published on 22 September, 2016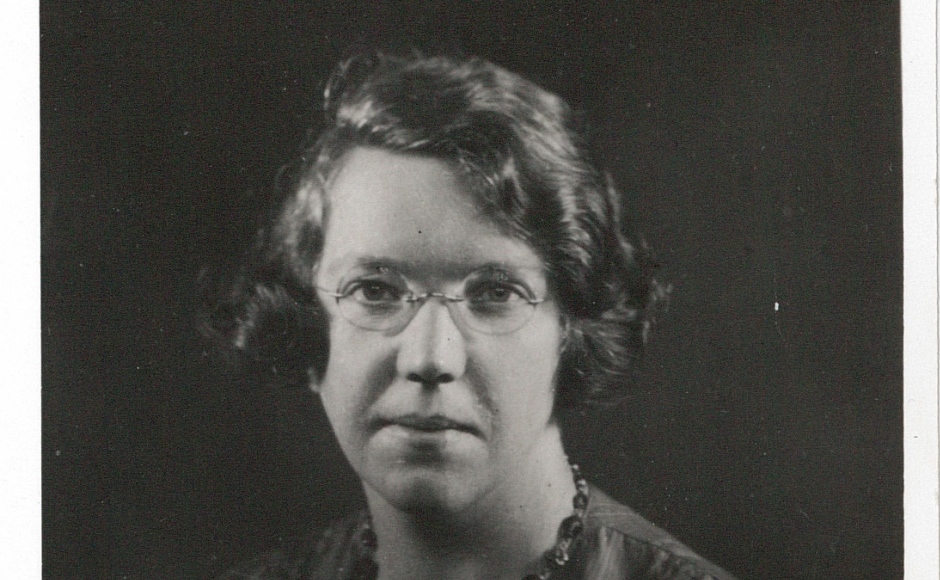 A brave Kirk missionary who died in Auschwitz after refusing to abandon Jewish girls in her care told sobbing pupils "Don't worry, I'll be back by lunch" as she was takenaway by the Gestapo.
Jane Haining's haunting last words were recalled by one of her "girls", Agnes Rostas, who has publicly spoken out for the first time about her memories.
She joined eight other women at emotional memorial events held in the Scottish Mission in Budapest, Hungary.
The former pupils, who are now aged between 80 and 91, were quietly dignified as the poured over new photographs which triggered traumatic memories of how they were all dispersed and hidden within an hour of the boarding school matron's arrest 72 years ago and given new names.
One of them told how she was taken to the notorious extermination camp in Nazi-occupied Poland with her family and was the only member to survive.
Mrs Rostas, 80, revealed she was among a group of distraught primary school children who looked on helplessly as secret police searched Miss Haining's office and interrogated her for hours before arresting her on eight trumped up charges of espionage.
The missionary, who was jailed in Budapest before being eventually taken to the death camp where she died at the age of 47, was betrayed by the school cook's son-in-law whom she caught eating scarce food intended for the girls.
Righteous among the nations
Mrs Rostas, a Jew, only learned of the "mother figure" matron's tragic fate 40 years later at a memorial event in St Columba's Church, which is next door to the now state-run primary school.
"On the morning of that day German officers were visiting Miss Haining and from our bedroom window across the hall, we could see her room, she poignantly recalled.
"After hours of questioning we could see that the two officers were taking her away and as they were going down one set of stairs, we hurried to another set to follow them down.
"We were sitting at the foot of the stairs crying and she looked back and said to us 'Don't worry, I'll be back by lunch'.
"That was the last time I saw her and I found out 40 years later she had died in Auschwitz."
Miss Haining was on holiday in Cornwall when war broke out in 1939 - seven years after she took up her post - but immediately returned to Budapest and her charges whom she was devoted to.
The majority of the children at the primary school were from Christian families but some were Jews.
An avid listener of BBC radio, Miss Haining was fully aware of the growing threat the Nazis posed to the Hungarian Jews but was determined to ensure that it was a place were all children would feel safe and protected.
She was repeatedly ordered by the church to return to Scotland, but refused, writing "If these children need me in days of sunshine, how much more do they need me in days of darkness".
The former Coats factory worker in Paisley is the only Scot named as "righteous among the nations" – non-Jews who risked their lives to save Jews from the Nazis –by Yad Vashem, Israel's Holocaust memorial.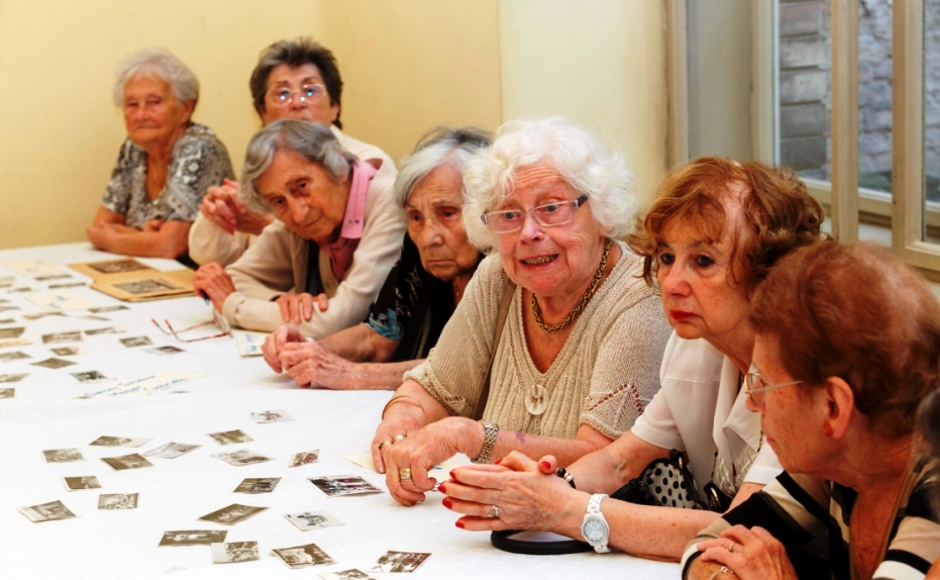 Miss Haining's "girls" R-L Eva Wertner, Dr Zsuzsanna Pajzs, Gabriella Decsey Istvanne Magyar, Jutka Vago Gyorgyne Sebestyen, Agnes Rostas, Judit Beck
No longer a safe haven
A group of 26 Church of Scotland Ministers and members were in the Hungarian capital last weekend to commemorate the extraordinary bravery of Miss Haining, prisoner 79467, and to mark the 175th anniversary of the Scottish Mission in Budapest.
An exhibition, which charts the Mission's history, is on display and brought back bittersweet memories for the pupils.
Last week the Kirk revealed that Miss Haining's handwritten will, dated July 1942, and previously unseen photographs of the matron, Scottish Mission staff and pupils had been found in the World Mission Council's archives in Edinburgh.
Mrs Rostas, a pupil from 1942-44, revealed that all the girls at the school were returned to their homes or sent into hiding within an hour of Miss Haining's arrest because it became clear to staff that it was no longer a safe haven.
She recalled the day when Miss Haining cried with the girls as she sewed the yellow star of David – designed to publicly identify Jews – onto their clothes.
But the matron insisted that none of the girls would wear garments bearing the badge of shame while inside the building.
"Miss Haining was very caring but she was also very strict," said Mrs Rostas, who lived in the boarding house until she was eight years old.
"She was a very influential figure and really shaped my life and I feel very grateful when I remember her.
"I received a good education and a good upbringing at the school."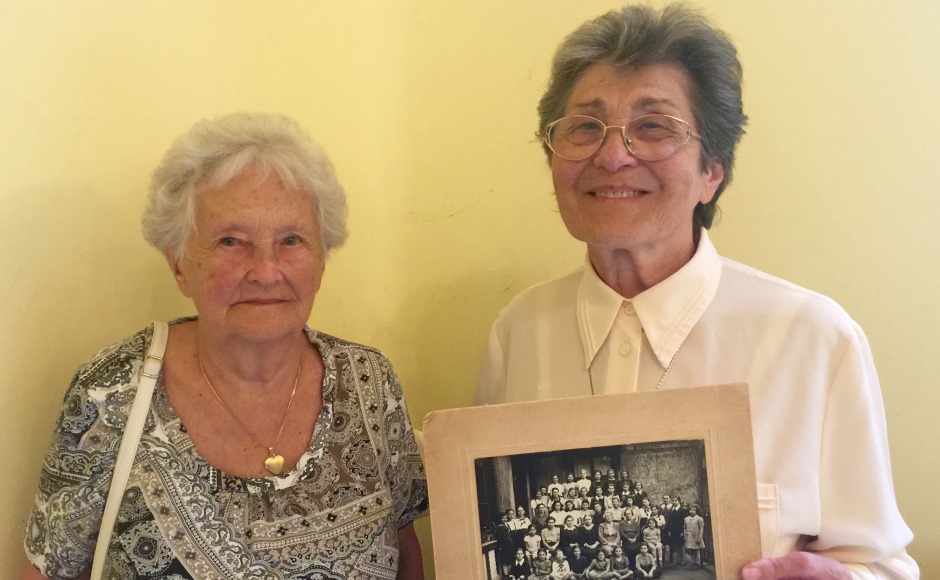 Judit Beck and Agnes Rostas with school photograph they appear in with Miss Jane Haining
Mother figure
Mrs Rostas recalled that at the end of every school day the matron from Dunscore near Dumfries, took the time to ask about what they did in class that day.
"Miss Haining respected order and expected order from us and in the evening when you were putting your things away, everything had its place," she said.
"Before we went to the dining room she would check our fingernails to make sure that we were clean."
Mrs Rostas said she has laid flowers beneath the sign of a road in Budapest, near the River Danube, which has been re-named in the Scot's honour.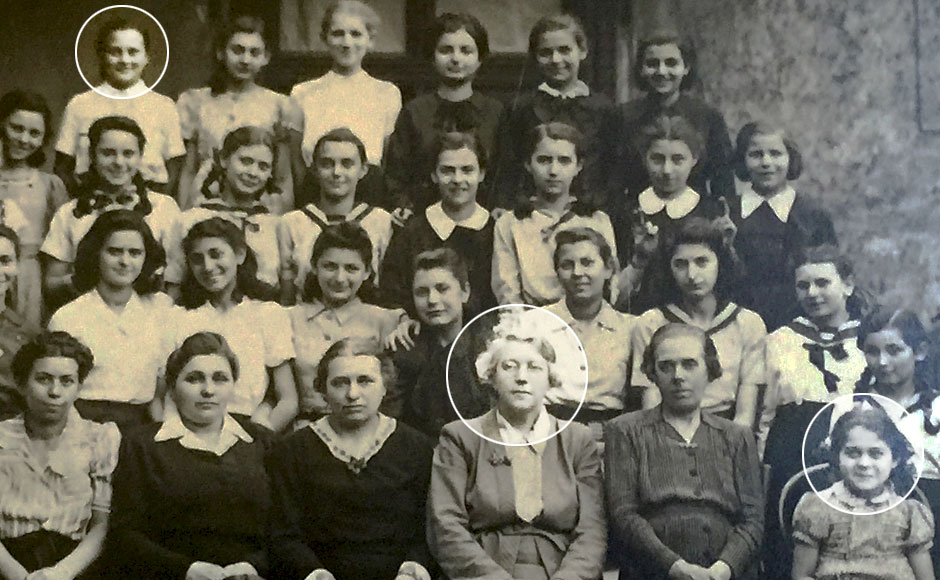 Jane Haining with Judit Beck (top left) and Agnes Rostas (bottom right)
Former pupil Sandor Juhasz, 83, attended the 175th anniversary service on Saturday to pay her respects to a woman she also regarded as a mother figure.
She lived in the boarding house of the school, which was predominately Christian but took in Jewish pupils rejected by other institutions, between 1942-1944.
Mrs Juhasz, a Christian whose husband is a Reformed Church of Hungary minister, said: "I have a special memory of Miss Haining.
"Once I got really sick, I had a bad throat ache and had a strong fever for a long time.
"I had to go hospital for an operation and when I went back to the school, Miss Haining was so worried about me she decided that I would sleep in her own room on a sofa.
"She personally took care of me and gave me food.
"She slept next to me, and was like my mother, very kind and very loving."
Mrs Juhasz said she had many fond memories of her time at the school.
"I learned what discipline and organised life meant," she added.
"Miss Haining would pat our heads and hug us.
"We were treated all the same, maybe my best friend at the time was a Jewish girl but I do not know."
But Mrs Juhasz, who said each morning started with a Bible study and prayers, said Miss Haining was strict.
"In the study room every student had a box where we would keep our personal materials," she recalled.
"If the box was not properly organised, the contents would be shaken out in the middle of the room and we would have to reorganise it.
"In our dormitories, we would have to make our beds every morning and if we didn't we would come back in the evening and find the mattresses standing next to the wall."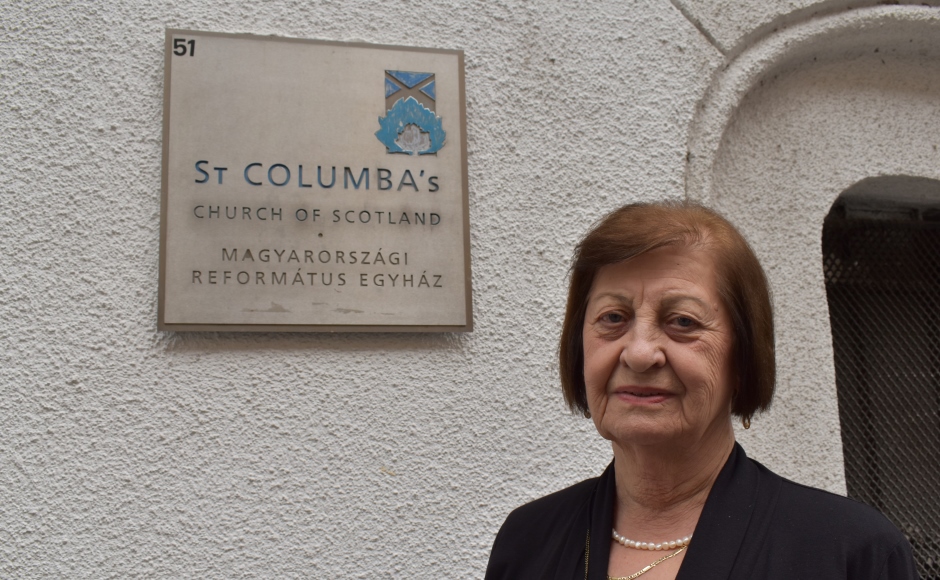 Sandor Juhasz was personally nursed back to health by Miss Haining and only found out in 2010 that she had died in Auschwitz.
Yellow stars
Hungary was an ally to Germany during the Second World War and Mrs Juhasz said she knew nothing of the growing chaos in Budapest when Adolf Hitler finally turned his attention to the city's Jewish population in 1944.
"I was not aware of what was going on outside, firstly because my parents would not talk about it when I would see them and secondly because this place (the school) was such asafe haven we did not notice anything," she added.
"When the rule came that yellow stars had to be worn on shirts, no one had a yellow star inside the building.
"When someone arrived they would have to take off the stars immediately, the students did not see people coming in with stars therefore we did not understand that something was going on outside."
Mrs Juhasz said her parents took her back to their countryside home after Miss Haining was arrested and the family solely focused on staying alive.
She assumed the matron had returned to her native Scotland and lived a long and happy life but discovered in September 2010, via a newspaper article, that she had died a slave labourer in Auschwitz.
Mrs Juhasz said she was "terribly shocked" by the news.
Former boarder Judit Beck, 87, who attended the school from 1940-1944, was also taken to notorious extermination camp near Kracow in Poland at the age of 14 and miraculously survived.
She said she was not aware that Miss Haining was in the same camp complex because children were kept separate from adults.
Mrs Beck, a Jew who is pictured in an old school photograph with the matron and Mrs Rostas, described a feeling of "complete hopelessness and terror" in Auschwitz and was the only member of her family to survive due to sheer luck.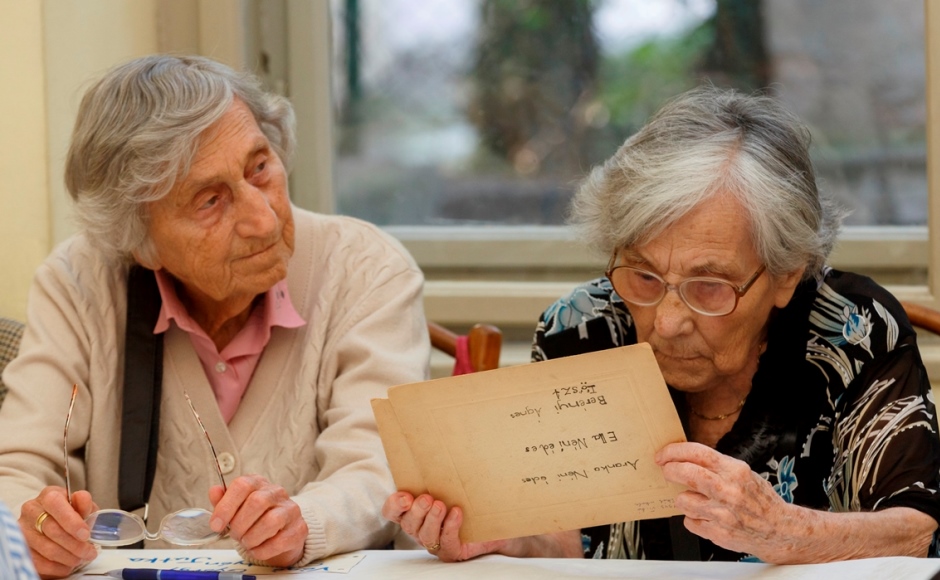 Miss Haining was our beloved matron say Jutka Vago Gyorgyne Sebestyen and Gabriella Decsey Istvanne Magyar
Dr Zsuzsanna Pajzs, a former day pupil at the school who managed to survive the war by assuming a new identity, described Miss Haining as a "wonderful person".
The Jewish cardiologist, 85, said: "The whole school had a vision, a spirit to it - morality, humanity and tolerance - and a very high quality of education.
"It was outstanding and accepted the Jewish girls that no other school would accept.
"Although I did not stay in the dormitory, I crossed paths with Jane Haining often and she always smiled at me."
Dr Pajzs, who revealed she was still working, said it was "heartbreaking" to hear statements and comments today that reminded her of anti-Semitism in the 1930s and 1940s.
Asked if she had a message for the matron's relatives, she said: "I would like to thank them for Jane Haining and ask them to continue what she gave in the sense of being humane and showing love for all people.
"I hope by being kind to all people, they will never be asked to give the same sacrifice that she gave."
Faith expressed through love
Rev Ian Alexander, Secretary of the Church of Scotland World Mission Council, said: "Jane Haining's story is one of heroism and personal sacrifice."
Rev Iain Cunningham, convener of the World Mission Council, added: "Meeting former pupils who knew her in person and hearing their stories first hand has been deeply moving."
Rev Aaron Stevens, minister at St Columba's Church who translated for the Hungarian speaking pupils along with Dora Kanizai-Nagy, said: "In his sermon, the Very Rev Angus Morrison referred to our anniversary motto from Galatians 5: 6 - 'The only thing that counts is faith expressing itself through love.'
"No one lived out this ideal more consistently than Jane Haining, so it was especially poignant that former pupils of the school joined us for Sunday worship.
"I could tell the congregation was moved by their presence with us, as was I.
"In our conversations with these women, we were struck by similarities between how Jews were treated in those days and the experience of refugees to whom we reach out to today."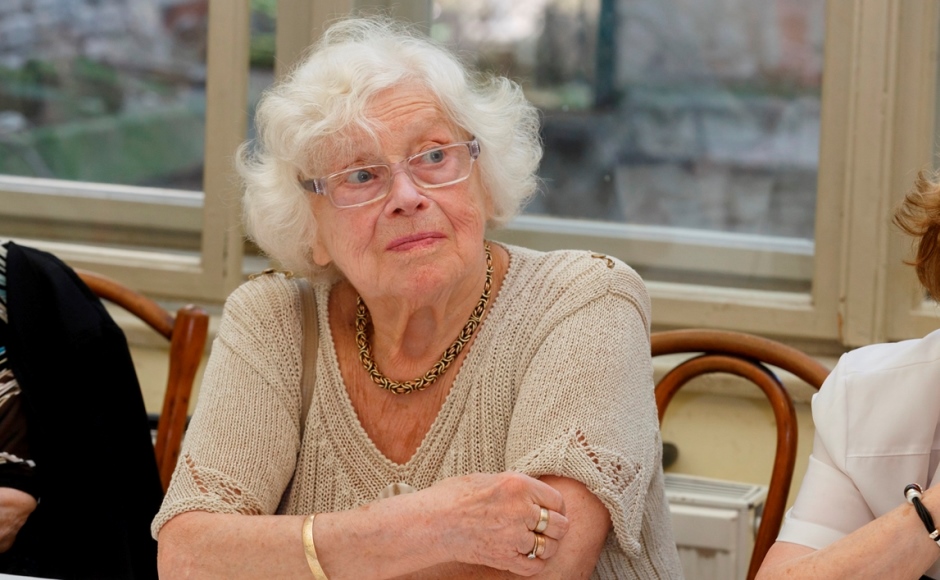 Dr Zsuzsanna Pajzs described Miss Haining as a "wonderful person" who always had a smile for her.
Not blinded by race or religion
Andrew MacPherson, Moderator of the Kirk's National Youth Assembly, said: "It was inspiring to see the impact that Miss Jane Haining had on the former pupil's lives and how vividly they remembered her and her work 70 years later.
"Part of the exhibition opened over the weekend focussed on her being a 'Fine example of a Scot Abroad' and she sets an incredibly high example.
"Her love was not blinded by race, religion or anything that was used to separate people at the time.
"It's an example I can only aim to uphold in my work."
Miss Jane Haining is a former member of Queen's Park West in Glasgow where two stained glass windows bear tribute to her "service and sacrifice".
Listen to World Mission Secretary Rev Ian Alexander interviewed onabout the visit to Budapest, scroll to near the end of the programme and listen from 1 hour 25 minutes.