Extremely positive reaction to Kirk presence at wedding fair
Published on 29 August, 2016
Kirk ministers took the unusual step of promoting the wider benefits of getting married in church at a wedding fair in Fife yesterday.
Rev Mary Ann Rennie and Rev Monika Redman presided over an information stand at the Glen Wedding Show at the Glen Pavilion in Dunfermline to explain to couples why they should consider getting married in a "safe, sacred place".
They said the event, backed by Dunfermline Presbytery, marked the first time the Kirk has taken part in a wedding fair in Fife and illustrated a desire to reach out to people in different environments.
Delight and joyful
Both ministers said it was a "great day" and the public response to the Church's presence at the fair was "extremely positive".
They were joined by Lorraine Fraser, Dunfermline Presbytery secretary, Rev David Redmayne of Beath and Cowdenbeath North churches and Rev Dr Jean Kirkwood of Townhill and Kingseat churches.
People who get married in churches are welcomed into the life of the congregation and provided with lifelong guidance and support.
Mrs Redman of the town's St Leonard's Church said: "Marriage is such a significant moment in people's lives and the church is there to ensure a life-time commitment is made better and better.
"It was a great day and a delight to be a part of something so joyful, talking with people obviously excited at the prospect of planning their big day.
"We had lots of opportunities to remind people of how easy it is to celebrate their wedding within a church, and prepare for married life, through starting a conversation with a church minister.
"Our slide presentation gave a flavour of the kind of church buildings- both ancient and modern - that are around our communities, and what it can look like to invite friends and family to share in a wedding ceremony within them."
Encouraging
Church of Scotland marriages topped the list of ceremonies conducted by religious and beliefs-based celebrants.
More than 4,000 couples chose to be married by a minister, who does not charge for their services, in a religious ceremony last year.
Mrs Rennie, minister at Dunfermline Abbey where people have been getting married for nearly 1,000 years, said there was much more to a church marriage than having a service in a building.
"It was good to be at the wedding fair, and to meet those thinking about being married and the other businesses represented.
"It was a lesson in how uncertain some people can be about approaching ministers.
"We took the opportunity to be bold and start conversations, pointing out that we were not selling ourselves but letting them have information about why church weddings (or at least inviting a minister to take a ceremony) might bring a new spiritual aspect to their day.
"The response was extremely positive, and those who hadn't already booked ceremony venues or celebrants readily took information.
"What was especially encouraging was that those involved in other businesses were also encouraging either sending people in our direction, or pointing us in the direction of those who in conversations with them had revealed they were looking for somewhere special to be married.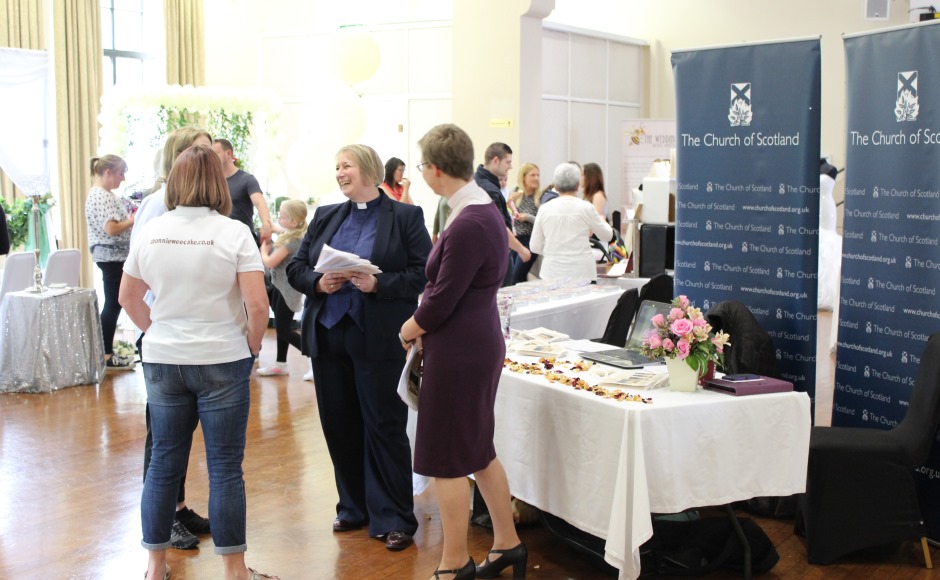 Mrs Rennie said a wedding also represents the life that comes afterwards.
"Getting married in church can be the beginning of a relationship that will support you throughout your life," she added.
"A church wedding allows you to focus on the relationship between the couple, and their family and friends—the people who will support them as a couple.
"If you get married in a church, you then may want to share your joy by bringing your baby to be baptised and to count on your church family as you go through more difficult experiences in life, such as losing a job, or when a family member dies.
"Those relationships are what count and you strengthen them when you make that first encounter through your church wedding."
Speaking before the wedding fair, Mrs Rennie said both she and Mrs Redman felt that many people do not realise that churches like to do weddings and ministers are friendly.
"We have become almost side-lined in the midst of all of the preparations and we want people to know that they matter to us and weddings matter to the Church," said the Dunfermline Abbey minister.
"We like to celebrate and there is nothing better than celebrating love."
Jesus did not hide
Mrs Rennie said the Church was almost doing itself a disservice by not attending wedding fairs.
"We expect people just to come to us but the reality is that is not Christian faith," she explained.
"It is about going to where the public is and a recognition there are people already going to wedding fairs who offer a different understanding of marriage.
"So if we want to put our understanding of marriage out there, then we have to be at fairs explaining that.
"Jesus did not hide in the synagogue, he was out there talking to people and for me that is what it is all about at the deepest level."
Mrs Rennie said King Malcolm of Canmore married Queen Margaret close to the present day Abbey in 1070.
"Dunfermline Abbey is a beautiful place and people have been married there for nearly 1,000 years," she added.
"On that sacred site you are putting your feet on history, which is quite a magical thing," she added.