CrossReach projects lead the way in social care provision
Published on 2 January 2019
Jackie Macadam, feature writer for Life and Work magazine, offers a snapshot of just some of the innovative work carried out today by the Church of Scotland's Social Care Council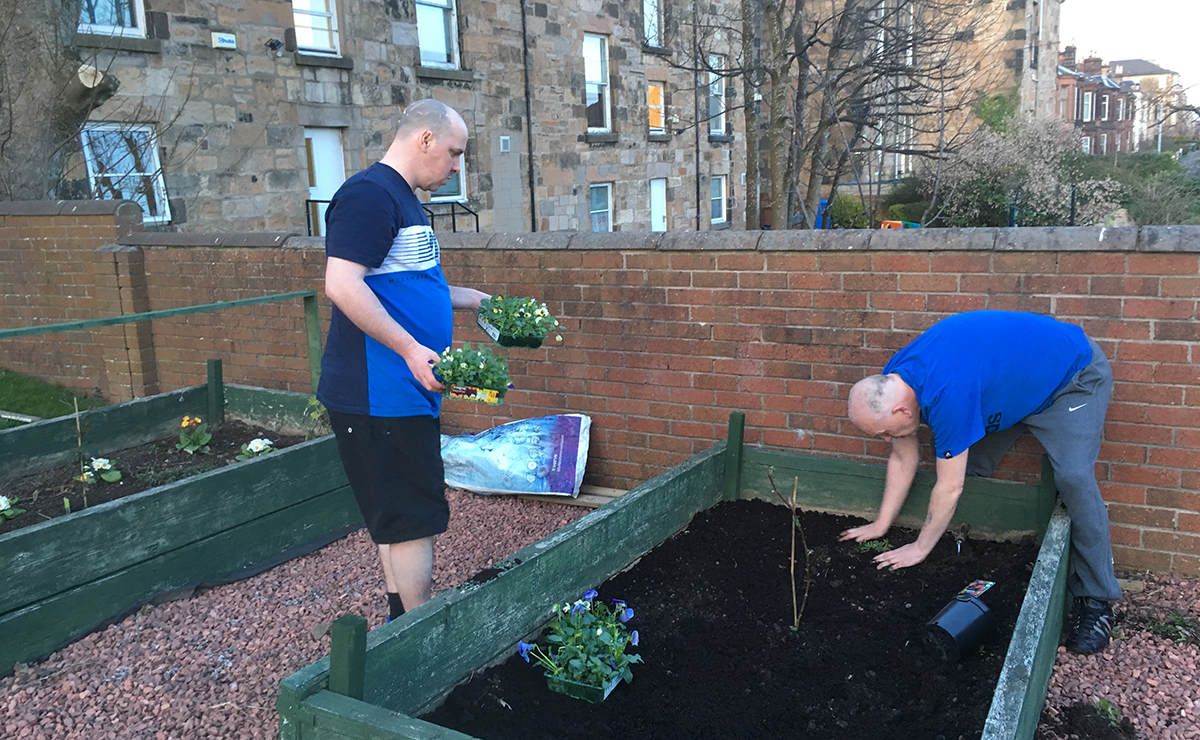 This article first appeared in the January issue of Life and Work, the magazine of the Church of Scotland. You can subscribe to the magazine here.
CrossReach, the Social Care Council of the Church of Scotland, has long been an innovator – leaders in the field of social care of all kinds.
Though their care homes are well-known, and are to be found the length and breadth of the country, they also work in many other areas on specific projects, catering for different groups of often marginalised people.
Heart For Art, using the creativity of art to help people with dementia, is a huge success and now has projects in many churches.
But there are less well-known projects as well, but they are working away steadily behind the scenes, and under the headlines.
Lewis Street Project
One such project is the Lewis Street Project, based on the Isle of Lewis in the Outer Hebrides.
Calum MacKay is the manager of the project that aims to help people who have had mental health issues to move back into society. The service is run by one full-time and two part-time members of staff.
"We all experience ups and downs in our mental health throughout life, and these are often affected by our circumstances. You might work through these difficult moments on your own or with support from friends and family; or you may be given a diagnosis of a particular mental health problem and make use of formal support to recover.
Each person's experience is different," says Calum.
"Much like health in general, mental health is something we all need to take care of. Good mental health allows you to cope with the stresses of daily life, to build good relationships with other people and to deal with a range of emotions. However, if you experience a period of poor mental health, you may find the ways you are thinking, feeling or reacting are often difficult – or even impossible – to cope with.
"Mental health problems are a common experience, affecting at least one in four people every year. Additionally, being able to make use of the right support at the right time is important for a full recovery. Support services are therefore needed everywhere, but are often concentrated in urban areas.
"Historically, there had been a lack of social housing as well as limited support for people experiencing mental health problems in the Outer Hebrides. Since 1994 though, CrossReach has been working with the local authority, health board and Hebridean Housing Partnership to support people in the Western Isles who have been diagnosed with a mental health problem, or who have a learning disability.
"Our Lewis Street Project provides supported tenancies in the local community in order to help people to prepare for living independently after, for example, a stay in hospital on the mainland or in temporary accommodation. We have five self-contained flats and are funded partly by Western Isles Council and partly by Housing Benefit from central Government.
"Our aim is to enhance the quality of life and maximise the potential of those who access our service. Tailoring our support to each person is at the heart of this and helps people to develop independence with responsibility.
"People who use the service work consistently with a member of staff so they can build trust and a positive working relationship. Initially, staff may have to advocate on the tenant's behalf to ensure they get access to the opportunities they are looking for, but we focus on supporting people to gain the social skills, confidence and other skills required to maintain their own tenancy. It means a lot to us when people feel able to attend the local college to undertake further study, or to take on voluntary or paid employment.
"Occasionally as staff, we can be faced with challenging situations that require liaising closely with our health and social work colleagues. We want to ensure that a seamless service can be provided and we can continue to support people in the community once they move on from Lewis Street. Once a tenant is ready to move on, Hebridean Housing Partnership will support tenants to achieve their ultimate goal in their journey to obtain their own mainstream tenancy. "
Karen (not her real name) arrived from her family home. She felt the need to progress to independent living in the community but in order to achieve this she required the necessary skills and supports. Since arriving she has adapted to her new found independence. In her own words she describes what the move has meant.
"Since arriving, I've gained 100% more confidence and I love taking strict responsibility for everything that I do." Karen has taken responsibility for budgeting, maintaining her flat to a high standard and in addition to this has a structure to her week that includes day and evening activities. With this progress, it will not be long till her full potential is realised.
"We are grateful to be a small part of the Western Isles' church community. The Church of Scotland's Western Isles Presbytery has become a 'Presbytery Friend' to CrossReach, meaning that church members engage in fundraising activities and offer prayerful support which Lewis Street, and our sister project, Dochas, have greatly benefitted from."
The Dick Stewart Project
"The Dick Stewart Project is owned by local authority and managed by CrossReach, Church of Scotland, and is funded by the local authority," says Daniel Paita. "In a nutshell we provide supported accommodation for male offenders who have recently left prison.
"The original Dick Stewart was a local councillor who wanted a project that would stop young offenders going to prison. It was also a bail hostel and evolved through the years into the service we have now.
"The service provides support and accommodation for seven adults who are subject to community payback orders, bail, non-parole licence, parole licence, and supervised release orders and drug treatment and testing orders. This includes provision of a home leave facility for prisoners who have access to the community while on licence. A high majority of people that use the service are Long Term Prisoners (LTP's) ranging from anything from, say four years up to the longest served prison sentence of 31 years.
"The service operates within a large house in the east end of Glasgow. It's a 24 hour supported accommodation with seven staff in total. Staff at the Dick Stewart service provide an excellent quality of care. They provide a safe environment as well as monitoring and supporting individuals. Service users are helped to establish stable independent, offence free lifestyles in the community. The service works with and effectively supports service users who have a range of complex needs. Staff understand the need to monitor and appropriately manage any identified risks in relation to individual service users.
"Service users are required to have an active involvement with a criminal justice social worker, and to participate in an individually structured programme. The aim is to help reduce re-offending behaviour and give public protection. Staff work closely with all support networks involved in using the Dick Stewart's services. We work with social workers, addiction workers, Community Psychiatric Nurses (CPN's), Occupational therapists (Ots) and Sacro Workers, the charity that works specifically with prisoners.
"It's not just a through care course though – at present one service user that has just recently gained his own tenancy is taking part in volunteer training within CrossReach. Our hope for the future is for him to return to the Dick Stewart service to take part in volunteering within the service.
"My job as a support worker and key worker is to deliver practical support and advice to all service users," says Daniel.
"These include giving information on all the local health professionals in the area, self care, housekeeping, claiming benefits, money management, cooking, cleaning, health and wellbeing, diet, paying bills, keeping appointments, managing time and applying for and managing a tenancy.
"The service has developed and embedded the use of 'Outcome Star' which is a tool used for measuring service user outcomes through this all of the above will be identified and prioritised by the service user. The10 points of the outcome star will be completed in three stages and worked on throughout their stay at the service.
"The service offers a small amount of after care once the service user gains their own tenancy.
"The impact on the community is a positive one," says Daniel. "If the individual remains within the community and has received the support and advice that has and will continue to help them not to re-offend.
"I've worked within the Dick Stewart Service for 13 years," Daniel says. "My experience is mostly positive. I've seen a majority of people that have used the Dick Stewart services gain their own tenancies, gain employment, continue with volunteering and the most important one is to remain in the community.
"I've also seen some who have returned to use the service again more than once.
"Another aspect of the service are the 'home leave' beds.
"H M P Castle Huntly have access to two Home leave beds and through this two people are able to use these rooms and be tested in the community to work towards gaining their freedom, they come out on licence conditions and staff work closely with he prison staff to make the experience a positive one."
Erskine Waterfront Campus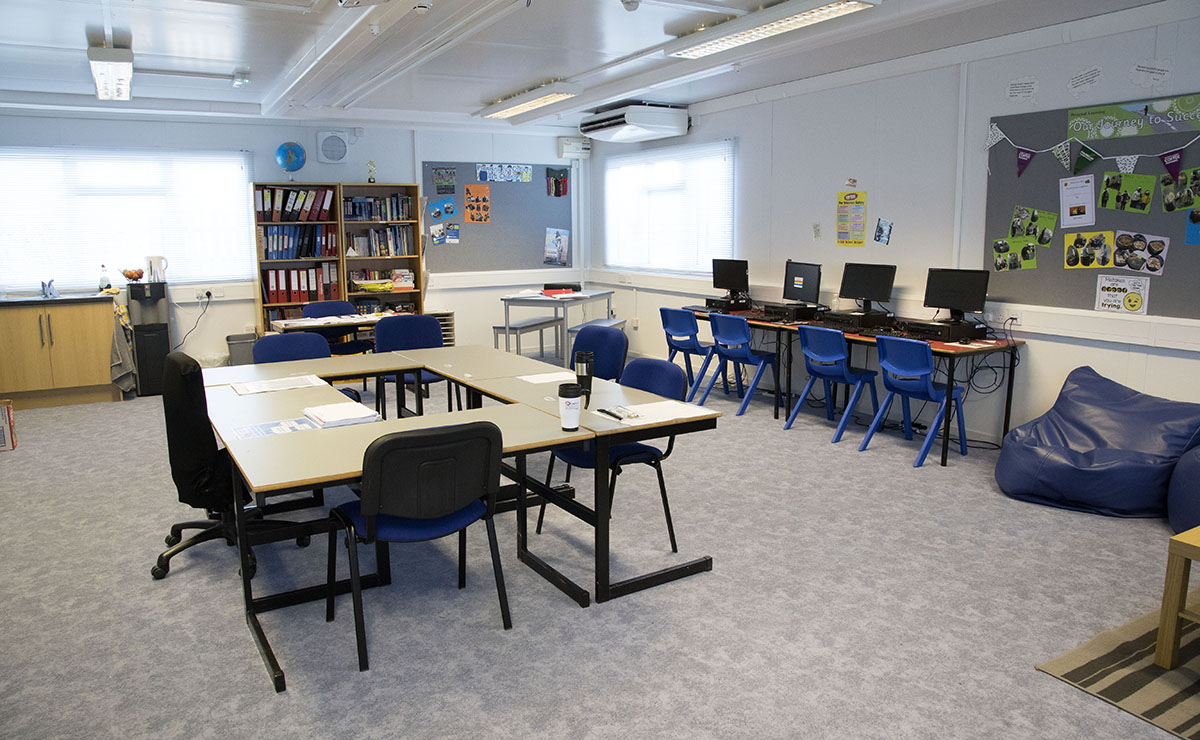 "Erskine Waterfront Campus is the only school within CrossReach, committed to helping those youngsters who have previously been harmed by relationships to be healed by positive relationships and rediscover the chance to learn again and flourish," says Kyle Fleming, Head of Education.
"The impact of surviving early years trauma, neglect and abuse, leaves children disadvantaged by complex additional support needs and unable to access the supports that a local authority might offer. There is therefore a need for services like ours to protect and nurture the children in our care, make them feel included and to help them achieve in life. They are all unique and hold untapped potential.
"We are guided and motivated by a Christian ethos of love, compassion and care for all. But you don't have to be churchgoer, a member of the Church of Scotland, or even a person of faith to use our services, work for us, or support our life-changing work.
"Erskine Waterfront Campus combines the talent and experience of two schools, formerly run by the Church of Scotland's Board of Social Responsibility; Geilsland and Ballikinrain. Both original schools began in the 1960s providing residential care and education as dedicated and specialised support services to local authority children from right across the country. Partnership and a shared vision has brought the schools together on this new campus, through a four-year transition, to become a modern and forward thinking service for those learners that need us.
"We currently provide an education service for children and young people, aged 7-16 years, with complex Additional Support Needs, both residential and day pupils. We have a roll of 36 pupils, in small class sizes a maximum of six pupils supported in their learning by a teacher and Support for Learning Practitioner.
"Our new campus offers a range of bright, spacious learning areas which we have created to suit the specific needs of our pupils and opportunities to be involved in our local community. Our central courtyard offers a safe place for pupils to learn valuable problem solving and social skills through play, under the supervision and guidance of our highly trained staff.
"Unfortunately many of our pupils have often had a disrupted and negative experience of education. Our staff team deliver engaging lessons and activities. Our whole school ethos is based on providing positive, nurturing relationships delivered within safe, stimulating learning areas.
"Our relationship and attachment focused approach creates an enriched learning experience for pupils, based on their strengths, skills and interests.
Our school community reaches out beyond our immediate locality to children in communities from the north of Scotland to the north of England.
"We seek positive destinations for our youngsters.
"Of the 63 young people that we supported last year, 35 moved on to pastures new, in a planned and supportive way."
Over the next 12 months, Life and Work will be offering a focus on the broader work of CrossReach as part of the 150th anniversary of social care within the Church of Scotland.