Crosses planted in church garden for drugs death victims
Hundreds of wooden crosses for people whose deaths were drugs related are being planted in a church garden today.
The memorial at Springburn Parish Church in Glasgow is a stark reminder of the toll that substances continue to take on families and communities.
The white crosses, which are around 7inches tall and made by former addicts in recovery, are being planted ahead of a candlelight march later to remember all those who tragically lost their lives.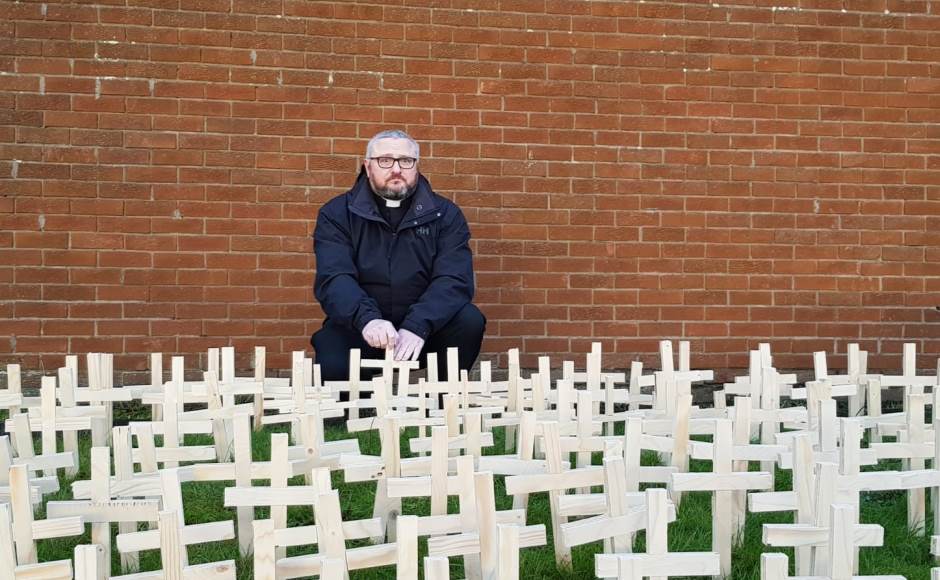 More than 300 people, including elected politicians and those campaigning for seats in the House of Commons, are expected to take part in the event in Springburn along with public sector workers and representatives from Police Scotland.
The church bells will toll as they process in sombre reflection as calls for a different approach to tackle the scourge grow.
Addiction can affect anyone
Rev Brian Casey, minister of Springburn Parish Church, said drug addiction must be treated as a "public health emergency".
Official statistics show that there were 1,187 drugs related deaths in Scotland in 2018, up 27% on the previous year.
The death rate is higher than any other EU country.
Police figures show there were 551 suspected deaths between April 1 and September 27 this year.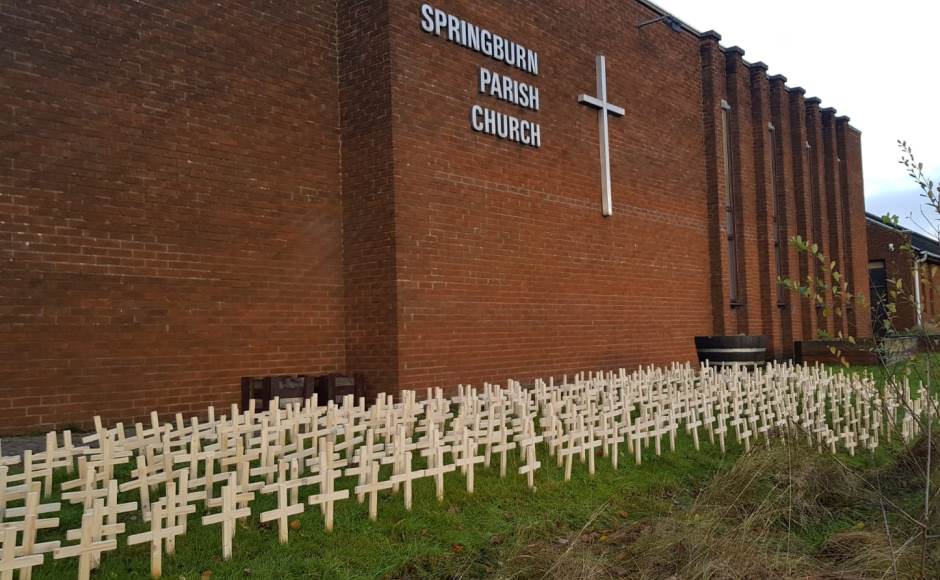 Mr Casey revealed that around a third of the 500 funerals he has conducted over the last five years were drugs related.
The former police officer, said: "The time has come to break the stigma that drugs related deaths are always self-inflicted.
"Addiction can affect anyone and most families will have experience of it.
"The walk will show that we all want change and improvement that leads to a drop in drug deaths and more understanding and facilities to help those who are living with addiction."
The cross memorial is the centrepiece of a day of action organised by Springburn Parish Church and Faces and Voices of Recovery (Favor), a UK charity that campaigns for change.
Investment in rehabilitation
It has published a report which contains 23 recommendations on how to improve the current drugs issue which has been presented to the Scottish Government.
Annemarie Ward, chief executive officer of Favor, claims not enough is being done to ensure addicts are able to recover and live independently, particularly regarding investment in residential rehab facilities.
Springburn is a Priority Area - a community where deprivation rates fall within the bottom 5% across all of the social and economic indicators.
Support services run by the Church of Scotland's social care arm enable many drugs users to recover and live free from substance abuse.
CrossReach runs recovery orientated support services in Glasgow, Edinburgh, Inverness, Angus, Dundee and the Outer Hebrides.