Glasgow church group explores faith through art
A church is using art to encourage young people to explore the wonders of Christianity.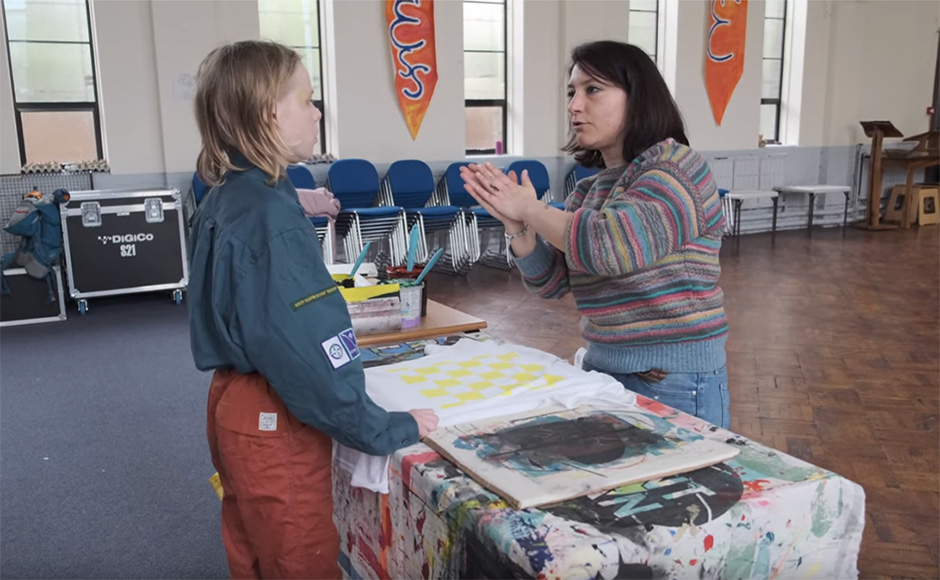 St Paul's Parish Church in Glasgow has teamed up with local artists to create innovative prints.
The work celebrates diversity and is aimed at bringing people together and helping them "improve" their lives.
The Faith Through Art club meets just before the St Paul's Youth Forum community meal every Tuesday.
Rev Daniel Manastireanu, the minister of Glasgow St Paul's Church, said: "The Faith Through Art club is run by our youth leaders Ben Raw and Rachel King.
"They are doing an amazing job at gathering young people to explore faith through a variety of art forms."
Ben Raw said: "At the end of April, we were privileged to welcome Glasgow City Council artists-in-residence for the north east of Glasgow, Zoe Walker and Neil Bromwich.
"They were joined by Arianna Mele, a practising fashion and textiles designer to run a print workshop."
All the participants had the chance to make a t-shirt or a tote bag using the prints that Arianna Mele had prepared.
These prints were inspired by parts of the 'Easterhouse Mosaic', a huge piece of contemporary community art in the north east of Glasgow which came into disrepair in the early 2000s.
No two prints or people are the same
"Each person who made a t-shirt or tote bag may have used similar prints, but no two t-shirts or tote bags were the same," Ben said.
"They all applied a different amount of pressure, and positioned their prints differently or used different colours, resulting in a slightly different effect.
"Although there was a common theme and there were similarities in the designs, each was unique and beautiful to each individual.
"In the club, we have been looking at difference and how people's differences, uniqueness and quirks are things to be celebrated and loved even though we are often told they are things to be wary of or feared.
"This session used the power of art to bring lots of different people together to celebrate each other.
"The beautiful things made mirrored the beauty of the people making them.
"People are often told they are not good enough in obvious or suitable ways, but Zoe, Neil and Arianna used art to build, celebrate and nurture community and the individuals in those communities.
"We give thanks for the community we are part of and proclaim that we are not only good enough but we are worthy of celebration."
Art brings people together and reaches hearts
St Paul's Parish Church has been focussing heavily on integrating faith through art into their events and gatherings this year, with the congregation, Youth Forum, lunch club and other local partners following the theme of 'Year of Nurture'.
Ben Raw, who helps co-ordinate the Faith in Art club, won 'Faith Based Youth Worker of the Year' at the YouthLink Scotland Awards in March this year. He said:
"It is an honour have won the 'Faith Based Youth Worker of the Year' award.
"We are often told that young people simply do not care about things that define their lives, their lives, communities, nation and world.
"However, those working with young people know that this is not the case. In our work we have found that when young people are given the chance and confidence to explore faith, starting with what is relevant to their lives, that young people are not only engaged but prophetic.
"Without the shackles of exclusive and outdated religious structures where you are 'one thing or another' young people in our community are able to cut through to life's big questions and shed light on issues that many of us have disengaged from.
"What is life? Why are we here? What is the purpose of our life's journey? What are we going to do with the gift that is the rest of our lives?
"We have found that when young people are engaged, empowered and involved in exploring what faith means to them, they are wonderfully creative in re-seeing and re-naming their world."
Rev Daniel Manastireanu, the minister of St Paul's Parish Church in Glasgow, added:
"Art brings people together and reaches hearts, which in the end nurtures people and improves their lives.
"The Faith Through Art club, in particular, is a brilliant way to engage young people and encourage them to explore their faith and express their creativity in community."
The Faith Through Art club received funding through the Kirk's Go For It fund.
The next deadline for submitting a Main Grant application is Thursday 12 September 2019.
More information on applying for a main or continuation grant