Guild Big Sing raises thousands
Published on 10 June 2019
Thousands of pounds have been raised by The Guild's Big Sing event which took place in Edinburgh during the General Assembly.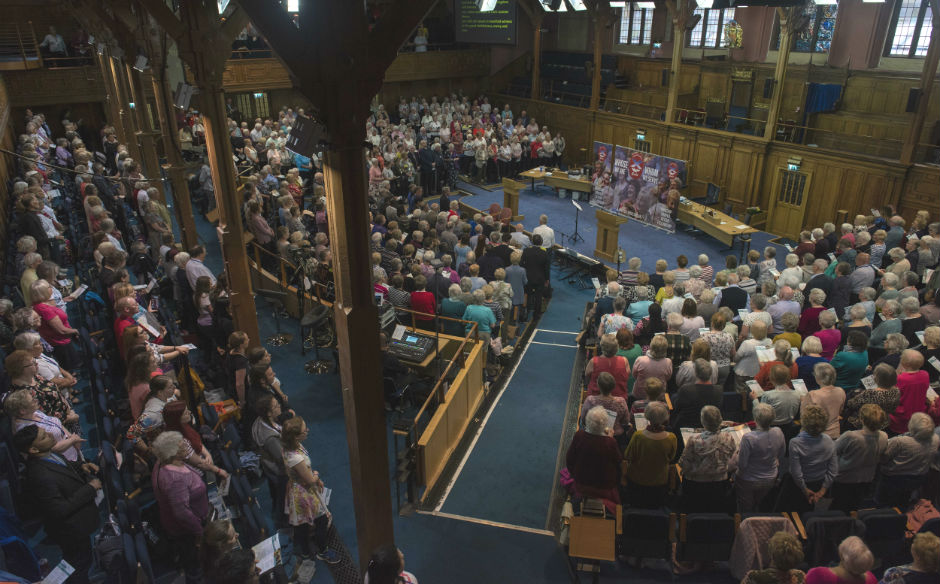 The final amount totalled an impressive £3437, which will go towards Synod of Livingstonia's Matope Church in Mzuzu in Malawi.
Music at the Big Sing included hymns such as Great is thy Faithfulness, We are marching in the light of God, and Count your blessings.
Addressing the General Assembly earlier in the day, Guild Convener Patricia Robertson, also praised the fundraising efforts which totalled £763,000 for the 2015 - 2018 projects.
So far in 2019 £ 215,770 has been raised for the 2018 - 2021 partnerships which include:
CrossReach - Join up the Dots - tackling loneliness and isolation in Scotland
Sailors' Society - providing chaplaincy to the maritime community
Boys' Brigade - supporting intergenerational work
World Mission - Journeying Together - mentoring and supporting young mothers in Zambia
Malawi Fruits - lifting hundreds of small-scale farmers out of poverty in Malawi
Free to Live Trust - supporting street children in India
Since 1997, more than £5.2 million has been raised by Guild members for partner projects, which Mrs Robertson described as "amazing".
She said: "Just as important as the money raised are the complex and challenging issues that these projects have brought to the heart of the church over the years: prostitution, FGM, homelessness, the plight of refugees, HIV/Aids, and support for those living with dementia.
"It is a long and varied list but we are proud of the ways in which we have helped shape and change peoples' attitudes and perceptions.
"Of course, neither partnerships nor events would be possible without our amazing membership."
Mrs Robertson went on to highlight the current three year strategy 'One journey, many roads', which she said "intends to encourage us to see that, whilst we share an aim, that aim can be achieved in many different ways."
The Guild's report also covered a legacy from a former National Convener, Moira Alexander, which will provide funding for two people in Malawi to be trained as nurses.
Mrs Robertson described this as "a fitting legacy to Moira, who was herself a senior nurse tutor ."
Retired teacher Marian Macintyre from Shetland Guilds Together has now taken over as the Guild Conveners for 2019 - 2020.
If you would like to find out more about joining the Guild, contact the Guild's office by emailing: guild@churchofscotland.org.uk