New festival launched to help tackle violence against women
Published on 5 March 2019
Talks, workshops and a specially commissioned animation that will be projected in public are all part of #AnyWomenAnywhere, a mini-festival taking place in Edinburgh to raise awareness of violence against women in Scotland.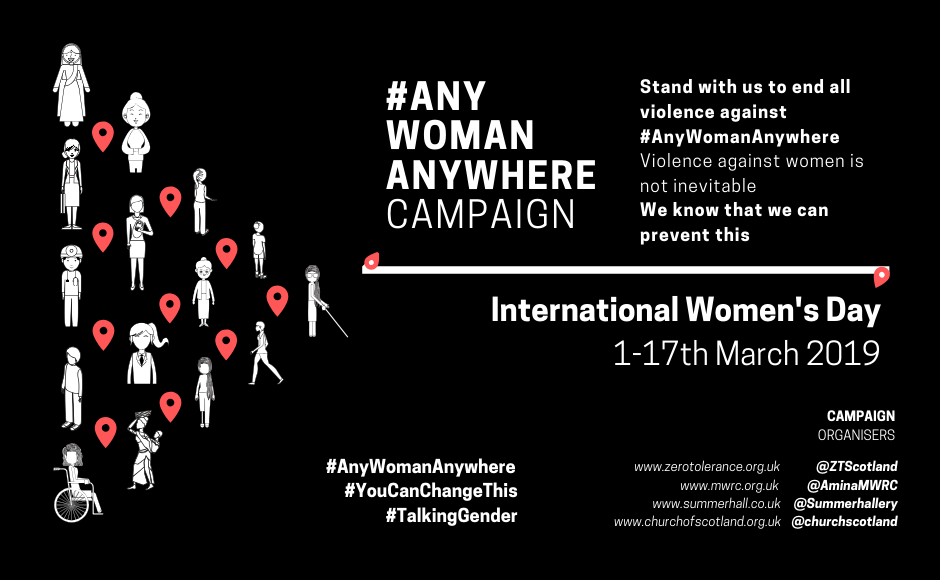 In partnership with Zero Tolerance Scotland, Amina Muslim Women's Resource Centre and Summerhall, the Church of Scotland has helped to create the campaign, which runs until Sunday 17 March.
The programme, which also features film screenings and a photography exhibition based at Summerhall, will highlight a reality that affects 1 in 3 women worldwide.
Challenging misconceptions
Beginning on International Women's Day this Friday, a film aiming to challenge misconceptions about violence against women will be projected on to buildings in Edinburgh's popular Grassmarket area for three evenings.
Volunteers will be stationed nearby from 7.30pm - 9.30pm and will engage with passers-by to answer questions and provide additional information.
Rt Rev Susan Brown, the Moderator of the General Assembly of the Church of Scotland, will also join the volunteers on Friday.
She said: "As Christians we believe all are made in God's image and as such, no one should be violently treated - whether that is physically, verbally, emotionally or spiritually. It is important that we say that up front and without condition. All of humanity is made in the image of God. Fullstop.
"That means that demeaning another for whatever reason, is not acceptable. Such an act makes everyone less human and using culture, tradition or religion as an excuse, is no excuse whatsoever.
"The sooner we learn to live recognising we are in this life together, the better."
Break the silence
Katherine Gilmour, Gender Justice Officer at the Church of Scotland, said: "The Church of Scotland is committed to ending all forms of violence against women.
"This first step is to break the silence that exists in many communities, and to encourage people to take steps in their own lives to challenge abusive behaviour and the attitudes that underpin it."
Members of the public are being asked to come to events, share information on social media, and to get in touch with their MSP asking for their support to end violence against women.
#AnyWomanAnywhere
A key message of the campaign will be that violence can affect any woman regardless of backgrounds, social status, sexuality, faith, ethnicity or ability.
Both women and men are more likely to experience violence at the hands of men and all of this violence is unacceptable.
Violence isn't always physical, and can include: sexual harassment at work, controlling behaviour in a relationship, stalking, online abuse, spiritual, emotional and psychological abuse, and street harassment.
Rachel Adamson, Director of Zero Tolerance, said: "Violence Against Women is not inevitable.
"We can all work to end violence against women by raising awareness that violence exists, it takes many forms and affects it all women.
"And by challenging gender inequality which informs the attitudes that allow this violence"
Ghizala Avan, Programmes Manager at Amina MWRC ,said: "It is important that all communities become fully aware that this violence exists within them.
"We all must work together towards eliminating violence against women by encouraging people to challenge it through campaigns such as #YouCanChangeThis."
#AnyWomanAnywhere runs until Sunday 17 March.
All events are free, but some require booking in advance.
Learn more about the work of the Church of Scotland around violence against women by visiting our website or contact our Gender Justice Officer Katherine Gilmour.