One hundred Royal birthday wishes for May
It was a Royal double, double for a Angus centenarian.
May Balfour received a telegram from Her Majesty the Queen in April when she hit the big 10-0.
And yesterday she was congratulated on her remarkable milestone when she met the monarch's youngest son, Prince Edward and his wife Sophie.
The Earl of Wessex, 55, received the title of Earl of Forfar from his mother for his birthday in March and yesterday marked the first visit to the town for the Royal couple since then.
May is a proud member of East and Old Parish Church.
The Countess was presented with flowers by the youngest members of the congregation, Jack and Arwen Myles.
Community outreach
Minister, Rev Barbara Ann Sweetin, said: "More than 60 members of the church turned up to greet the royal couple.
"They met the manager of our church shop and staff and said they were impressed with it and the income it generates and the work we are involved with in the community.
"They were interested to hear about our church renovations and thanked everyone for coming out to greet them.
"They were delightful and interested in what was happening in the church and in Forfar itself.
"We thanked them for coming to the town and told them we were delighted to have an Earl and Countess of Forfar and wished them every blessing."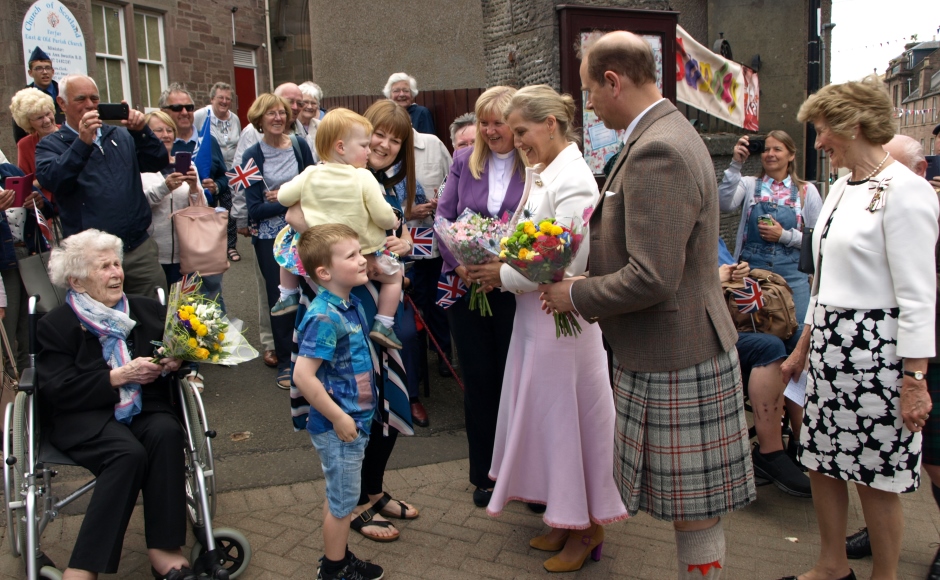 Prince Edward is the first person to hold the title of Earl of Forfar since 1715.
He wore a red and grey tartan kilt, pairing it with a brown jacket, tie and waistcoat, for the visit.
Mrs Sweetin said the walkabout created a "real buzz" in the town.
"It was really busy and people were delighted to see the couple and speak with them," she added.