Trishaw gives new lease of life to 95 year old twins
Twin sisters with a combined age of 190 are loving life on a unique new bike.
Janet Geddes and Nancy Bendelow regularly enjoy trips in the Aberdeenshire countryside on a trishaw.
The 95-year-olds are residents at Balmedie House, a care home run by CrossReach, the operating name of the Social Care Council of the Church of Scotland, and loved cycling in their youth.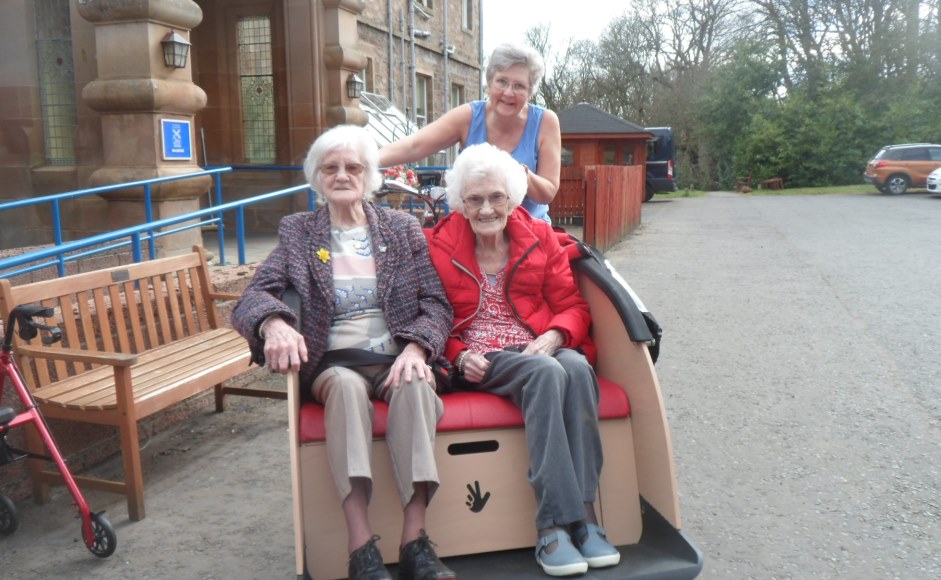 Going for a whirl on the specially constructed bike in the fresh air with the sun on their faces brings back happy memories and a sense of well-being.
The project is a partnership between Belhelvie Parish Church, Cycling Without Age Scotland and Balmedie House Care Home.
It enables the residents and their families to spend time outside, fulfilling wishes and making happy memories.
Belhelvie Parish Church raised £2,500 to help buy the £7,500 trishaw and staff at the care home have been trained to use it.
Very positive
Care home manager, Ann Reid, said: "Almost all of the residents have been out on the trishaw and it has brought back many memories of days gone by when motorised transport was rare.
"Sharing stories has been amazing and made staff think how hard life must have been in the 1940s and 50s when the only means of transport for most people was a bike.
"It was while on the trishaw the funny stories kept coming as Nancy and Janet, who have rooms next door to each other, shared their secrets of the bike rides over the years.
"We began to see a new side to these ladies and caught a deeper glimpse of their lives.
"An amazing moment was when the two ladies began to sing a Bicycle Built for Two."
Wonderful activity
Ms Reid said feedback from resident's families has been very positive.
"One arrived to visit and were surprised to find that their gran was out in the trishaw, as she had not been outside for many years," she added.
"As the trishaw came into the car park the family sat in beside their gran, it was a special emotional moment as gran did pass away four months later.
"This moment was captured and will remain with the grand- daughter and one that she will share with her own children."
Sunshine
Ms Reid is trained to pilot the trishaw.
"Having it has provided a wonderful activity for the residents," she said.
"To see the residents with their eyes closed, faces pointing to the sky soaking up the fresh air and the sun shine.
"Something we all take for granted and it has really enhanced the wellbeing for the residents at Balmedie House."