You're invited— to visit your local mosque
Published on 27 February 2019
Mirella Yandoli, Interfaith Officer for the Church of Scotland, tells us why she has benefited from visiting mosques and learning about the Muslim faith.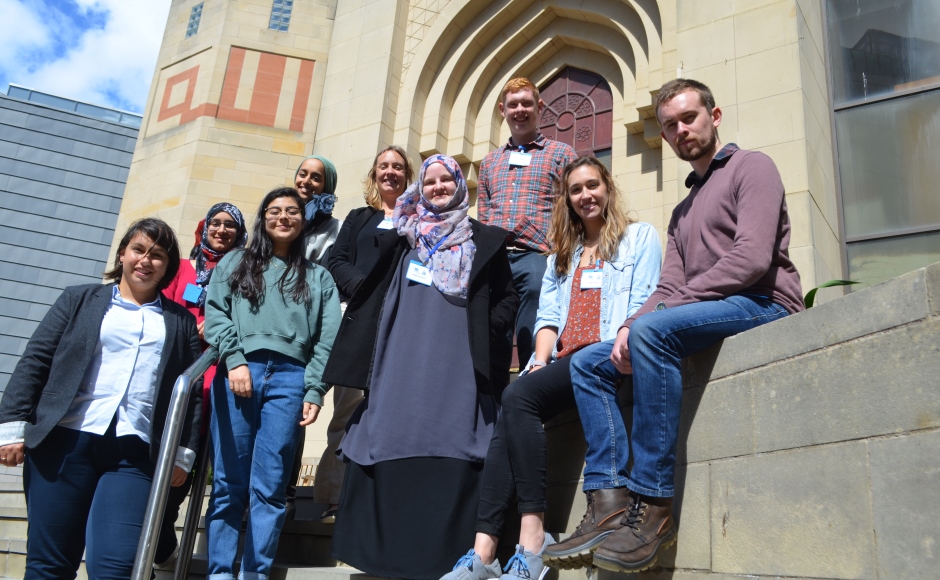 The fourth annual 'Visit My Mosque day' will take place on Sunday 3 March and I for one will be accepting the invitation.
It won't be the first time I've taken the opportunity to visit a mosque. As the Church of Scotland's Interfaith Officer my working life is centred around building relationshipswith people from other faith traditions.
The idea for Visit My Mosque Day came from the Muslim Council of Britain. Local communities are invited to visit a mosque in the area, receive a tour and meet one another. Some Mosques host more extensive discussions, a unique chance to ask questions and to meet people you may live near but never talk to.
I encourage congregations across the country to take advantage of this hospitality, organise a group and pay a visit to their local Mosque. You will be glad you made the effort.
The first time I visited a Mosque I was 6 years old and the visit was organised by my primary school. We went to Regent's Park Mosque in Camden, London, where I grew up. I don't know exactly how many, but I went to school with a lot of Muslim children, and yet I had never thought about what their equivalent to Church was.
In fact, I only found out that I was Catholic because my Jewish friend asked my mum what religion I was in the car one day and her answer had been 'Mirella is Catholic' without even hesitating. I had absolutely no idea what they were talking about. All of a sudden I had discovered that I was something called' Catholic', my friend was something called 'Jewish' and my mum was apparently 'Church of England'. How weird all of this sounded.
Going to the Mosque probably helped me understand what my family did every Sunday as 'Church', as much as I also learned about Islam and the Muslim faith. I often think back to this time in my life when my identity was somewhat more blurred and how these visits and encounters helped me understand who I was as much as who my friends claimed they were.
The visit itself was memorable in that I can still recall how simultaneously alien and also familiar it felt. The space itself was very different from Church. I remember how bouncy and soft the carpet felt beneath my bare feet and how fascinated I was by the ritual of removing ones shoes and seeing the area where people washed their feet, hands and face before prayer. I think that back then my curiosity was sparked by material differences and I probably wasn't asking the kind of questions I would encourage and bring into the space today.
Since then I have been to many mosques but I always find, with every visit, that some new question arises and I never fail to learn something. The best visit in recent times was in Edinburgh in 2017 when I was involved in a trip which brought together Muslim and Christian young people to prepare for a joint visit to Rwanda.
In August we had a training day and over the lunch break visited the Mosque, saw the prayers and then had a meeting with the imam who explained them. It was wonderful to explore this space with Muslims, looking at the space through their eyes and hearing them compare it their own worship spaces in Scotland.
The explanations from the imam were also particularly engaging as they offered a real insight into some of the similarities and differences between our faiths and the act of praying together. Then when visiting Mosques in Rwanda the whole group could look back to the Scottish context as a reference point, comparing them spiritually and culturally.
I admire the generosity of Visit My Mosque as an initiative but Christians should be aware that this kind of idea is born from the struggle that the average Muslim faces in convincing their fellow citizens that Islam is a religion that belongs in the UK. Given that 1 in 2 Britons believe that Islam and British values clash 'fundamentally', this statistic is starkly revealing of the pressure felt by one community to prove that they belong here. I think it is crucial to examine how and why so many Muslims have just cause to feel like they are practicing their faith in an inhospitable environment.
Initiatives like this offer everyone the chance to ask questions of each other, to check our assumptions and challenge our ignorance and learn about each other on an otherwise normal Sunday afternoon.
In order to play a role as builders of peace and a flourishing society which is something all Christians are called to do, we must step outside of our comfort zone and enter into someone else's space, receive their hospitality and actively listen to others on their own terms.