'Kirk calling' – ministers branching out with telephone trees
Published on 27 March 2020
Live online worship services are in full swing across many of our local churches, but with that comes the question of how best to serve members of our local congregations who aren't able to access Internet-based services.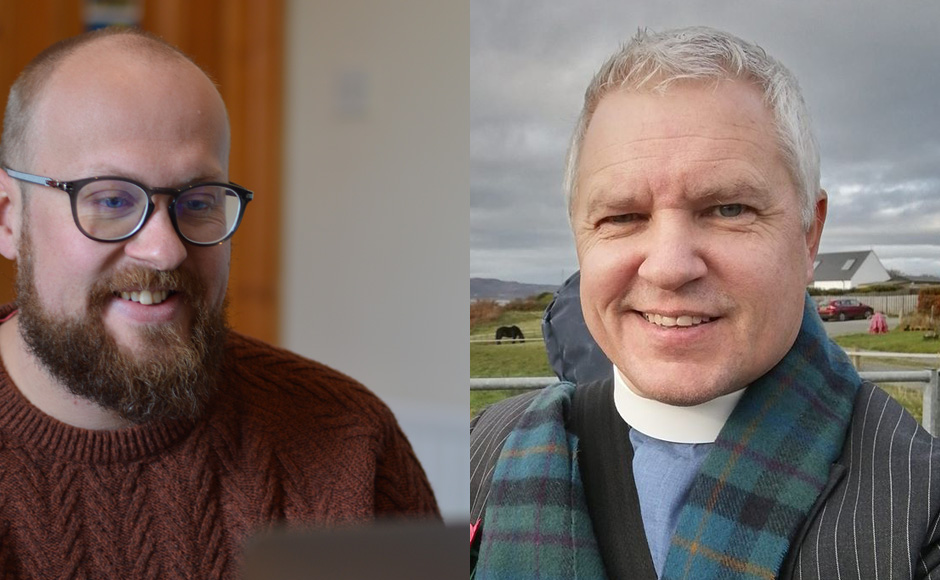 Many ministers have been returning to the traditional phone call to ensure their parishioners receive a caring message from the church. Rev Kenneth MacKenzie, the minister at Crathie Kirk, for example, made upwards of 40 calls last Sunday in an effort to reach out to those who would be missing their normal church service.
Two ministers who have been looking at creative ways to reach out by telephone recently are Rev Andrew Barrie and Rev Scott Burton.
'We trust that He is working His purposes in the world'
Rev Andrew Barrie, the minister at Wick: Pulteneytown and Thrumster, will be running his first YouTube service this Sunday 29 March. Alongside this, he has set up a phone line which will then play the audio of his most recent service.
"I started looking at what friends and colleagues were doing around the country, and tried to learn from others," Andrew said.
"Lots of churches had a first go at streaming services and I applaud them for their efforts.
"We wanted to try and do that, but we recognise that many of our congregation are older and aren't too confident with technology, so we wanted to help them access anything we were doing.
"This specific idea came from a friend's church on the Isle of Wight.
"Although these times are strange and worrying, it's great that a church in Wick can be helped by a church on the Isle of Wight.
"Folks have been very positive so far; it's been a great encouragement to people to be able to hear from the Church when things are so uncertain.
"We trust that God is a refuge and strength, a very present help in time of trouble (Psalm 46:1)."
To all those who would like to try using their telephone to share in worship with those who cannot watch services online, Andrew said "go for it".
"While it's useful for us, it might not be for everyone.
"I know churches are trying lots of good things. The most important thing, though, is that we pray and seek God at this time.
"We trust that He is working His purposes in the world, and that He desires the good news of Jesus to be shared, whatever the means."
Rev Andrew Barrie will be running services on his new YouTube channel, and you can listen in through the dedicated phone line: 01955 957 005. Please note, local call charges apply, unless you have free minutes on your landline or mobile phone contract.
'Worshipping together in isolation'
Rev Scott Burton, the minister at West Kintyre & Isle of Gigha (Gigha & Cara l/w Kilcalmonell l/w Killean & Kilchenzie), is also taking steps to use the telephone to share in services and prayer across his parish.
In a recent YouTube video he shared on social media, Scott urged everyone to just try one simple technique: use your phone's microphone to share a worship service down the phone line with those who have no access to the Internet.
"It just seemed a very natural thing to do, and the feedback has been phenomenal," Scott said.
"Since I've moved to Argyle from my previous parish in Perth, it seems a lot of people here use the phone in a way that they used to use it."
Scott has been publishing Songs of Praise-style services on his YouTube channel, which parishioners can either watch online or listen in to through a telephone call.
"Even though I'm sharing a pre-recorded service, I've asked everyone across my three parishes to tune in at 11 o'clock if they can," he added.
"We're worshipping together in isolation. We encourage people to dig out a candle, and when it comes to the prayer, everyone together lights the candle.
"I want to make sure that people who are in isolation, who are not going to see each other, can see familiar faces and hear familiar voices; and not just my voice.
"So, I'm asking people to send me videos of them doing Bible readings or a prayer, which we can feature in the service.
"I've also been phoning around a number of people, to ask how they are, let them know what we're doing, and ask if they'd like to listen in to the service with me.
"For those who want to do something for those who are isolated – here is one way of doing something.
"We're all having to reinvent ourselves in terms of what it means to be Church, and be part of the struggle together.
"It might just be a wee reflection from a local minister – and I would say that it's very important to hear your own minister.
"It doesn't have to be complicated; just five minutes recorded on a smart-phone and uploaded to Facebook.
"But let's not get so high-tech that we forget the normal ordinary devices that the housebound and elderly have – think, how can we use that to help them tune in?"
You can watch Rev Scott Burton's services on his YouTube channel.
Please keep up to date with important updates from the Church of Scotland during the COVID-19 pandemic on our dedicated web pages.