Fresh nuclear weapons ban call to mark 75th anniversary of Hiroshima
Published on 28 July 2020
The Church of Scotland has reiterated its support for a world free of nuclear weapons ahead of the 75th anniversary of the atomic bomb attacks on Japan.
Rt Rev Dr Martin Fair, Moderator of the General Assembly, has signed a Christian Campaign for Nuclear Disarmament statement and is encouraging other minsters to do so too.
He added that he hoped that people of faith would pray for the rejection of an existential threat to humanity - a system that has not stopped wars from breaking out.
More than 120,000 people were killed when the USA, backed by the UK, dropped an atomic bomb on the city of Hiroshima on 6 August, 1945.
Two days later, another bomb was dropped on Nagasaki which killed 226,000 people.
The majority of people who died in the two attacks were civilians and the environmental damage and suffering caused is something which many people continue to live with today.
Nuclear weapons are "inherently evil"
For over 30 years the position of the General Assembly has been that the possession, threat of use, or use of nuclear weapons is inherently evil.
However, the Kirk recognises and is thankful for the immense service, professionalism and commitment of Armed Forces personnel, their families and fully supports Royal Navy chaplains in their duties.
The Church supports the United Nations Treaty on the Prohibition of Nuclear Weapons passed in 2017 and calls on more countries to sign up to it so it can be brought into force.
Dr Fair, minister of St Andrew's Parish Church in Arbroath, Angus, said: "This is a subject over which people will disagree, sometimes vehemently.
"But the General Assembly has been consistent in declaring nuclear weapons to be an evil and therefore the Church should have every confidence in continuing to campaign for their removal and eventual eradication.
"It is right that those who follow the Prince of Peace should themselves work for peace and this is no small part of that."
Eight times the destructive power
The Christian CND letter, signed by religious leaders across the UK, states: "Shortly after the bombings, the international community came together at the United Nations to say 'never again' and pledged to work for the elimination of nuclear weapons around the world.
"Sadly, 75 years on, that goal has yet to be met, and many nuclear-armed states, including the United Kingdom, are currently pursuing upgrades to their nuclear arsenals, spending hundreds of billions of pounds in the process."
Britain's fleet of nuclear powered and nuclear armed submarines are based at HMNB Clyde, a base better known as Faslane on the Gare Loch.
According to the Campaign for Nuclear Disarmament, every boat is armed with eight missiles with each one carrying up to five nuclear bombs which are eight times as destructive as the one which flattened Hiroshima.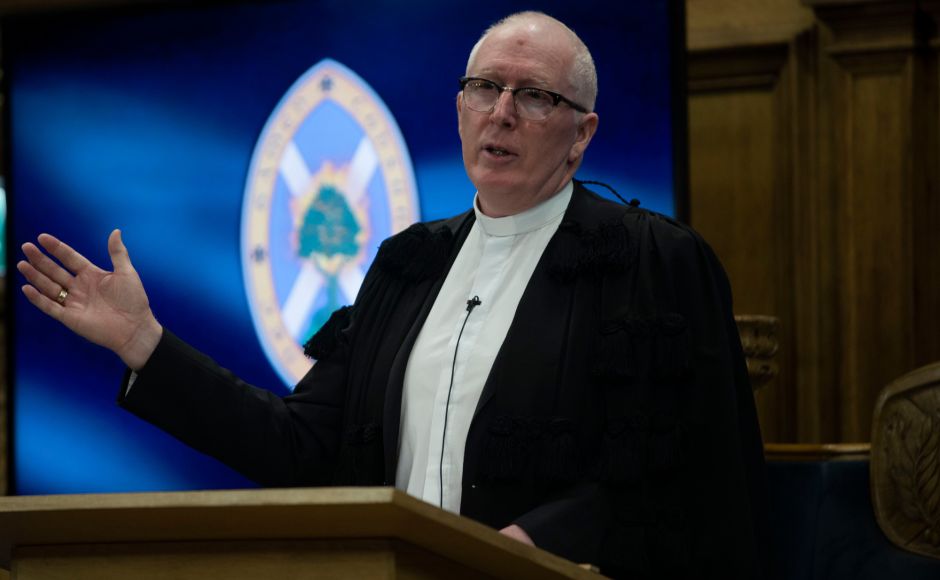 The Christian CND letter continues: "As Christians we reject nuclear weapons.
"We believe that their capacity to indiscriminately kill millions of our brothers and sisters, and to catastrophically destroy God's creation, makes them contrary to the teaching of Jesus Christ.
"Recent events have shown that the global community must work together to overcome the challenges facing us in the 21st century.
"We must speak out and call for action to ensure that the horrific events witnessed in Hiroshima and Nagasaki are never repeated.
"We call on the UK Government to make every effort to engage in meaningful international disarmament, most importantly by committing to the cancellation of the current programme to replace Trident."
Scourge and threat
The Church of Scotland has also signed a World Council of Churches backed interfaith statement on nuclear weapons.
Drafted by a group called Faith Communities Concerned about Nuclear Weapons, it states: "After seventy-five years we can see that nuclear weapons have not brought an end to war.
"Nuclear weapons do not create peace, rather they intensify the scourge and threat of war in our world, lives and communities.
"We urge our governments to use the opportunity of the 75th anniversary of the only occasion that nuclear weapons have been used in conflict, to ensure that they are never used again in any circumstances.
"We call upon all states to join the growing community of states which have rejected nuclear weapons entirely.
"We appeal to you to ratify the Treaty on the Prohibition of Nuclear Weapons."