Rev Dr Marjory MacLean leads Time for Reflection at Scottish Parliament
Published on 10 March 2020
Rev Dr Marjory MacLean, convener of the Chaplains to Her Majesty's Forces Committee, led the Time for Reflection session at the Scottish Parliament today, telling MSPs of the many contrasts the periods of Lent and Easter bring, as well as the contrasts of life as a military chaplain.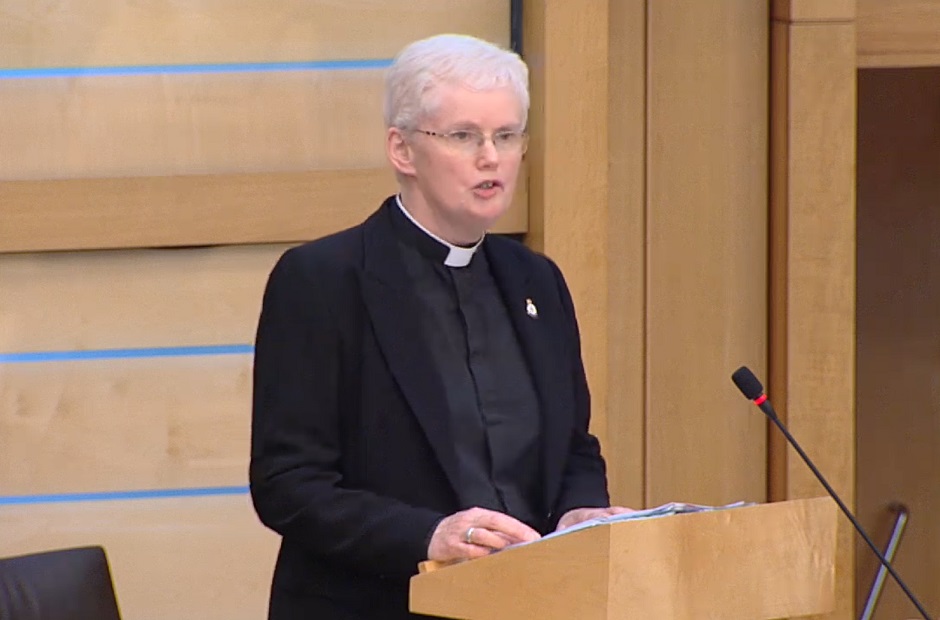 In her speech, Dr MacLean said:
"The Hindu Festival of Holi began last night and ends today.
"It is the Festival of Colours, of Spring, of Love.
"It is the day when relationships are mended, laughter is shared, and of course everyone ends up in a riot of coloured powder.
"It's the only festival I know which you do not just 'celebrate'; you play Holi.
"Meanwhile, in the Church, we are thirteen days into Lent, a period of penitence and reflection that is just as far as you could imagine from something you would 'play'.
"Colour is drained from Church buildings, or at least reduced to sombre purple and the grey ash that symbolised Ash Wednesday's quietening of the mood.
"We who follow Jesus are in our time of self-examination and need-naming.
"When we reach Easter the joy will burst out of us, because we have been keeping it all squashed inside us for so many weeks.
"So at one and the same time in our Scottish community, we have the celebrations of the joyful and the depths of the subdued mixed up together.
"Often, in fact, we have those contrasts within a single community, and no-one sees that more vividly than the chaplains commissioned in our Armed Services, both regular and reservist.
"On a single day a chaplain may pop in to see children enjoying the facilities in a resource like the newly-refurbished Drumfork Community Centre in Helensburgh, but an hour later spend time with someone facing a medical board and suffering from combat-related PTSD.
"In a Sunday congregation in a training establishment, a padre may be looking out from the pulpit at a new entry trainee who is terrified of unknown dangers lying ahead in their career, and moments later baptising the baby of someone from nearby service accommodation.
"And I suspect as our political representatives you all know about that too.
"You are here to enhance the things about Scotland that are worth celebrating, and simultaneously to serve those who most deeply need your voice and your decisions.
"You try to rejoice with those who rejoice and weep with those who weep, and you will never quite be getting it right for some people.
"Know that as you serve a society full of those tensions, the communities of faith will hold you in our thoughts and prayers… and most of all in our thanksgivings."