Moderator praises "visionary" new community hub centre in Edinburgh
Published on 13 October 2021
A former church is undergoing a £2 million refurbishment to convert it to an innovative, flexible, multi-purpose community hub.
Lord Wallace, Moderator of the General Assembly, visited the Greyfriars Charteris Centre in Edinburgh yesterday to see for himself how work to transform the building is progressing.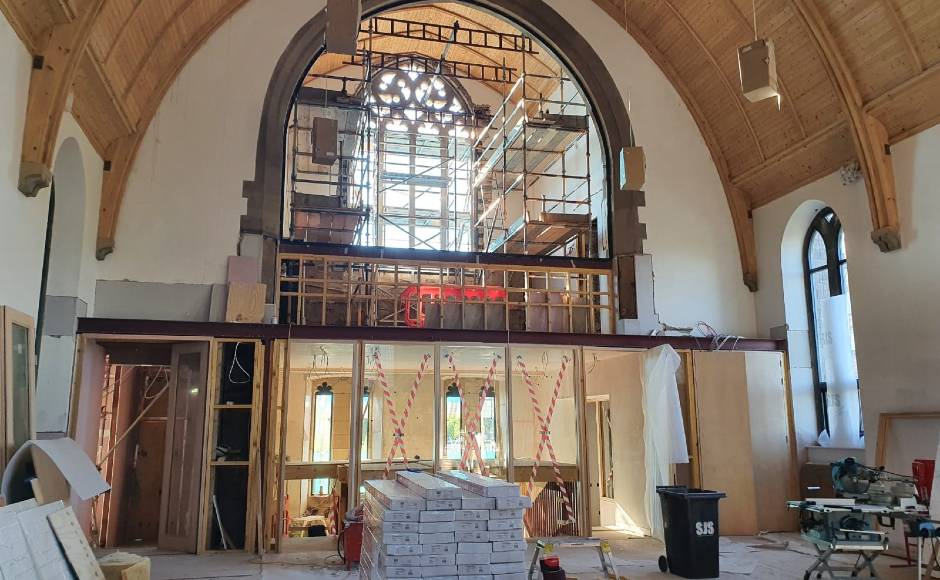 The project, which seeks to provide a safe space to help people from different backgrounds to flourish in a just, peaceful and socially cohesive community, is due to be completed at the end of November.
Lord Wallace said the team behind the project have exercised "considerable vision and imagination" to ensure that the building is fit for purpose for 21st century mission.
The Greyfriars Charteris Centre was established following the union between Greyfriars Kirk and Kirk o' Field Church in 2013.
The southside of Edinburgh is one of the most ethnically and culturally diverse parts of the inner city with pockets of urban priority need.
The Kirk Session decided that the church needed to remain committed to helping to nurture a vibrant and diverse community and find new forms of mission and outreach.
Flourishing communities
Over the last eight years the building has been used by more than 30 different groups including a community counselling service, Edinburgh Street Pastors, Kwisa, which supports African women, and Edinburgh Social Enterprise Network.
Heart for Art, a group run by CrossReach, the operating name of the Church's social care council, for people living with dementia use the building as do Scottish Love in Action, which supports vulnerable children and young people in India.
The Kirk Session hopes that more diverse groups will rent space in the refurbished building and people of faith and none use a new "Sacred Space" during the week.
It is an ideal place for quiet reflection, meditation, prayer and for hosting yoga and mindfulness classes.
Rev Dr Richard Frazer, minister of Greyfriars Kirk, said he was delighted to show the Moderator and his wife, Lady Wallace, around the building.
"Lord Wallace was very interested to hear about how we plan to use the building and it is very encouraging when people can easily appreciate the purpose and vision of the project.
"There are so many people in this part of Edinburgh doing imaginative and creative things and we hope to expand our work to bring them together so they can interact with each other and flourish.
"We want the church to be a catalyst for community growth and development, to offer hospitality and somewhere where people can ask questions.
"People are facing so many challenges at the moment because of COVID-19 and the economic situation so we hope to create a place for them to share some of those burdens."
The Kirk o' Field Church was formerly called Charteris Memorial Church, named in honour of Very Rev Professor Archibald Charteris (1835 - 1908).
A former Moderator of the General Assembly, he established the diaconal ministry, founded what is now known as The Guild and established Life and Work, the magazine of the Church of Scotland.
Vision and imagination
Dr Frazer said: "Charteris was a pioneer in terms of developing social care, health care and community development and we have taken a lot of inspiration from him.
"He founded the Deaconess Hospital in the late 19th century, a forerunner to the NHS because it provided care to people regardless of their ability to pay.
"He developed what is now known as CrossReach and underlined how important it is that the Church provides opportunities to welcome people and be alongside them.
"The Church has always been at the forefront of developing community benefit and needs to continue looking for ways to enable communities to flourish."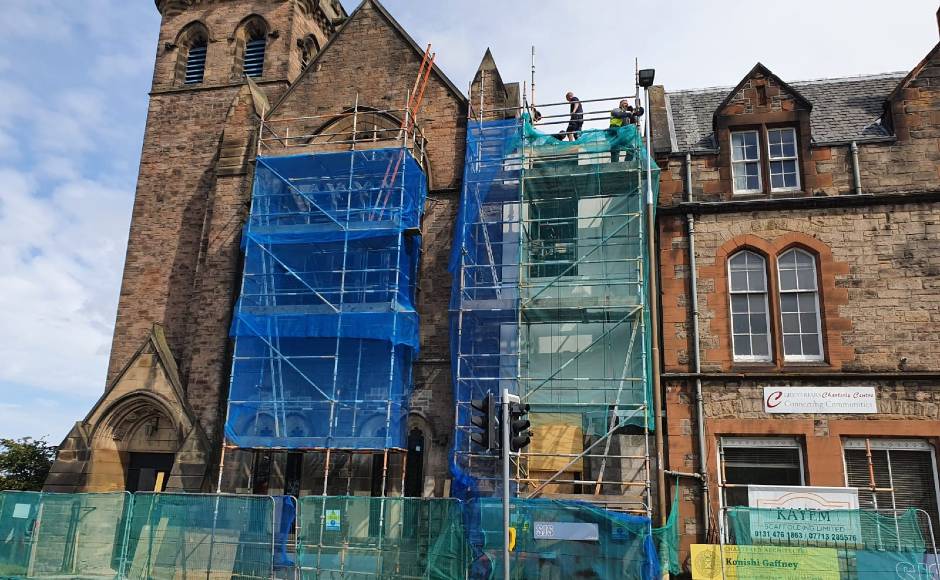 Lord Wallace said he enjoyed his tour of the building immensely and was "encouraged" by what he learned.
"This is a really exciting project and what the Church should be about in 2021, getting out into the community and providing spaces where all are welcome," he added.
"This is a very good adaptation of a building that could have been sold off but what we have instead is a development with considerable vision and imagination.
"There has been community activity in this building for a long time and clearly inspiration from Professor Charteris is informing what is happening today."
The refurbishment project started in 2019 but was hit by delays due to the COVID-19 lockdown.
It has been largely funded by the proceeds of the Kirk o' Field manse and a grant from the Binks Trust.
Greyfriars Kirk has a memorandum of understanding with the University of Edinburgh and is working with New College to offer a course in public theology and mission to be offered in the academic year 2022-2023.
It is also the Scottish hub for the HeartEdge movement which creates a network of support and mutual learning for churches around the themes of developing community life, exploring the relationship between the arts and mission, developing social enterprise and supporting vulnerable people on the edge of society.
The Moderator is currently on a Presbytery of Edinburgh visit.