Prayers and tributes from ministers marking the life of Prince Philip
Published on 17 April 2021
On the day of the funeral of HRH Prince Philip, The Duke of Edinburgh, we remember his life with prayers and memories from ministers who spent time with him.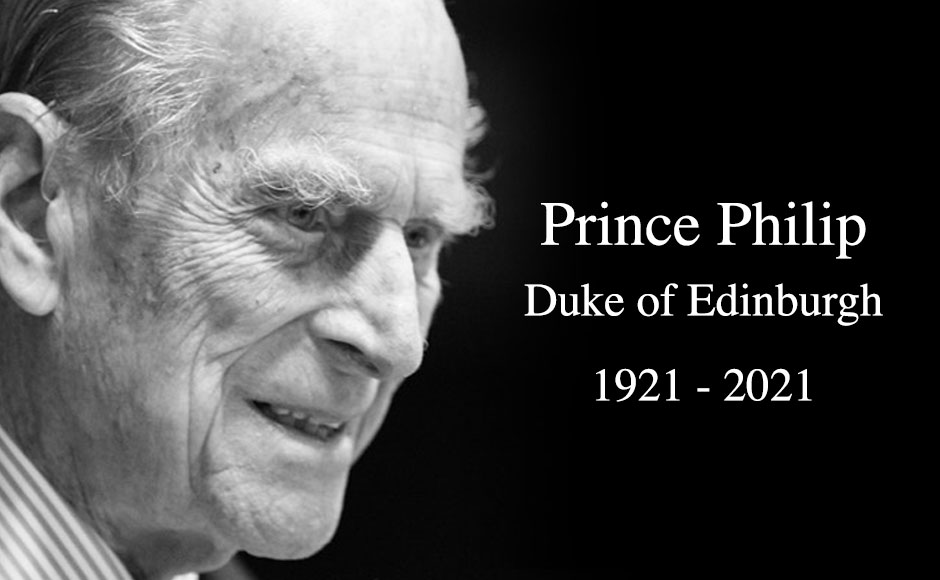 Very Rev Dr Lorna Hood, Chaplain-in-Ordinary to Her Majesty the Queen, writes:
I found my first visit to Balmoral daunting and was so overawed that I was terrified that I would be unable to string a sentence together. The Prince's equerry, Dan, who came to fetch me, was so reassuring and said just to be myself. After meeting the Queen, Prince Philip arrived very quickly on the scene. He could not have been more courteous and went out of his way to make sure I was comfortable, as I've no doubt he was aware that all visitors to Balmoral, especially those from a working-class background, would be apprehensive.
The visit went well with only three other guests present. On the Sunday evening there was a BBQ and arriving back the Queen said her farewells. The lady in waiting thanked me for "being myself" and apologised that Prince Philip was walking the dogs but she was passing on his good wishes. The next morning at breakfast - the Queen and Prince Philip don't join you for breakfast - the door opened and there was Prince Philip. The other guests were quite surprised and as we scrambled to get to our feet he said, "No no;I just wanted to see the minister - I didn't get a chance to say goodbye last night. Safe journey and remember the short cut I told you about."Interestingly, when I returned a couple of years later, he did ask me if I had taken the short cut.
On my second visit I was more relaxed until I discovered I was the only guest. However once again everything was fine and on the Sunday evening we were joined at the BBQ by three former equerries. Prince Philip cooked lamb chops and, as I was seated next to him, he was pressing me to have yet another chop. With the Queen trying to dissuade him, he persisted until I finally gave in. He turned to the Queen with that twinkle in his eye and a smug grin. The Queen just raised her eyebrows as I gulped down yet another lamb chop.
I had an old broken watch as a prop for my children's talk. Telling them it was priceless because it belonged to my grandfather and the bash on the back was due to the explosion that killed him down the mines. At lunch afterwards Prince Philip wanted to know all about what happened and more importantly the consequences for my father and the family. That led to a discussion about the condition of mines and the lack of support to those families who overnight found themselves in poverty. I told him how it meant my father could not take up the bursary he had won but had to leave school for a job at age eleven. He was visibly angry and patted my arm in a sympathetic gesture.
Very Rev Professor Iain Torrance, former Dean of the Chapel Royal in Scotland writes:
I was fortunate in that I first met The Duke in May 1977 when my father was Moderator and preached in Glasgow Cathedral at the Silver Jubilee of The Queen. And the following year he presented my father with the Templeton Prize.
I became a chaplain to The Queen in 2001 and The Duke on seeing me at Balmoral immediately reminisced about my father. When I became Moderator in 2003 he joked that he hadn't known it was a hereditary office! This was how he was - he was funny, challenging, constructive and welcoming.
I told him about Iraq where I had visited as Moderator. I was co-chair of the dialogue between the Orthodox Church and the World Alliance of Reformed Churches. He was very interested and he knew all about the Orthodox Church and their differences with the Oriental Orthodox. Later I became president of Princeton Theological Seminary and we built a new library with vast digital resources so that it could be the reference library for colleges all over Africa. He understood this vision - he understood digitising, distance education and the growth of Christianity in Africa. He was always interested in new trends and technologies, the environment and education.
Our last face to face meeting was in September 2018 when I was a guest at Balmoral. He teased me about how quickly I could get changed. I countered that a clerical collar is faster than a black tie.
For more than 40 years I admired him, prayed daily for him and The Queen, felt encouraged by him and benefited from his welcome and kindness. I hadn't expected it, but he wrote when I was appointed a knight bachelor in 2018.
I saw his hard work, his energy and his total, rocklike support for The Queen. There was no one like him and I will always thank God for providing such a figure for such a time.
Very Reverend Dr James Harkness, former Dean of the Chapel Royal, writes:
The setting was the drawing room in Balmoral. It was late at night. Everyone else had gone to bed apart from Prince Philip and myself. With those steely blue eyes of his he asked me "Did you see the dawn this morning? "No Sir" I replied. He then went on to reminisce about his experiences as the First Officer on a Destroyer. His point was that dawn is the most dangerous period of the day when on operational service and the First Officer always has the dawn Watch.
Another memory concerns the upgrading of part of Broughton St Mary's. He was the Patron of the project. Lord McKay of Clashfern and myself were part of what I describe as the supporters club. When he came to view the project as it neared completion, we were all lined up to be presented. When he came to me he smiled and said - "What, you again?"Some were a bit startled, but I had been to Balmoral a few weeks before. That may seem a rather inane recollection. But it was a reminder of his ability to put people at ease and that in all that he did there was a fundamental humanity.
Prayers of Thanksgiving and Intercession (Rev Professor Norman Drummond, Chaplain-in-Ordinary to Her Majesty the Queen)
O God our loving heavenly Father

We thank you that you are closest to us when we are most in need of you and so it is to you that we turn at this time of sadness and earthly parting as we give thanks for the life and many contributions of Prince Philip, Duke of Edinburgh.

In the quietness of our hearts, we call to mind his several qualities which made him the person that he was in this life - his calmness and steadiness under fire, his wisdom and patience in the face of difficulty and uncertainty, his ability to deeply connect with people of all ages and backgrounds not least the young in whom he placed such hope and future confidence, his loyalty and devotion to Her Majesty The Queen and their Family of several generations and his unstinting courage and commitment to those things in life and science which really do matter and which will last.

In our mind's eye we gratefully remember Prince Philip leading the way in several fields as well as 'a step behind' supporting The Queen in all her years of service to Scotland and throughout the United Kingdom and far beyond and not least to the Commonwealth of Nations. For all of his exceptional private and public service we give you thanks.

We pray for The Queen and all members of the Royal Family, those who knew and loved Prince Philip best and who will miss him most. In your loving kindness sustain them all and all those who mourn at this time.

Guide us all we pray to more deeply share in the quiet unassuming Christian faith which was his to the end that one day in your time we shall indeed be reunited with those whom we have known and loved and have gone on before us.

And for those of us who remain may your grace and mercy and peace surround and strengthen us all, enabling each of us to love you more dearly and to follow you more nearly.

May we in our turn walk in the footsteps of those who have inspired us because they knew you and were loved by you with your perfect love which casts out all fear.

In the abiding strength and comfort of your Holy Spirit, we make these our prayers through Jesus Christ our Lord and Saviour, our constant companion on this voyage through life until we meet again.

Amen.
Prayers of Thanksgiving and Intercession (Very Rev Dr Susan Brown, Chaplain-in-Ordinary to Her Majesty The Queen)
We give you thanks, Lord God, for each and every new day.
We give thanks to you as the Creator and as the giver of life.
We praise you that through Jesus, your Son, that life becomes eternal -
Through his Easter activity and his promise of life forever more,
and through faith in him.
We give you thanks for the people who enrich our lives,
They too are gifts from you.
For their friendship, their love, their companionship, we praise you.
And in a world where too many are isolated
We bring to you those for whom friendship and love
Are luxuries they don't have.
We hold before you those fleeing their native countries
For safer ground
And who are left to feel unwelcome.

We pray for those whose lives have been turned upside down
Through warring, through violence, through grief.
We bring to you the governments of the nations of this world
and we pray, in your name Lord Jesus,
that they may know wisdom
and seek peace and justice above all else;
caring for all those who are their citizens
across nations and across borders.

We hold before you all who grieve
And we think particularly at this time,
Of the Royal Family
And of Her Majesty Queen Elizabeth, whose loss is so great
And who faces a gap in her life that can never be filled.
For all who mourn:
For all who mourn long-standing relationships
And relationships that were unable to be formed, we pray.
We hold each one before you
Asking Lord God, for your peace, your comfort,
For your strength, and for your courage.

We offer you the families of this world;
Those who have lost children unborn,
Those who have lost young people and adults, parents and friends.
Envelop all of them in your love this day and always.
These prayers we offer, Creator God,
Holding onto the promise of your constant presence with us
Throughout all eternity.
In the name of Christ.

Amen