St Magnus Cathedral named one of the finest in Europe
Published on 12 November 2021
The most northerly cathedral in Britain which is known as the "Light in the North" has been named as one of the finest in Europe.
St Magnus Cathedral in Orkney is the only building in Scotland to feature in a new book called "Europe's 100 Best Cathedrals" alongside architectural marvels in Cologne, Florence, Moscow, Stockholm and Seville.
Dating back to 1137, the magnificent medieval building in Kirkwall is one of 15 UK cathedrals selected by author/historian Simon Jenkins which include Canterbury, St Paul's, Westminster Abbey and York Minster.
Made out of red sandstone, it was founded by Viking Earl Rognvald as a final resting place to house the relics of his uncle, St Magnus, who was otherwise known as Magnus Erlendsson, Earl of Orkney. 1080-1117.
It is the home church of Lord Wallace, Moderator of the General Assembly, and the book accolade has been marked in a motion lodged at the Scottish Parliament by Orkney MSP, Liam McArthur.
Extraordinary
In choosing his top 100, Mr Jenkins pays tribute to the magnificent buildings that he sees as manifestations of Europe's collective past.
"Europe's cathedrals are its finest works of art," he wrote.
"They are testaments to its Christian faith but also to its architecture, engineering and craftmanship.
"Most cathedrals are grand, no other places of Christian worship remotely equal them in scale.
"They are history and geography, art and science, mind and body in one."
St Magnus Cathedral custodian, Fran Hollinrake, said she is delighted with the recognition but not surprised.
"St Magnus Cathedral is extraordinary in so many ways," she added.
"It's the only surviving wholly medieval cathedral in Scotland – all the others were either ruined, rebuilt, or extended in later years.
"We are the only church in Scotland which still contains the relics of its original saint, and as if that weren't enough we have two saints.
"Although it took nearly three hundred years before it was complete, it has stood the test of time very well."
Powerful atmosphere
Ms Hollinrake said she has been looking after the cathedral for 11 years and still learns something new about it every week.
"Nearly nine centuries of Orkney people have experienced the deepest of emotions within these walls – joy, grief, hope – and I believe that all those feelings have soaked into the walls and become part of the very fabric of the building," she added.
"No wonder it has such a powerful atmosphere."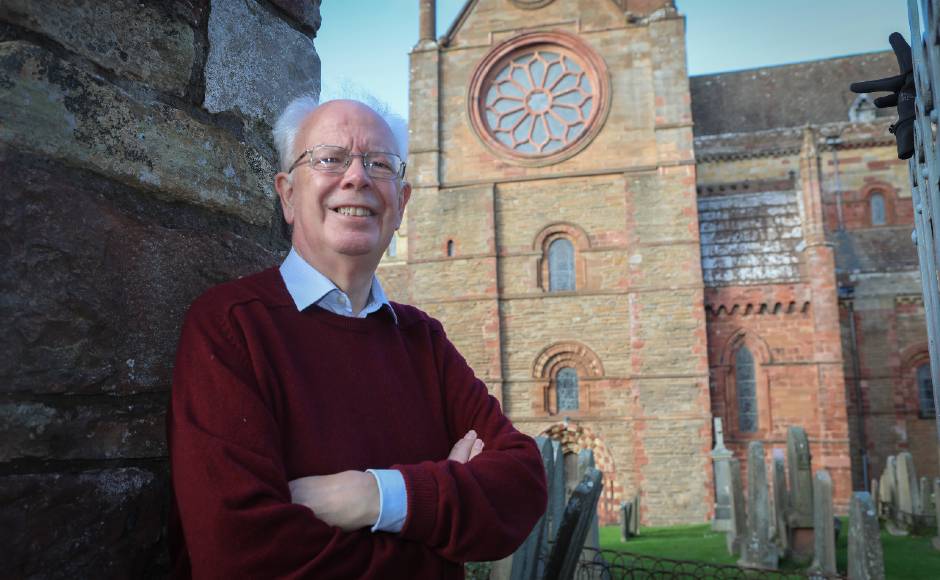 Rev Fraser Macnaughton, minister of St Magnus Cathedral, said he is pleased that the building has been recognised as standing "shoulder to shoulder" with some of Europe's most iconic buildings.
"Across the continent, cathedrals have withstood the ravages of time and history," he added.
"I am so delighted that 'our' cathedral, as Orcadians are wont to say, has been included in this new book and that the Scottish Parliament has recognised this accolade in passing the motion of acknowledgment and gratitude."
Lord Wallace described St Magnus Cathedral as a very special and welcoming place.
"And whilst we are proud of its history, its spiritual atmosphere today continues to inspire worship, prayer and reflection," he said.
"It is fitting that it has gained the accolade of one of Europe's best cathedrals, and I am pleased that this has been recognised in the Scottish Parliament."
If you are inspired by the work of St Magnus Cathedral and would like to support the work they do you can donate via the buttons below.
You can now donate to any of our churches through our website or you can choose to donate to the national church funds.
Your money will be used to further our charitable activities and share the Good News of Jesus Christ.