'Do not ignore God's calling' says new minister
Published on 25 October 2023
A new minister has been called to lead three congregations in Argyll.
Rev Alex MacCallum was ordained as a full-time minister of Word and Sacrament and inducted to provide spiritual leadership to the churches of Kilmore and Oban, linked with Tiree.
He said he has been on a "wonderful whirlwind" journey for 27 years because he first had a sense that he was being called to the ministry when he was just 16 but decided to ignore it.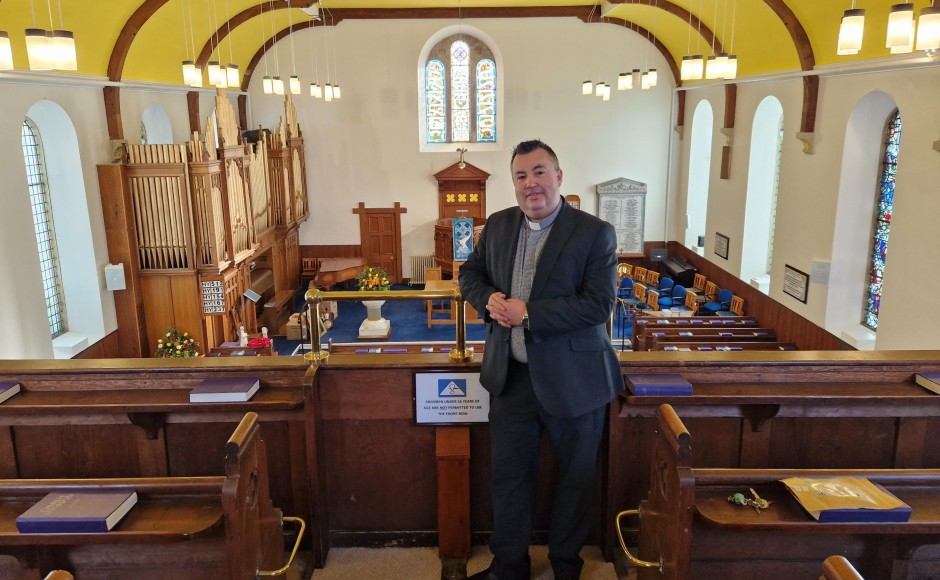 Instead, he embarked on a career in the social care sector and over the years worked with the homeless, the elderly and people struggling with mental health challenges.
Born to a Northern Irish mother and a Scottish father from Inveraray in Argyll, Mr MacCallum was raised in Belfast before settling in Milngavie in East Dunbartonshire where he was a member of St Luke's Parish Church.
He was baptised in Inveraray Parish Church and has many happy childhood memories of the area to the extent that he said moving to Oban to become an ordained minister on 13 October "felt very much like returning home".
Sense of calling
Asked why he finally decided to listen to his teenage self, Mr MacCallum, who is 43, said: "From a very young age I felt the call to some form of ministry but like so many people life gets in the way and you find yourself ignoring the call and trying to block it out.
"I preached my first sermon at 16 years old and even then I knew that God was calling me but I ignored it.
"It was never far away though and I had numerous times throughout my life that I was sure ministry was for me but I was too wary of taking the next steps.
"I found myself in ever-increasing better jobs but I was never fully contented and so I felt I had to do something about it and discern fully and carefully what my calling was.
"I prayed and worked with my own minister to work through my sense of calling and then I felt able to go and apply to the Church to take my calling forward.
"And since then it has been a wonderful whirlwind, but I know I am exactly where I am supposed to be, doing what God has planned for my life.
"I have met so many wonderful friends who have encouraged and guided me and it has been so much more than I could have ever imagined."
Mr MacCallum studied at Highland Theological College in Dingwall as a distance learning student.
He did his probation at New Kilpatrick Parish Church in Bearsden, the neighbouring town to Milngavie, and before that undertook placements at Bearsden Cross Church, Campsie Parish Church, Rutherglen West and Wardlawhill Church.
The minister also served as a locum at Bonhill church in West Dunbartonshire and spent nine months doing full-time pulpit supply in St Andrews East Parish Church in Glasgow.
Strong future
Asked what his hopes are for the future, Mr MacCallum said: "I want to see the Church thrive once more in whatever way that may be.
"To see us reach out to the communities and to continue on the fantastic work that has went before.
"I am looking forward to working across all three churches.
"Each one is special and unique and it is a blessing to be able to be involved with the people.
"I am also looking forward to being on the CalMac ferry over to Tiree as I have a love for boats.
"It would be great to play even a small part in helping show that the Church has a strong future here in Scotland and that despite all of the difficulties we face, we are united and trust in our faithful God to light up the way ahead for us."
The Church of Scotland's Towards Ministry Team is hosting an open-day event in Fountainhall Church in Aberdeen on 4 November for people who have even the slightest notion that God might be calling them to a ministry role.
God is leading us
Mr MacCallum said: "It can be quite daunting to consider ministry, no matter what age you are but I would say to people who have the slightest notion, please listen to it.
"It is good to have conversations with your friends, family and the Church training team.
"Pray and listen to where you feel God is leading you to and have the confidence and the bravery to follow wherever that leads you.
"It all starts though with acknowledging your call no matter how quiet or loud it is and then seeing where your journey takes you to.
"For me, the call grew stronger throughout my life until it reached the point that I had to do something about it.
"I put it off continually as I knew my whole life would change and it certainly has."