First anniversary of Ukraine conflict to be marked with service and prayers
Published on 21 February 2023 3 minutes read
The Moderator of the General Assembly of the Church of Scotland is encouraging people to pray for all those affected by the conflict in Ukraine as we approach the first anniversary of the invasion.
A special ecumenical service will be held in Edinburgh at 7pm on Friday 24 February in St Mary's Catholic Cathedral, Broughton Street. The Moderator will represent the Church of Scotland at the service along with Bishop Kenneth Nowakowski, representing the Ukrainian Catholic church; Archbishop Leo Cushley of the Catholic Church in Scotland and Bishop Mark Strange, primus of the Scottish Episcopal Church.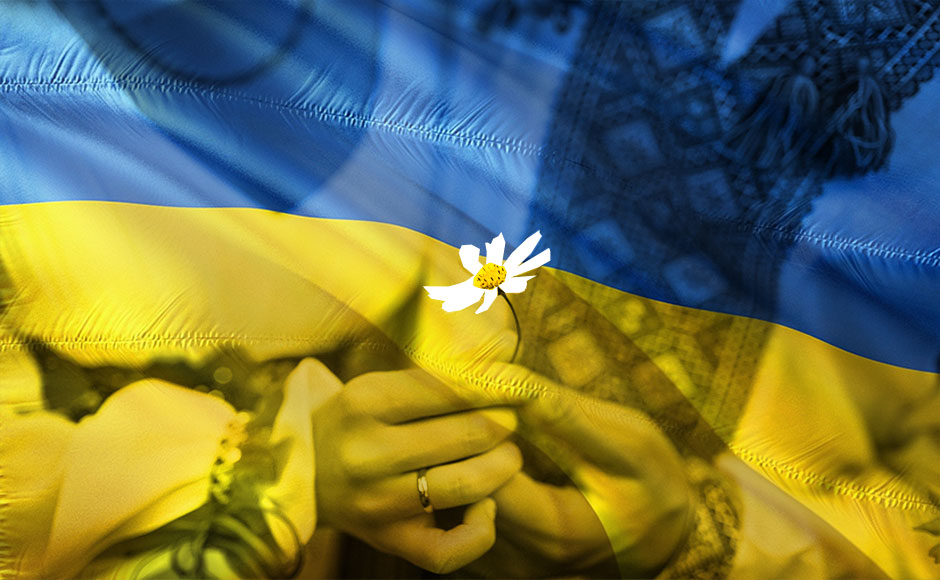 Rt Rev Dr Iain Greenshields, said:
"I cannot begin to imagine what a tragic day this is for the people of Ukraine as they enter a second year facing a future filled with uncertainty and fear.
"The Church of Scotland, locally and nationally, has been working to support all those affected by the war against Ukraine through prayer, through welcoming Ukrainians in our local communities, by reaching out to churches in the region, and through supporting our partners in the Hungarian Reformed Church Aid emergency response, along with partners working in neighbouring countries.
"On this first anniversary of the invasion we stand alongside the people of Ukraine and express our sincere sorrow and lament for their suffering, displacement and loss of life. In deep longing for peace, we look to the Prince of Peace and Giver of all Life to grant an end to the suffering, protection for those in need, hope for the weary and endurance for all.
"We cannot properly appreciate or fully understand their plight, but we pray that all those affected by the conflict in Ukraine will be comforted by the words of St Paul: 'May the God of hope fill you with all joy and peace as you trust in him, so that you may overflow with hope by the power of the Holy Spirit'." (Romans 15:13)
Prayers for Ukraine
A variety of prayer resources can be found on the Christian Aid website along with this special prayer written by the Ukrainian Greek Catholic Church. Congregations are invited to use this prayer on Friday 24 or at their usual Sunday services on 26 February.
Almighty and Great God,
Accept our gratitude for your boundless mercy towards us. Hear the supplication of our afflicted hearts for the land and people of Ukraine, as they confront foreign aggression and invasion. Open the eyes of those who have been overtaken by a spirit of deception and violence, that they be horrified by their works. Grant victory over the powers of evil that have arisen and bless Ukraine with your gifts of liberty, peace, tranquility, and good fortune.
We implore you, O Merciful God, look with grace upon those who courageously defend their land. Remember the mothers and fathers, the innocent children, widows and orphans, the disabled and helpless, those seeking shelter and refuge, who reach out to you and to their fellow human beings looking for mercy and compassion. Bless the hearts of those who have already shown great generosity and solidarity, and those who prepare to receive their Ukrainian brothers and sisters in Ukraine's greatest time of need. Bring us together as your children, your creation, and instil in us your strength, wisdom and understanding. May you be praised and glorified, now and forever, and to the ages of ages.
Amen
Many ways to support
Over the last year the Church of Scotland has worked closely with overseas church partners to support Ukrainians fleeing the conflict and to promote peacemaking initiatives. Church people have sent more than £400,000 to partner churches' aid efforts across the region. In May last year, the Moderator and church staff visited the Hungary/Ukraine border where they saw first-hand the impact of Church support for displaced people and refugees.
If you are interested in welcoming and supporting refugees in Scotland, you may want to attend a one-day ecumenical gathering of churches and New Scots for encounter and resourcing. Organised by Scottish Faiths Action for Refugees, Faith in Community Scotland and the Church of Scotland, Journeying with New Scots: Building community with refugees and asylum seekers is open to church leaders and members from all denominations, as well as members of all faiths, though it will be a specifically Christian gathering. The event will be free and lunch provided.