Moray minister is moving forward
Published on 31 October 2023
A Moray minister has marked the next step in her faith journey with an ordination service in front of friends and family at Duffus Kirk near Elgin.
Rev Anne-Marie Simpson has been called to Ordained Local Ministry (OLM) which will see her work in a non-stipendiary role at the linked charge of Duffus, Spynie and Hopeman, where the long-time Keith resident is already an active member of the local ministry team, including leading open air Forest Church services and supporting local schools through chaplaincy.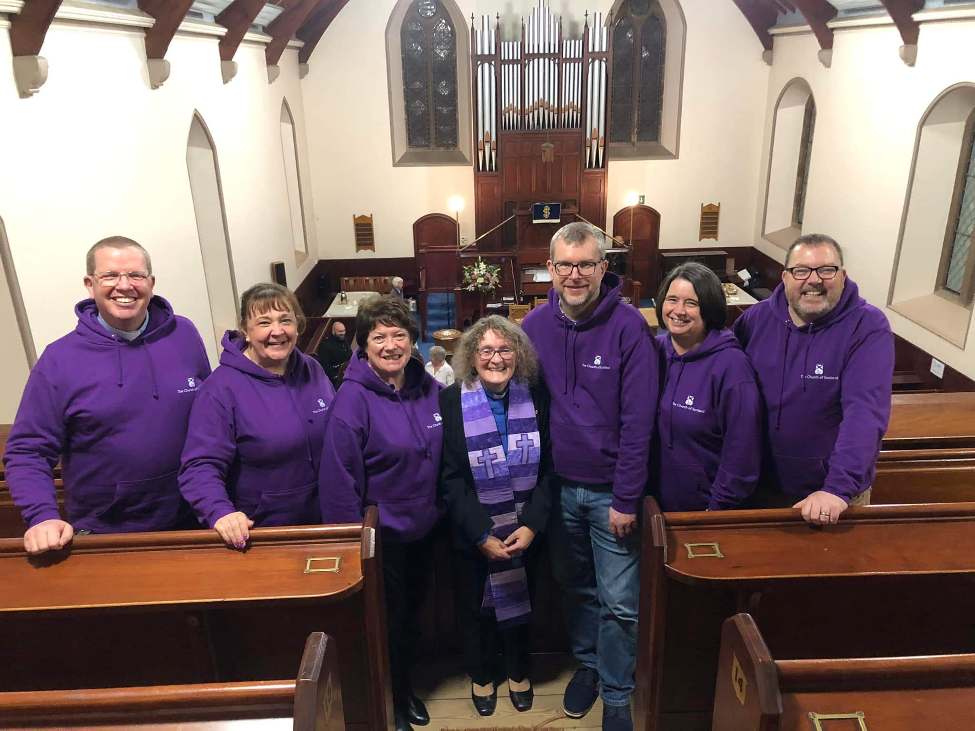 The former English teacher is already well known in the area for her own "Ministry of Transport", which was playfully referenced at her ordination.
"That's been a huge part of my ministry journey, just sitting down with people on a bus," Mrs Simpson explained.
"I have had so many conversations. So many people have a hurt that they want to share, or they want to tell me a lovely story about someone they have lost. I never go anywhere without having a story to tell when I come back.
"It's all about making the personal connection. We are all so busy looking at our differences and what sets them apart from others that we forget that inside we are all the same and that God loves us all the same way, whoever we are and whatever we have done and wherever we are going on that bus which is the journey of life."
However, Mrs Simpson may now be spending less time on the bus than in previous years.
To meet the challenge of serving a charge which currently consists of five buildings and three congregations across north Moray, including the soon to be united St Geraldine's High and St James Kirk in Lossiemouth, Mrs Simpson learned a new skill. One year to the day after purchasing it, she passed her driving test at the age of 57 – four years older than another recently qualified driver, Nicola Sturgeon.
Mrs Simpson, who was brought up in Aberdeen and Shetland, sees her new career in ministry as a second chance after ill-heath forced her to take early retirement from teaching.
Although she felt a real call to ministry in her early 40s, with children still at school, parents who needed care and a new grandchild, she was unable to take that call any further.
"When I had to retire at 50, I really thought life was never going to get much better and at one stage thought I wouldn't be around much longer, but then I met a doctor who was able to put things right," she said.
"Then I thought, I don't have a career, but maybe this is God saying that I have another chance to do what I really want."
When her home church, Keith North become vacant, Mrs Simpson became involved in leading services, including the Easter Sunday Service, and was encouraged by OLM Rev Sonia Palmer to take her interest further and train for the ministry.
This led to placements at Huntly, Elgin St James and St Columba, including some time at Keith St Rufus, before Mrs Simpson's final placement at Duffus, Spynie, Hopeman with Rev Jenny Adams, and her discernment placement at Cullen with Rev Douglas Stevenson.
"All of those were very different and presented different challenges and learning opportunities and I would go back to any of them at the drop of a hat," Mrs Simpson said.
"I've met so many great people along the way and I have been really encouraged on the journey by all the people I've met, not to mention my fellow candidates. We have made a big thing of being the class of 2023 and have found so much support and real friendship with each other. It's been lovely."
Three special words
Mrs Simpson's fellow members of the class of 2023 were joined by her three daughters and a son with their partners and children, with another couple of grandchildren watching online, and members of the Presbytery of the North east and Northern Isles, at her ordination service, which sees the beginning of an exciting new chapter in her Christian life.
"I was asked recently if I had three words to describe my ministry, what they would be, and my words were community, conversation and Christ-centric," she said.
"For me, community is both the community within the church and reaching out into the wider community, because that is very important, and also the community we have with God.
"Conversation is important, because I like to chat, but I also like to listen and conversation is a two-way thing.
"And Christ-centric because Christ has to be at the centre of everything I do. I spend a lot of time trying to discern where the Holy Spirit is leading me and pushing me, and for me it is really important that God is at the centre of everything I do and my love for Christ shows in what I do.
"That is certainly how I would to think my ministry would shape up. That it would be full of kindness and care for one another and good communication, and that lovely warmth that comes from living life with Christ."