May 2021: Shaped by Christian Community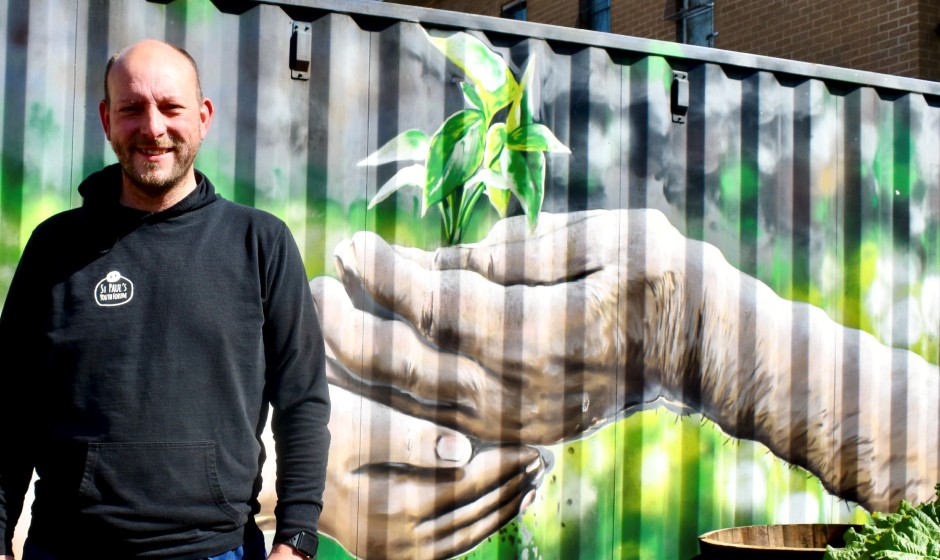 Each month throughout 2021, the Church of Scotland's 'Talking Ministry' series will share a personal story from those serving in Christian ministry, along with resources filled with questions, prayers and reflections to help encourage reflection on how God might be calling you at this time.
For May, Neil Young speaks about his work as a youth team leader at St Paul's Church of Scotland in Glasgow and we explore the theme: Shaped by Christian Community.
My ministry: Neil Young, a youth team leader at St Paul's Church of Scotland in Glasgow
What is your role?
In June it will be 20 years of me being at St Paul's in Glasgow as the Youth Team Leader. Originally my role was much smaller but it has evolved into a large missional organisation with a turnover of around £500,000, and with a full-time equivalent staff of 17 and over 40 volunteers.
We aim to lessen the worst effects of poverty, including food insecurity, stopping people going to prison by alleviating boredom, and some of the other issues that make it a better option than real life. We also give people a voice with Bolt FM, Scotland's longest running youth radio. Our most recent project started off as a bike project, and is now looking at both 'walking and wheeling'. Most people in the parish don't have access to a car and it's about making sure the infrastructure reflects this.

There's also the usual school chaplaincy and Sunday morning worship. I'm there to enable the work that goes on and I'm very fortunate to work with some of the most amazing people on the planet. Our community is absolutely brilliant.
What is your background?
I grew up in a church family in Govan - both of my parents were involved with the Iona Community. We moved to Perth and at St Matthew's Church there was a youth worker who was good at getting us involved with worship. I studied geology at university but helped to run a youth group and a scout group and increasingly realised I could do youth work and be paid for it! I always think of the line "young people don't care how much you know until they know how much you care", which really resonates with me.

A youth worker job came up in Keith in the north east of Scotland, so I went there first, but I fell in love with someone who lived in Glasgow and a job came up and I moved back here. After ten years of working here I sat with a young person who said "it's alright for you, you don't have to live around here" so me and my wife moved to Blackhill with our young family. It has been an absolute joy to be part of the community.
What are your highlights of the last 20 years?
The biggest highlight for our community has been the alleviation of youth violence and helping to stop youth crime. We used to have to take knives off young people as they came into the building to create a safe space - one of the first months we were here a kid came in with a 5cm gash in his head. We thought we're not putting up with this as a community and I managed to get funding to address this. What the young people wanted was something to do on a Thursday, Friday and Saturday night. Over a ten year period in our area it went from 116 crimes committed annually by under 20s to two, a 97% reduction.
The other highlights are international. We had the opportunity to visit and learn from a similar church in Zambia, which we were twinned with by World Mission. Our congregation is a small priority area congregation, and we turned up at their church and there were 2,000 people! What we've been able to learn from each other has been amazing -the Zambians have come to Glasgow a few times and have helped to tackle our apathy. We have huge challenges, but globally we are not poor and it's not a reason for us to stop trying. To see the opportunities that people in Zambia didn't have encouraged our young people to take on more. One young man, who had been a school refuser and involved with crime, went off, learnt how to read, got a college qualification, and as a result of the church's support we estimate around £1,000,000 has been saved for the UK government. Based on the path he was on which could have led to prison, this was a social return on investment of £816 per pound spent.
One of the beauties of the church is we're not a three or six month project - we're here for the long-haul. God is eternal. When all the other services are pulling out of our parish the only thing that's constant is God and the Church of Scotland. I love that aspect of it.
How does your faith shape your work?
My faith shapes all of my life. Matthew 25 inspires my work, when it says in the Bible "for I was hungry and you fed me" in our parish, the Church is the lead organisation tackling this - Jesus told us very clearly this is what we need to do. Let's go and walk alongside all people and show them that Christ cares. It's the absolute privilege of my ministry.
So much of the mental health pandemic that we have at the moment is with young people feeling that they are not worthy. To be able to be there as a Christian and say "We think you're worthy? You are made in the image of God, Here's what Jesus did for you" and at the same time tackle some of the issues of inequality and justice that removes peoples life chances and choices.
Any advice for someone getting into youth work?
I am not an expert on young people - young people are the experts on young people. Anything that has worked has been because they're leading as they know what they're talking about. All I've ever known is young people wanting people to be interested in them, not in our agendas. Then we are able to tell them that God is even more interested in them, that they are made in the image of God and that God loves them.
It's ok to fail. We'll very much run a project around love. We've had people cause thousands of pounds of damage to the building expecting to be excluded and told we don't want to see you again, but instead they've had someone say "you're obviously going through some stuff at the moment, let's talk about it". God forgives you and so do we. In 20 years we've never had anyone barred from our building because we believe in grace.
May Discernment Resources: Shaped by Christian Community
The value of each ministry
When we begin to talk about and discuss the value of each person within the church and how the whole people of God contribute their individual parts to make up the whole, one of the most obvious bible passages that springs to mind is "one body, many parts" from 1 Corinthians 12. However, in a recent exploration session for those considering becoming elders, it was really fruitful to look at the passages on either side of this well known and well worn text.
Read this passage out loud, twice. Listen and hold onto in your mind or even write down on the second hearing which parts jump out and stick with you. How is God speaking to you about the part you play in the ministry of the whole people of God?
Gifts of the Holy Spirit

12 Brothers and sisters, I want you to know about the gifts of the Holy Spirit.

4 There are different kinds of gifts. But they are all given to believers by the same Spirit. 5 There are different ways to serve. But they all come from the same Lord. 6 There are different ways the Spirit works. But the same God is working in all these ways and in all people.

7 The Holy Spirit is given to each of us in a special way. That is for the good of all. 8 To some people the Spirit gives a message of wisdom. To others the same Spirit gives a message of knowledge. 9 To others the same Spirit gives faith. To others that one Spirit gives gifts of healing. 10 To others he gives the power to do miracles. To others he gives the ability to prophesy. To others he gives the ability to tell the spirits apart. To others he gives the ability to speak in different kinds of languages they had not known before. And to still others he gives the ability to explain what was said in those languages. 11 All the gifts are produced by one and the same Spirit. He gives gifts to each person, just as he decides.

1 Corinthians 12 v1, 4 - 11
Recognising our talents and gifts
As well as recognising that there are many different gifts and that you may have one in particular, some or a few or even none that are mentioned here or need a bit of interpreting and nurturing, you may have been incredibly struck by the simple fact that it is God who gives the gifts. God decides what gifts to give but you, you choose what to do with them. Like being given a house plant as a present, we may be filled with a sense of disappointment (because we would have liked something else!) or trepidation because it involves an implied responsibility if we are to value, cherish and nurture the gift. However, if we come to understand and appreciate the gift, it can grow and develop into something beautiful and full of life.
The location of the call to service
1 Corinthians then moves on to the well known words about the body and its many parts and how they are in relation to each other; a metaphor so rich in evoking the nuances of human relationship and community dynamics. Our gifts only make sense when they are in the context of community. When we read "if the body were only an eye then how would it hear" this not only describes how we all need each other, it also points out that we only discover what we are and what we can do by recognising what we are not and what we do not do alongside others. This is where "one body, many parts" connects strongly with the body of Christ. We are called, each and everyone of us, to have respect and concern for every part of the body and to learn that when one part suffers all suffer, when one part is praised and valued, everyone feels that. This is why there is a shared ordination vow in the Church of Scotland for both elders and ministers: "do you promise to seek the unity and peace of the church?"
To contemplate/discuss
Do I see myself as other see me?
In my church, in my community, is God speaking through others to me?
How do we seek the unity and peace of the church in meetings and in phone calls, in every day arguments and in occasional big decisions?
How do we negotiate and navigate relationships with complex or difficult parts of the body that we would rather not mention or pay attention to?
What are the less "churchy" or less obvious spiritual gifts that are often the most essential in our times of upheaval, uncertainty and transition?
Here is the follow up passage to the "one body, many parts":
You are the body of Christ. Each one of you is a part of it.First, God has placed apostles in the church. Second, he has placed prophets in the church. Third, he has placed teachers in the church. Then he has given to the church miracles and gifts of healing. He also has given the gift of helping others and the gift of guiding the church. God also has given the gift of speaking in different kinds of languages. Is everyone an apostle? Is everyone a prophet? Is everyone a teacher? Do all work miracles?Do all have gifts of healing? Do all speak in languages they had not known before? Do all explain what is said in those languages? But above all, you should want the more important gifts.
Love Is Necessary
But now I will show you the best way of all.

1 Corinthians 13
The eldership affirmation "Do you believe the fundamental doctrines of the christian faith; Do you promise To see the unity and peace of the church; To uphold its doctrine, worship, government and discipline; And to take your due part in the administration of its affairs?"
Surely things apply to ministers too. What do they mean?
Every elder is expected to:
Attend worship regularly
Remember the work of the church in their own prayers
Give sacrificially of their time talents and money
Attend Kirk Session meetings and workgroups/ committees
Work in partnership with the minister and the other elders
However, individual elders/ministers might use their gifts in:
Leadership & vision building
Pastoral care
Developing forms of worship
Administration
Outreach
Christian education
Do you know what each of these mean? Which ones do you think you could do? Which ones do you think you could not do?
A prayer for elders
Grant them the gift of your Holy Spirit, that their hearts may be set on fire with love for you and those committed to their care. Make them pure in heart as those who have the mind of christ. Give them vision to discern your purposes for the church and the world you love. Keep them faithful to the end in all their service, that when the chief shepherd appears, they may receive glory, a crown that never fades. Amen
Book of Common Order of the Church of Scotland, St Andrew Press 1994, pp.338-339
O wad some Power the giftie gie us To see oursels as ithers see us!

Robert Burns
More information
If you would like to consider how God might be calling you to serve at this time, you may want to discuss further with your minister or be in touch with your Presbytery to explore local opportunities.
If you are interested in exploring a call to the recognised ministries of the Church, you can find more information on our vocations page and can contact ministry@churchofscotland.org.uk for a Discernment Conversation with one of the Recruitment Team.