General Assembly rejects divestment call
The General Assembly has recognised that the world is in the grip of a climate and ecological emergency but rejected calls for divestment.
Commissioners voted 303 to 263 to defeat a motion brought forward by Rev Gordon Strang which urged the Investors Trust to divest from oil and gas companies by the end of 2020.
The Church holds shares in BP, Shell and Total.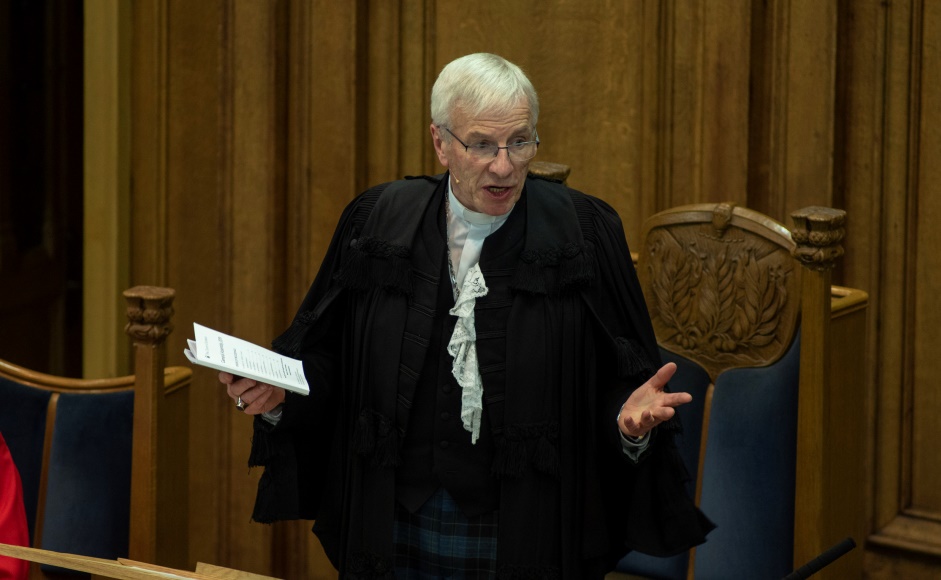 Mr Strang, who leads Cromdale and Advie with Dulnain Bridge with Grantown on Spey churches in the Highlands, argued that divestment would help transition towards a sustainable, carbon neutral economy.
His call chimed with concerns expressed by the Church and Society Council despite a General Assembly decision last year to continue discussing the merits of investing in renewables with oil and gas firms.
A report read: "The outcome of the process to date is informative but concerning.
"All three companies are aware of climate change and all have made some investment in low carbon alternatives to gas and oil.
"But all remain at heart businesses whose main objectives is the exploration, extraction and sale of oil and gas."
Moral values
Mr Strang, a former oil industry worker, said Swedish activist Greta Thunberg was the face of a generation that his children belonged to who were "angry" with older people for contributing to the climate emergency.
"We simply cannot wait and if we are to have any hope of reaching net zero greenhouse gas emissions (in Scotland) by 2045 we need to free ourselves of oil and gas and rapidly," he added.
"Young and old are telling us what we already know and they rightly ask the Church 'where are our moral values?'
"Meanwhile, major oil and gas companies continue to grow their core business and reports suggest that the industry is to spend $4.9 trillion over the next 10 years, exploring and extracting new oil and gas reserves.
"Despite engagement taking place, little is changing."
Redemptive
But Catherine Alexander, chairman of the Church of Scotland Investors Trust, claimed that divesting was the "wrong way" to influence change
"The trustees believe that working with likeminded Christian investors, and trusting in the redemptive power of the Christian message, more progress can be made to engage with companies positively to make the changes needed to transition to a just market economy and tackle climate change."
William Sutherland, an elder at Mastrick Church in Aberdeen, urged caution and said he was unable to support Mr Strang's countermotion.
He said 85,000 people were paid off during the last downturn in the oil and gas industry and many were forced to use foodbanks.
Mr Sutherland said: "A balance has to be achieved and many of our members contribute considerably to the church.
"We have to allow time for those companies to change."
Absolute disaster
Rev Gordon Craig, chaplain to the UK oil and gas industry, said he felt like Daniel in the lion's den.
He claimed industry figures are taking notice of what the Church is saying and it would be a "real shame" if the ability to engage with companies at the highest level was lost.
Mr Craig said: "It is too easy to blame the oil companies and they would not be investing unless money was to be made.
"Every time we use our car, every time we put our heating up, we are participating in this absolute disaster.
"Until we make a change, the oil and gas companies won't change."
The issue sparked a passionate debate and after much discussion commissioners voted in favour of continuing to try and influence companies as shareholders.
Deaf ears
A total of 78 commissioners have registered their dissent so far.
Seonaid Knox, clerk to the National Youth Assembly, seconded Mr Strang's countermotion.
She said: "It's extremely disheartening that the General Assembly has yet again voted to continue to invest in fossil fuels.
"It's deeply frustrating that we have yet again delayed acting on the climate emergency we face.
"While it's positive that more commissioners were in favour of divesting compared with 2018, the reality is that despite youth and international delegates stressing the urgency of the matter our pleas fell on deaf ears.
"We will continue to push for divestment and for local congregations to reduce their carbon footprint."