Moderator signs up for Christian Aid's Tay Bridge walk
Published on 24 April 2019
To launch Christian Aid Week, the Moderator of the General Assembly of the Church of Scotland, Rt Rev Susan Brown, is donning her walking boots to take part in the annual Tay Bridge Cross Challenge on Saturday 11 May.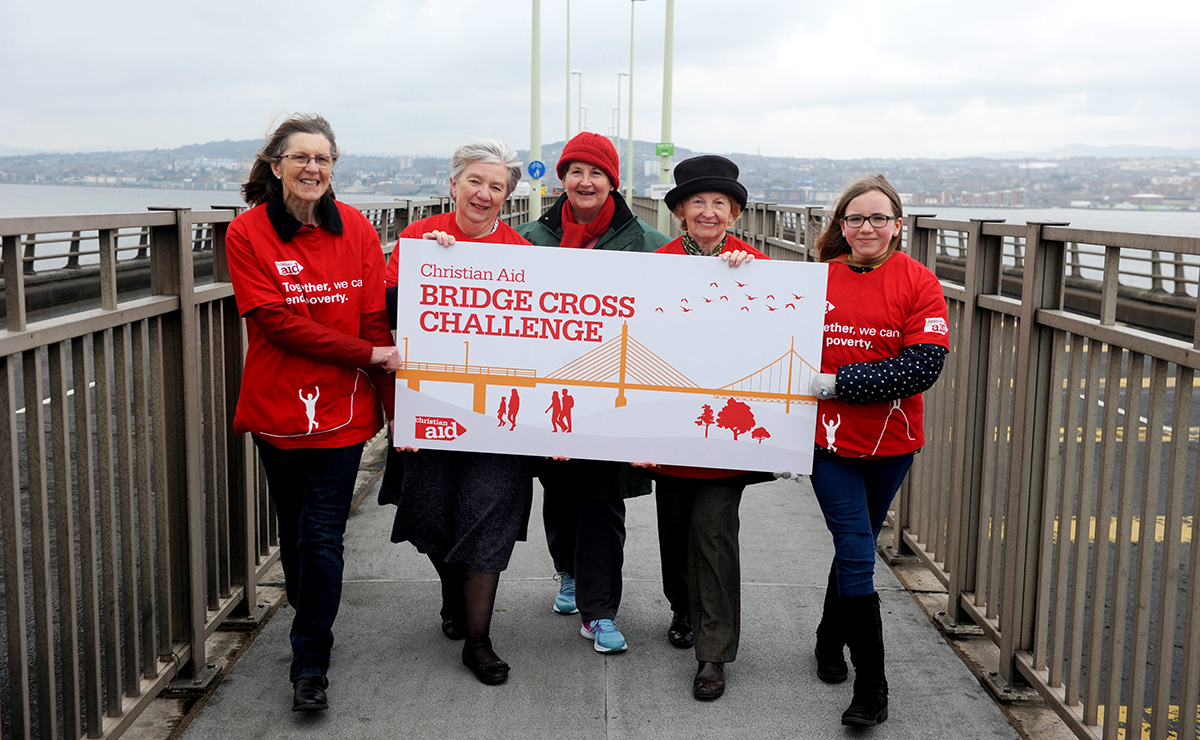 This year, Christian Aid Week takes place between Sunday 12 May until Saturday 18 May, with fundraisers across Scotland having the choice of crossing the Forth, Tay or Erskine Bridge to help support the work of Christian Aid.
Under the banner of the 'Bridge Cross Challenge', people will be putting on their walking shoes, wearing red and taking part in sponsored walks across three of the country's most iconic bridges.
The annual Tay Bridge Cross started over twenty years ago and it is now one of Dundee's longest running sponsored walks, raising thousands of pounds for Christian Aid.
Ahead of her challenge, Rt Rev Susan Brown said:
"I have fond memories of crossing the Forth Road Bridge with members of South Queensferry Parish Church more than 30 years ago and I look forward to joining people at the start of Christian Aid week this year on the Tay Bridge.
"Christian Aid helps to bridge so many gaps for the world's most vulnerable people and reminds us we are part of a global community, called to love and care for each other and to care too, for the world in which we live.
"Why not take part in a walk near you? Or consider sponsoring someone?
"Let's keep building bridges!"
Help fight poverty step by step
Lucy Kirkland, events fundraising officer for Christian Aid Scotland, said:
"Christian Aid supporters have been crossing the Erskine, Tay and Forth Road bridges for many years and in that time, they've raised over £1.5million for the world's poorest people.
"We hope that people will choose their favourite bridge, grab friends and family and help us fight poverty step by step.
"This year, we are also really looking forward to welcoming Rt Rev Susan Brown.
"The Tay Bridge Cross has been a huge success, and this is down to the enthusiasm and commitment of people and community groups north and south of the Tay and we are forever grateful for their support."
Margaret Imlay, who is a member of Newport on Tay Parish Church said:
"We've enjoyed taking part in the Tay Bridge Cross for twenty years as it's such an easy way to raise funds for Christian Aid.
"Once you have your sponsors, which is always the hard bit, it's a fantastic walk with friends on a lovely spring day. It is fellowship and fresh air to help achieve a fairer world."
This year, Christian Aid Week will be highlighting the work being undertaken in Sierra Leone to cut maternal deaths and improve the lives of mothers and babies. Sierra Leone is the most dangerous place in the world to give birth with one in nine children not seeing their 5th birthday. All the money raised will be going to support these women in Sierra Leone.
Take part in this year's Tay Bridge Cross
To take part in the Tay Bridge Cross, which will take place on Saturday 11 May from 2pm, please see the Christian Aid website, email Lucy Kirkland or call her on 0141 2416138.
#TeamChristianAid