New street name honours Kirk minister
Published on 28 April 2019
A Fife village has recognised its popular former minister by naming a new street of housing after him.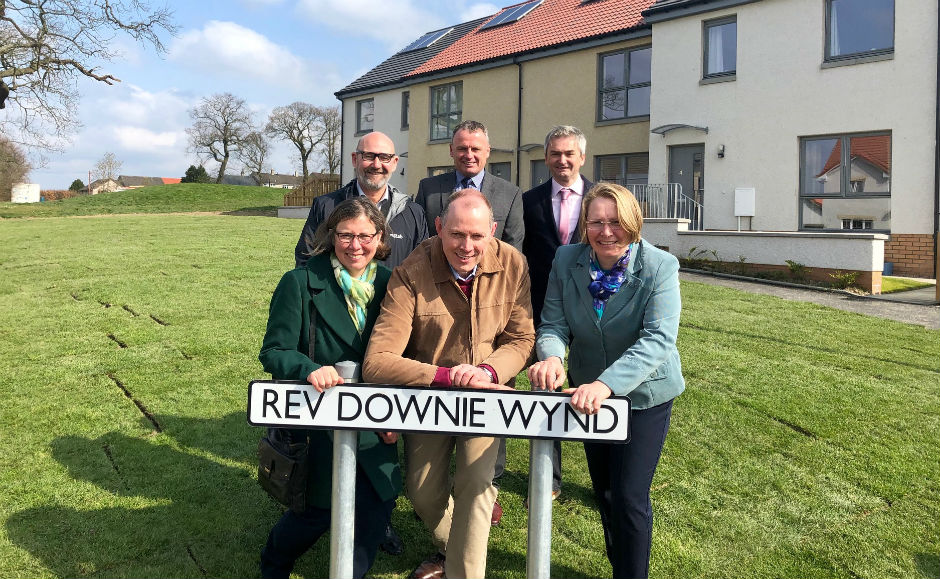 Following a poll run by the local community council, residents of Saline voted to honour the late Reverend Alexander 'Sandy' Downie.
A street naming ceremony was attended by Mr Downie's children and grandchildren.
Mr Downie served as the village's Church of Scotland minister for almost four decades until his death in 1992. He married Jean in 1960 and their son and two daughters were born and raised in the village.
David Chisholm, chair of Saline and Steelend Community Council, said: "The Reverend Downie and his wife Jean were at the heart of village life for almost half a century and are remembered by many with great fondness and affection.
"His children travelled across Scotland for the ceremony and said they were very touched that the community would remember him in this way.
"People gathered at the church after and it was very heart-warming to hear everyone swapping their memories of him."
Mr Chisholm added: "Local people were instrumental in identifying the site on which the new homes have been built and in promoting the provision of affordable housing.
"It will allow young people who grew up in Saline to raise their families here, close to their own parents and grandparents."
Sisters Margaret Gordon and Allison MacNeill were accompanied by their brother Dr Alexander (Sandy) Downie for the event.
They said: "We have been truly touched by this very kind act by the Saline community in naming a street in our father's honour.
"It is greatly appreciated by us and our families."
The new £7 million development by Kingdom Housing Association will provide 49 homes for social rent and six mid-market rent homes.