Queen attends service honouring army chaplains
Published on 22 February 2019
It was 100 years ago to the day that the Army Chaplains' Department were renamed the Royal Army Chaplains, in honour of their outstanding service in the First World War. Today HM the Queen helped the chaplains celebrate the centenary at a special service of commemoration.
The event, which took place at the Royal Military Chapel in London, was attended by many Church of Scotland chaplains.
Those who gathered reflected upon the sacrifice and hard work of those chaplains who have gone before, those who rose to the challenges of serving in conflicts, those who made the ultimate sacrifice, but also those who have simply been there when a soldier has asked, 'Padre have you got a minute…?'
The service culminated in a global act of unity and dedication: The Chaplain-General asked all serving RAChD Chaplains to reaffirm their commitment and rededicate themselves to Service in the presence of their Royal Patron and the Commander Field Army Lieutenant General Patrick Sanders.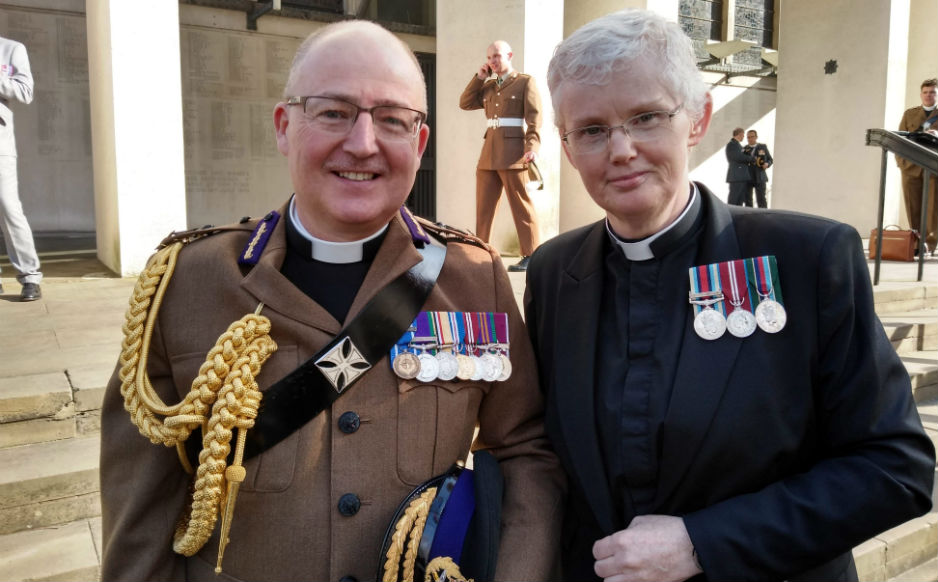 Rev Dr Marjory MacLean , Convener of the Chaplains to Her Majesty's Forces Committee said: " In the presence of the Queen and representatives of the sending churches, 100 years of faithful and sacrificial service by Army chaplains - regular, reserve and cadet, and past and present - was wonderfully celebrated.
"Their aim, to be Prayerful, Positive and Professional, infused the service."
Army Chaplains across the World who for operational reasons could not attend the service, also paused, at this hour, for a moment's prayer and reflection.
The remit of the Royal Army Chaplains' Department is to offer moral guidance, speak truth to power and to engage with soldiers solely out of a sense of compassion and concern for their wellbeing, irrespective of their beliefs or absence of faith.
During the service a new Book of Remembrance and Roll of Honour detailing all those chaplains who gave their lives in the service of others was blessed.
This Book of Remembrance contains the first complete RAChD Roll of Honour spanning the beginning of the Great War to the present day.
The Book will be laid up in the Royal Memorial Chapel Sandhurst where its pages will be regularly turned.
In recognition of the 75th anniversary year of the D-Day landings, the processional cross used in the service was that fashioned by Canadian Engineers from German Copper in Normandy in June 1944 so that the then Chaplain to the Forces, Reverend A (Sandy) Reynolds TD could conduct services for soldiers fighting at the front.