Still Game stars officially open community shop
Published on 11 April 2019
Two stars of hit comedy Still Game have officially opened a community shop in the east-end of Glasgow.
Jane McCarry (Isa Drennan) and Paul Riley (Winston Ingram) were the guests of honour at the launch of Cranhill Cabin.
It is housed in a pre-fabricated unit erected next to the Cranhill Development Trust and Cranhill Parish Church building.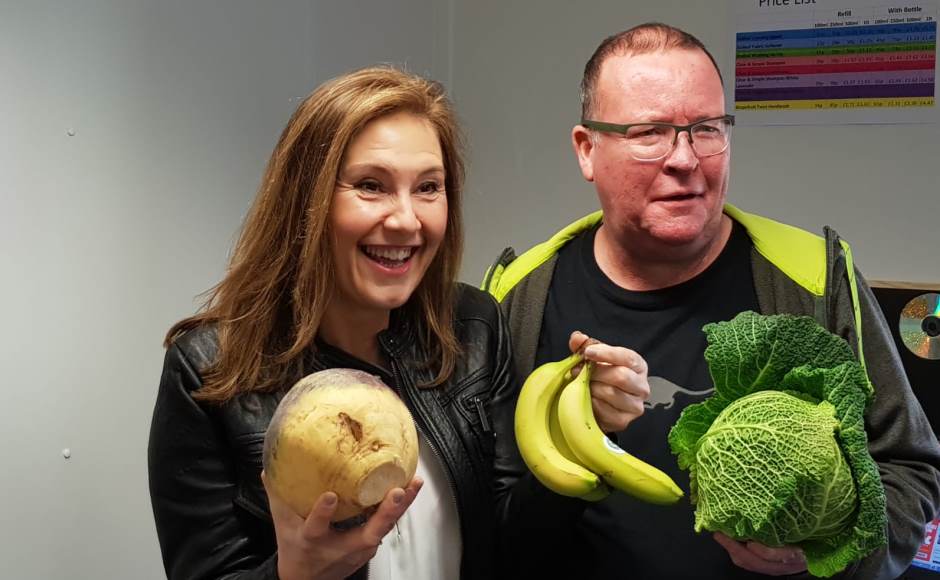 Around 100 people of all ages attended the ribbon cutting ceremony yesterday.
Ms McCarry, whose gossipy pensioner character works in Navid's shop in the fictional Craiglang area of Glasgow, said she was very impressed with Cranhill Cabin.
The TV duo said it was miles ahead of Navid's in the BBC Scotland comedy.
Cranhill Cabin, which addresses food inequality, encourages healthy eating and good stewardship of the environment, is described as an oasis in a "food desert"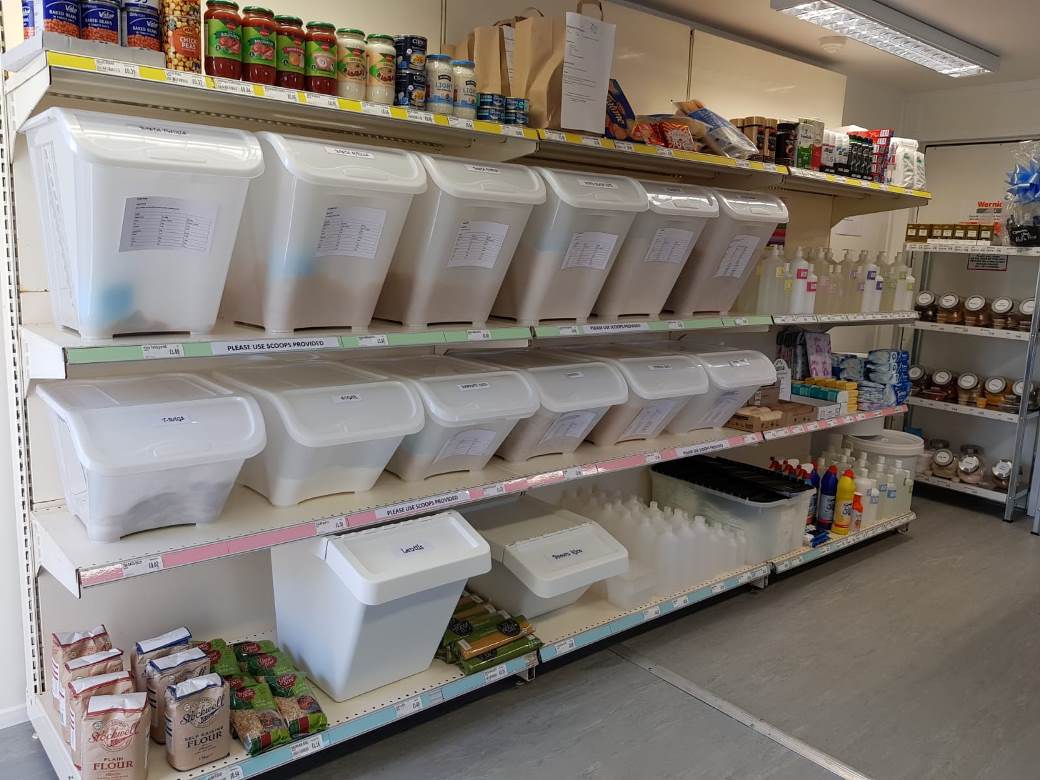 Run by volunteers and open five days a week, it sells a wide range of reasonably priced household essentials including fresh fruit and vegetables, herbs and spices.
Many products are bought in bulk and stored in plastic boxes and customers are encouraged to bring in tubs and reusable bottles and fill them up with items like pasta, rice, shampoo and washing powder.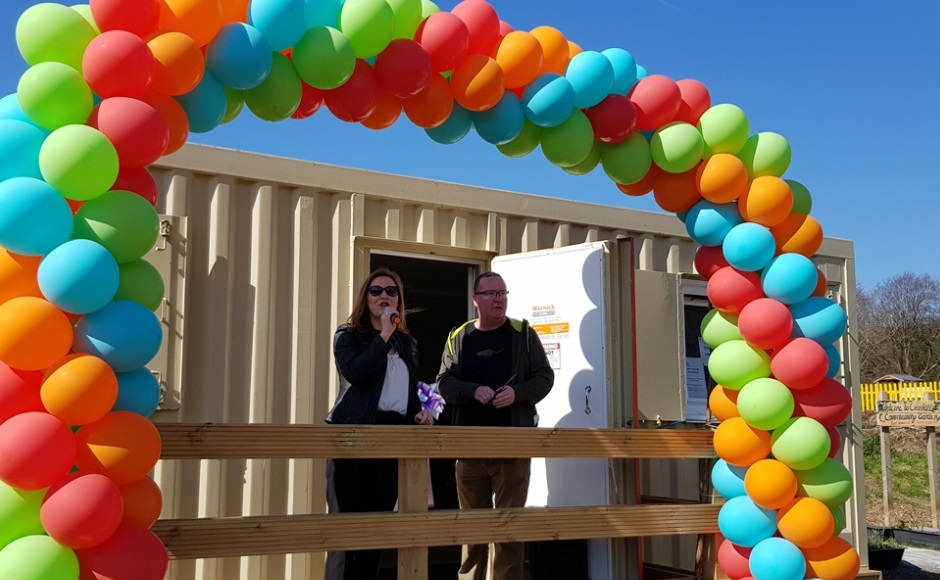 They can buy single units of toilet rolls, kitchen rolls and nappies which is particularly helpful for people on tight budgets.
The shop sells flat pack meals and does not provide plastic bags, encouraging people to reuse ones they have or use cloth bags.
The business model keeps prices low and saves on packaging which is good for the environment.
Ms McCarry said: "Cranhill Cabin is a brilliant community effort - everyone is coming together and supporting each other.
"The shop is great and sells the best of gear.
"If Craiglang in Still Game is not about people loving and supporting each other in their community, I do not know what it is about."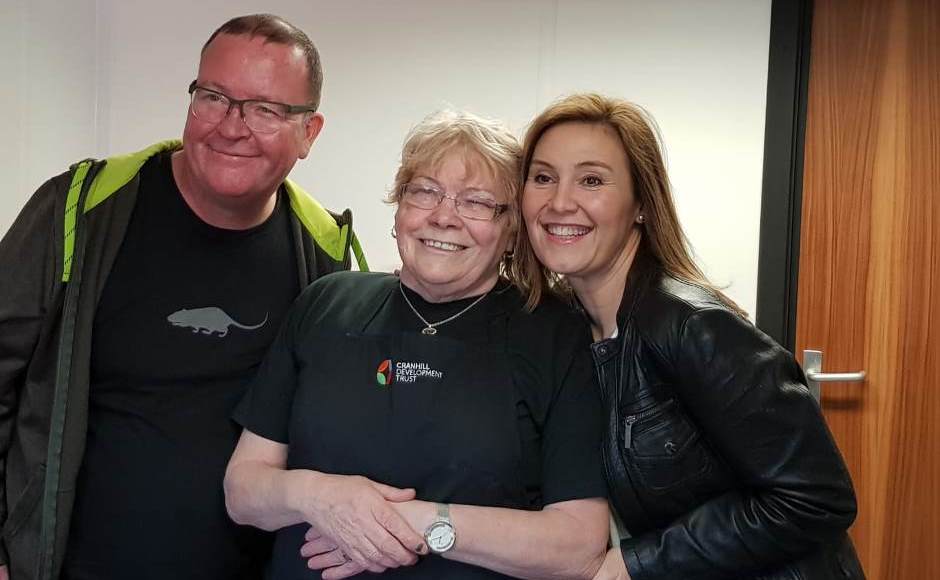 The two actors said they were delighted to support the Church of Scotland Go For It fund supported, non-profit venture.
Annie Love, 75, a member of Cranhill Parish Church, volunteers in the shop two days a week.
She has connections in the entertainment business and arranged for the two actors to officially open it.
Ms Love said: "I love volunteering and the shop is good for Cranhill because some people have not got much money.
"One lady came in last week and she was really short and said she would like to make a pot of soup.
"She got all the ingredients she needed for just over £1.
"People love the shop and it is a chance to help people which is good for our morale as well as theirs."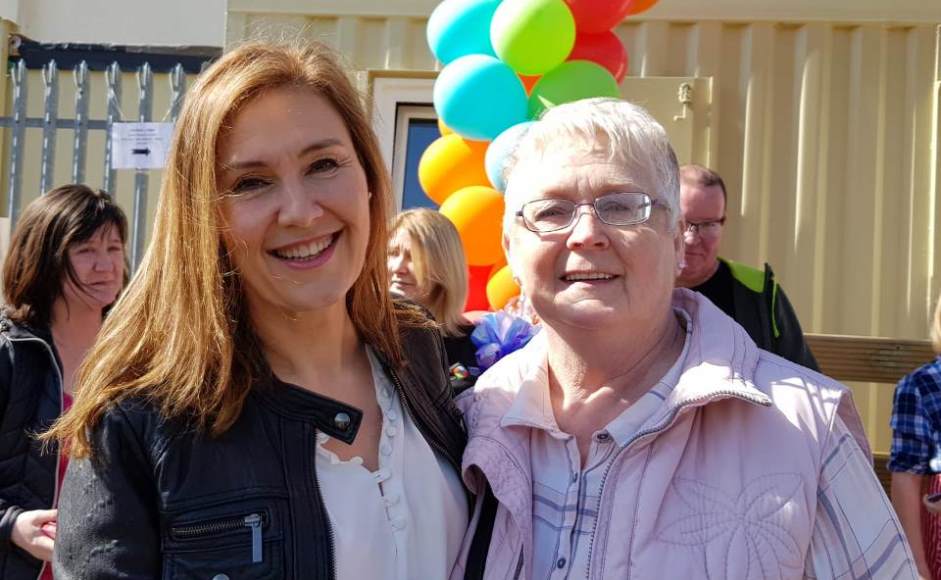 Linda Drummond of nearby Riddrie was recently made redundant from the shop where she worked for 27 years.
The 59-year-old said: "It is great to be able to buy little quantities of things which take the pressure off families on a tight budget.
"By the time you pay your bills, what you have left at the end of the day is not much.
"So knowing that you can go into this wee shop and buy a small amount of something to last you until the end of the week is great."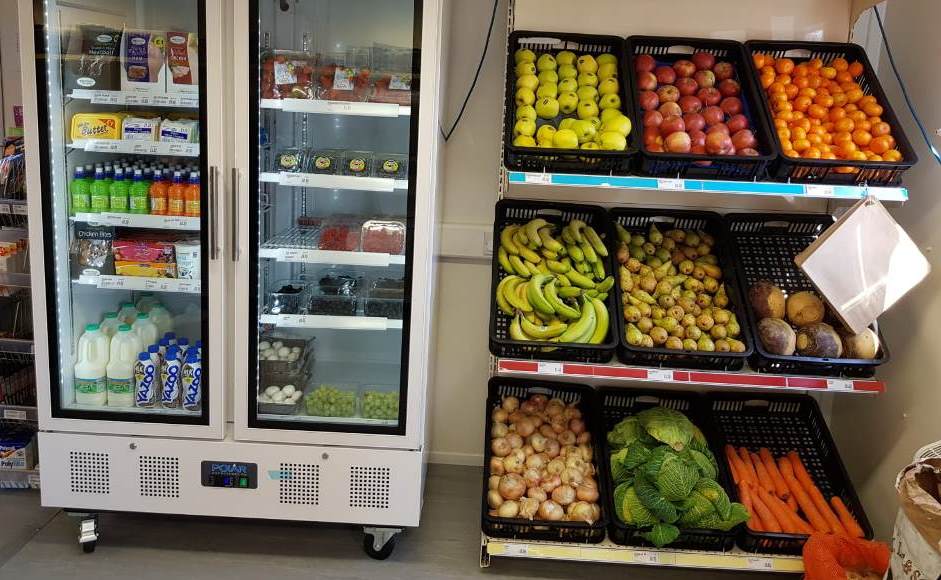 Maureen Moffat, community shop manager, said the volunteering opportunities helped teach people new skills and provided company for older people.
She added that the Cabin met local needs because Cranhill is a "food desert" as larger supermarkets are a bus ride away for most people.
Ms Moffat, 52, said she sourced goods at the lowest possible prices, without compromising on quality, from a variety of suppliers.
Shop volunteers direct customers to services and activities provided by Cranhill Development Trust such as the community garden, which will produce herbs for sale, and cooking classes.
Ms Moffat said: "We had a soft launch of the shop last month to get the volunteers used to everything because three of them have never worked in one before.
"Things are going well, the shop is proving popular with the community and by Friday we usually have very little fruit and veg left.
"We sell a lot of single roll toilet rolls, kitchen roll and nappies because a lot of people round here are on Universal Credit and get to the end of the month and do not have a lot of money."
Still Game, a television phenomenon, aired its last episode last month after 17 years on the air.