Scottish aid charities launch coronavirus appeal
Published on 15 July 2020
Leading Scottish aid charities have united this week to launch an urgent new fundraising appeal to help the world's most vulnerable communities facing the threat of coronavirus.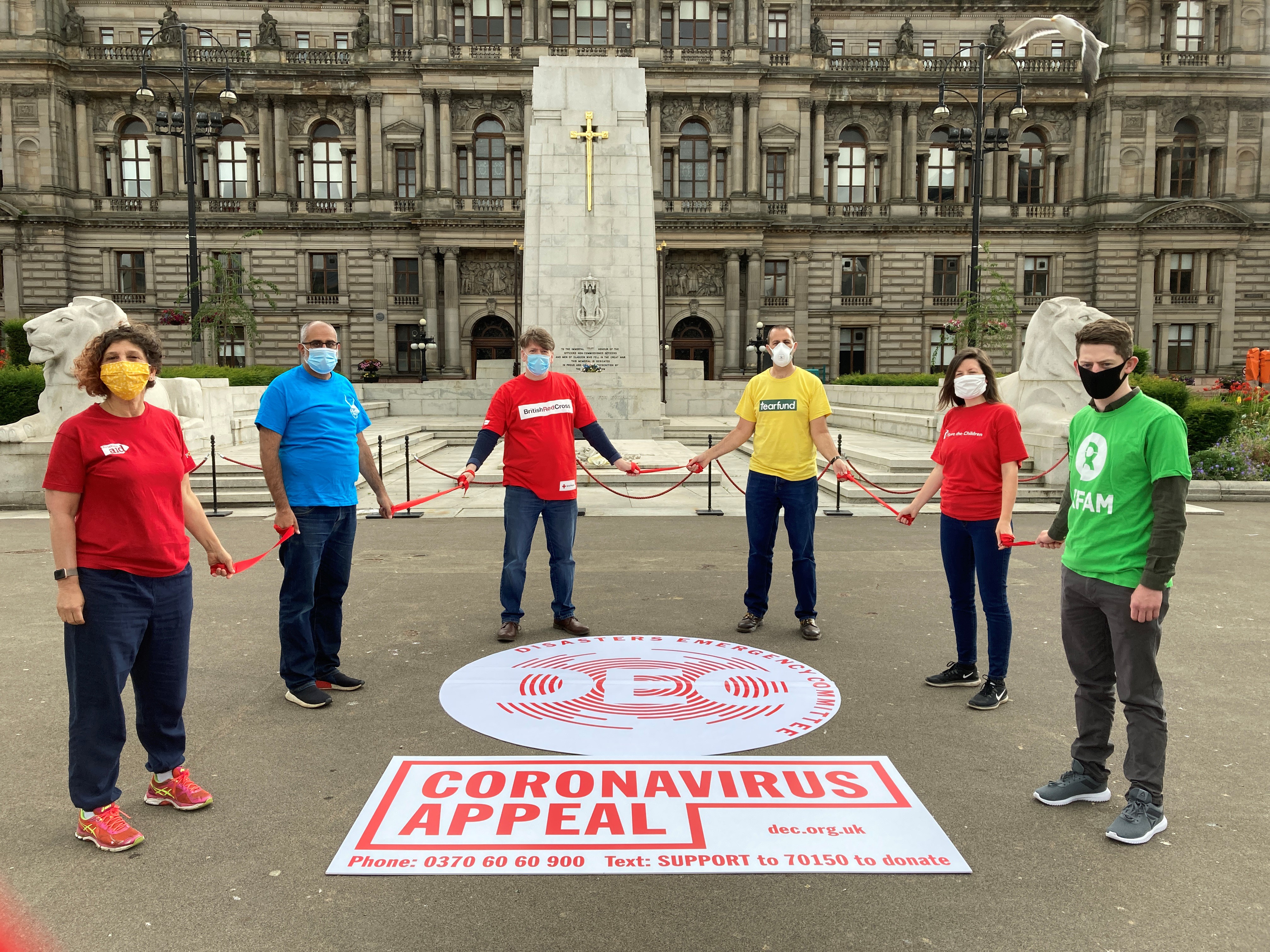 As lockdown measures in Scotland begin to lift, the charities who make up the Disasters Emergency Committee (DEC) in Scotland say that the global emergency is far from over. Millions of lives are at stake as Covid-19 threatens to overwhelm vulnerable communities living in overcrowded refugee and displacement camps in places like Yemen, Syria and Somalia.
The DEC Scotland charities are warning that people living in crowded camps have little access to medical care, clean water or enough food, making them extremely vulnerable to infection. In these places, the virus is likely to be even more deadly than it has been here.
Supporting the call, the Moderator of the General Assembly of the Church of Scotland, Rt Rev Dr Martin Fair, said:
"The Covid-19 pandemic has brought suffering to people across the world, and in those regions which were already facing serious challenges it is having a catastrophic impact. Refugees, displaced people and people trapped in war-torn areas simply do not have clean water, hygienic surroundings or the means to keep themselves safe and healthy. We know that poverty is a problem for millions of people across the world; now international agencies report the pandemic is causing extreme poverty to rise rapidly, reversing the progress made since 1990.
"People who were in crisis before, now urgently need our support to feed and care for themselves and their families. That is why I am urging everyone to support the Disaster Emergency Committee Covid-19 Appeal. Your generous gift to Christian Aid and its partner organisations on the committee will save lives and offer hope in these most difficult times."
Sally Foster Fulton, Head of Christian Aid Scotland and chair of DEC Scotland, said:
"We have seen here how deadly and frightening the coronavirus can be. But just imagine what it would be like to face with the threat of Covid-19 when you live in an overcrowded refugee camp, where social distancing is impossible and where you don't even have access to clean water to wash your hands.

"During the pandemic, communities across Scotland have come together to protect each other from the threat of the virus; now we're asking people to show the same solidarity with people around the world facing this silent killer. We're urging everyone who can to donate today – every pound counts and will help save lives."
Global solidarity
Funds raised by the appeal will go to help people in Yemen, Syria, Somalia, South Sudan, DRC, Afghanistan and the Rohingya refugees in Bangladesh.
Donations will be used to:
provide families with clean water, soap and information on keeping themselves safe;
provide frontline medical and aid workers with equipment and supplies to care for the vulnerable and sick; and
ensure families get enough food to prevent malnutrition, particularly amongst children.
You can donate now by going to the DEC Coronavirus Appeal website.
The appeal has been given a big early boost with news that the Scottish Government will be contributing £240,000 to the relief effort through its Humanitarian Emergency Fund.
Scottish Government Minister for International Development, Jenny Gilruth said:
"Covid-19 is the biggest challenge that humanity has faced for generations and for millions of refugees and displaced people it has made an already terrible situation even worse.
"The virus does not respect borders and to defeat it we need truly global action. Throughout our response we have been guided by values of kindness and compassion, which is why as well as doing all we can to support people in Scotland, the Scottish Government believes it is right to help those facing unimaginable pain and suffering in some of the world's most fragile and dangerous places."
The appeal is also being supported by the UK government through its Aid Match scheme.