Church backs campaign to help people in countries ravaged by COVID-19
The Church of Scotland is backing a new campaign to support people in developing countries while they wait to be vaccinated against COVID-19.
Lord Wallace, Moderator of the General Assembly, announced support for a Christian Aid initiative to ensure access to basic items such as food, water and food.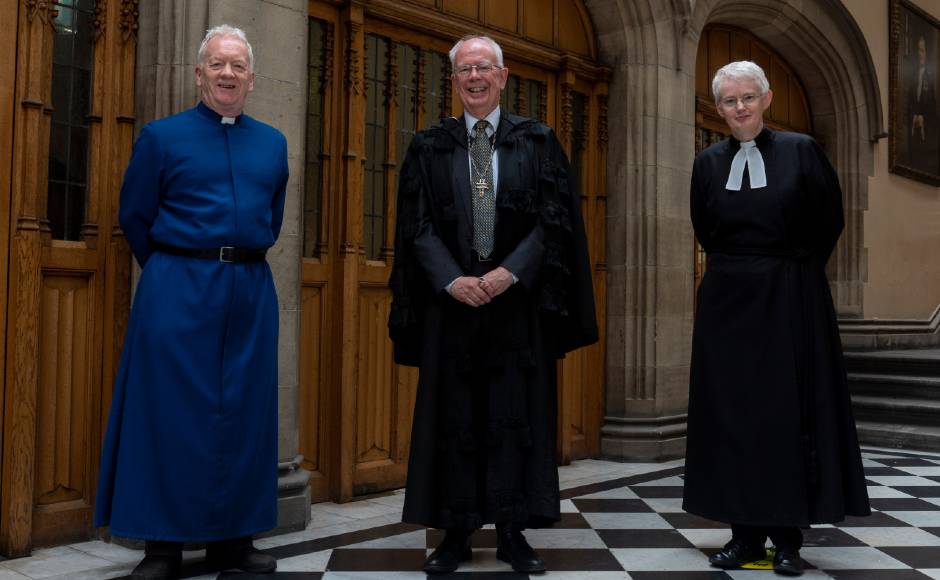 The move comes after commissioners backed a Faith Impact Forum deliverance to urge the UK Government to do all that it can to ensure COVID-19 vaccines are available throughout the world.
Church of Scotland Mission partner Joel Hafvenstein of the United Mission to Nepal – a country hit by a second wave of COVID-19 - yesterday spoke movingly in support of it, saying vaccines must be available to resource-poor countries on the basis of clinical need to preserve human life.
Eradicate poverty
Lord Wallace said backing the Christian Aid campaign is an expression of the Church's "solidarity and commitment to eradicating poverty worldwide".
"In response and in the spirit of the deliverance exhortation, on behalf of the Church of Scotland, in partnership with Christian Aid, I am launching today an opportunity for each one of us to support people across the world who do not have access to a COVID-19 vaccine," he said.
"As well as advocating for a just vaccine rollout, we wish to support Christian Aid's work with vulnerable communities, helping to limit the impact of the virus on health, livelihoods, and personal safety.
"By providing basics such as soap, water, and food, we can ensure that vulnerable communities stay safer as they wait for vaccination.
"This is an opportunity to give thanks in a very tangible way. In a quest for global justice, here is a practical opportunity to give real expression in 2021 to loving our global neighbours.
"I sincerely hope that you will join with me and together we will respond generously, as a mark of our gratitude for what we have received."
Better equipped
Lord Wallace said it had been a "unique" General Assembly as a small number of people ran proceedings and delivered reports in the Assembly Hall while commissioners took part online.
"In commentary and conversation during the run up to the General Assembly, and in many of the contributions during the past week, the word 'challenge' has featured frequently," he said.
"The challenges are very real, and five days of debate, deliberation and deliverances does not make them disappear.
"But our prayers and hope must be that as we emerge from this Assembly, we are better equipped and prepared to deal with them."
Lord Wallace referenced Very Rev Dr Martin Fair's "powerful" retiring Moderator's address in which he said, 'I long for the Church to be about the Kingdom's work but, oh boy, how we need the Church to be refreshed, renewed, revitalised, remade and, yes, reformed that it might do it more effectively.'"
The Moderator said: "My strong sense is that that view was well and truly shared by the Assembly.
"This week, I believe, the Assembly has demonstrated an awareness of the need for flexibility, a 'can do' rather than an 'it's never been done this way before' attitude which must surely augur well.
"We now have in place structures that can allow us to move forward more freely and more imaginatively than before.
"And I get a sense that this has been about the Assembly responding to a grass roots movement in congregations and worshipping communities that has been saying 'we are changeable, so help us to change'.
Magnificent response
Lord Wallace paid tribute to the work of the committees and forums of the Kirk.
He said: "After a year of real challenge and real anxiety, I was particularly moved by the report of the Social Care Council. (CrossReach)
"In the early days, those in social care and health knew they were dealing with a major problem, but it was one still surrounded by uncertainty.
"Contingency planning, sourcing personal protective equipment (PPE), distributing equipment to 52 different geographical sites from Shetland to Ayrshire all posed challenges for CrossReach to which they responded magnificently.
"As (Rev) Thom Riddell said in his convener's video, the team showed courage, compassion and creativity and sought to be there every step of the way for the vulnerable.
"For such a faithful and compassionate response, in the knowledge of risk, we do, indeed, express our admiration and thanks."