Guild rejoices as Annual Gathering joins together in person
Published on 1 September 2021
Following a long period missing the joy of fellowship during the Covid-19 pandemic, the Guild are delighted to be joining together again in person in Edinburgh for this year's Annual Gathering on Saturday 4 September – with a livestream on the Church of Scotland website.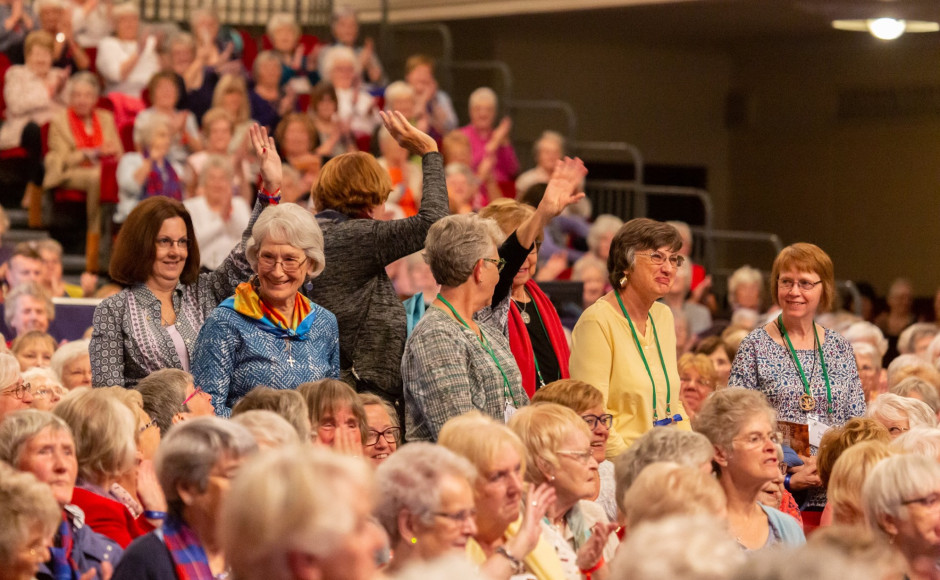 This year's Gathering promises to be another great day celebrating the life and work of the Guild, and will run from 11am-2:30pm with inspirational speeches, hymns and communion.
The keynote speaker will be Lord Jim Wallace, the Moderator of the General Assembly of the Church of Scotland, who will deliver his personal reflections.
Outgoing national convener, Mabel Wallace, will share her experiences of taking on the role during a year where the Covid-19 pandemic has paused many Guild activities.
Meanwhile, the incoming national convener for the 2021-22 period, Margaret Muir, will be introduced onstage to the Guild.
'The Guild is here and thriving!'
Margaret Muir, national convener-elect, is looking forward to an "emotional" day.

"There's great excitement in the Guild as we look forward to holding our Annual Gathering 'live'," Margaret said.
"Last year, we met online and that was really good, as at least it gave us the chance to keep flying the Guild flag and to share some of our fellowship.
"That said, an online Gathering can never replace the joy of a live one. It will be an emotional day in so many ways."
Iain Whyte, the Guild's general secretary, will be taking part for the final time as he bids the Guild farewell before retiring from his post in December this year.

"This year's Annual Gathering will be the launch date for our new three year strategy, 'Look Forward in Faith', and what better title could we have after what we have been through these last months?" Iain said.
"To be able to start the new strategy, meet our new project partners and see a new convener installed in the Assembly Hall will be a high point for us all and a great chance to say, 'the Guild is here and thriving!'"
This year's Annual Gathering programme
During this Saturday's Annual Gathering, which you can watch online, there will be:
A welcome and reflections on her year from outgoing national convener, Mabel Wallace
Holy Communion with Rev Richard Baxter
Hymns and musical interludes
Personal reflections from the Moderator, Lord Jim Wallace
An introduction to the six new 2021-24 project partners
Installation of the new national convener, Margaret Muir
Benediction by Rev Alan Ford
The Guild's Annual Gathering will take place at the Assembly Hall in Edinburgh on Saturday 4 September from 11am until 2:30pm with a short break between 12:45pm-1:15pm.
Any remaining tickets for the in-person event may be available by emailing Karen Gillon, the Guild's associate secretary.
A livestream of the event will be available via the Church of Scotland website or by following this link directly. The livestream will be available from 10:50am.