President of Malawi encourages church members to "take care of His creation"
Published on 5 November 2021
During a meeting with the Moderator of the General Assembly of the Church of Scotland, the President of Malawi encouraged church members to continue to "provide direction" and "take care of His creation."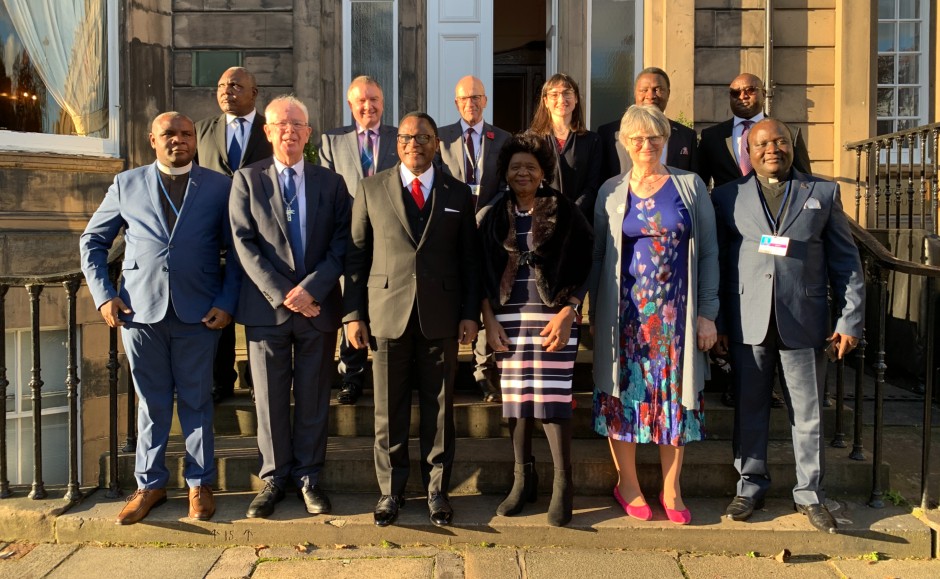 His Excellency Rev Dr Lazarus McCarthy Chakwera has been in Scotland to speak at COP26 about the climate issues affecting Malawi, and was also accompanied by the First Lady, Her Excellency Monica Chakwera.
They were welcomed by Lord Wallace, who is hoping to visit Malawi in January, to the Moderator's residence, where they also met his wife Rosie.
Dr Chakwera said: "I want to encourage the Church of Scotland when we deal with issues to do with climate change.
"What the Moderator has said about the faith aspect is of crucial importance because it is part of God's integral mission for us, His children, to take care of His world for generations to come.
"So I encourage the Church to continue to provide the direction, and the perspective from God's point of view, as to why, even right from Genesis, He wanted humanity to take care of His creation."
Strong ties
Scottish missionaries decided to work in Malawi in honour of David Livingstone the explorer and missionary, and there have been strong ties between the two countries since.
Two missions were founded in the 1870s in the country: the Free Church in Livingstonia, and the Church of Scotland in Blantyre.
As late as the 1950s, there were 67 Scottish missionary families in Malawi running a large network of schools and hospital.
The Church of Scotland today has three partnership with synods of the Church of Central Africa Presbyterian (CCAP) in Malawi, and has three Mission Partners working to support these synods as well as supporting theological education and HIV projects.
A great privilege
Lord Wallace said: "It was a great privilege to welcome the President of Malawi, His Excellency Rev Dr Lazarus McCarthy Chakwera, and the First Lady, Her Excellency Monica Chakwera, to Rothesay Terrace for what was a very engaging meeting.
"It was an opportunity to celebrate the strong links there are between Scotland and Malawi, and between the Church of Scotland and Malawi.
"It was also an opportunity for me to reiterate the commitment that the Church has to the many relationships that we have in Malawi and I very much look forward to seeing them myself when I hope to visit in January."