Rejoice as two new ministers ordained and inducted into parishes
Published on 29 October 2021
Two new ministers, Rev Drew Gebbie and Rev Katherine Taylor, have been ordained and inducted into the Church of Scotland as Ministers of Word and Sacrament this week.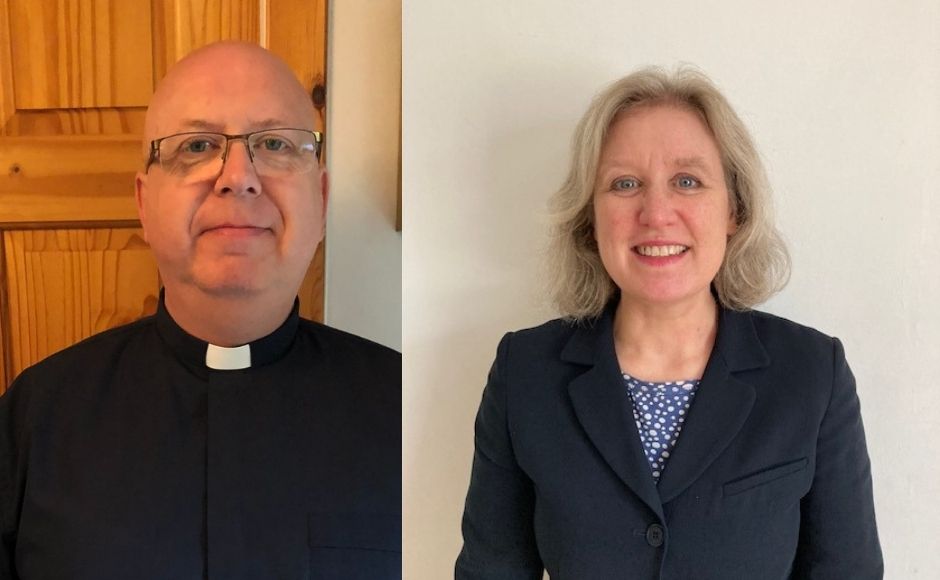 After their separate ordinations and inductions last night (28 October), Katherine will now take up her charge at Tranent Parish Church, with Drew at Hamilton South and Quarter Parish Churches.
'He led me to unexpected places and to life-giving people'
Rev Katherine Taylor, who enjoys playing clarinet and piano, is originally from Scone near Perth and studied music for a year in Glasgow before switching her course to study law in Edinburgh. After working in Edinburgh as an employment lawyer, she then gave up work to look after her three children who are now 23, 20 and 17.
"I was baptised and brought up in the Church of Scotland, going to Sunday School and Bible Class, but stopped when I left home at 18," Katherine, 55, said.
"The birth of my eldest son led me to faith and a simple but life-changing invitation delivered through my front door from my local parish church, Duddingston Kirk, drew me back to Church again.
"There, I found a home, a purpose in life and, after a number of years spent working with children and as an elder, a call to ministry."
After completing her training as an Ordained Local Minister, Katherine then transferred to train for Ministry of Word and Sacrament.
During her probation, Katherine was based at Canongate Kirk until November 2019. She then worked as a locum minister at North Leith Parish Church from February 2020 until September this year.
"The biggest lesson I learned during probation was not to try and control things but to listen, to pay attention to other people, and to be open to God's guidance. He led me to unexpected places and to life-giving people," Katherine said.
Now, she looks forward to moving to Tranent with her husband Kenneth and ministering in the parish: "For me, ministry is about relationships, and I am looking forward to getting to know people and to sharing all that life brings with them."
To all those who are feeling a calling to ministry, Katherine adds: "Trust that sense of calling, trust yourself and trust that God wants to bless you and others in His service. Have the courage to take a step into the unknown."
'Trust in the Lord with all your heart and lean not on your own understanding'
Rev Drew Gebbie, 55, was "completely unchurched" until he suddenly felt "a pull to go to Church" when he was in his late twenties.
Born and raised in Hamilton, he has spent most of his life there and is looking forward to "being able to journey with the congregations through everything that life will no doubt throw at us all".
A few years after marrying his wife, Anne, he began attending Trinity Church in Hamilton, and became involved in helping with children and young people in the church until his minister, Rev Karen Harbison, suggested he attend a Vocational Conference.
"I put it off for quite a while, but eventually I gave it a go, really just to discount ministry, and came back from the conference feeling even more called to ministry instead," Drew said.
"I successfully applied to become a deacon and began my studies online at the University of Aberdeen.
"Before I had completed my studies, I had realised that my calling had — I'm not going to say 'changed', as I feel my calling from God has always been to some form of ministry — but I'll say it developed enough in me to know my calling was for full-time Word and Sacrament."
After completing an extra year of studies, Drew was then accepted to transfer and completed his probation at Motherwell North linked with Craigneuk Belhaven in North Lanarkshire.
"I completed my probation under the guidance of the Rev Derek Pope, who has been an enormous influence in my ministry.
"I think probably the biggest lesson I learned was to expect the unexpected! One week into probation, the whole country went into lockdown. Learning to help both churches cope with this was probably my biggest challenge, but together we got through it, and along the way I was able, in a small way, to help the churches cope with the new technologies needed."
Outside of the ministry, Drew loves football ("I'm a huge fan of the team who play in blue in Glasgow"), and is also a big fan of Australian Rules football.
"I went to see Fremantle Football Club play whilst visiting family in Perth, Australia, in 2000 and I've been hooked ever since. I am an overseas season ticket holder and watch all of their games live… or on catch up if it's a Sunday morning!"
Drew also enjoys loud rock music, and gardening – "something I leaned on during lockdown as a space to be with God".
"To anyone who feels they have a calling to the Church of Scotland ministries, I'd say: have a look," he said.
"It takes nothing to investigate the feelings you have other than a wee bit of your time, but the rewards can be enormous.
"No matter what age you are, God calls us when God knows we're ready, even if we don't know or even feel ready…
"'Trust in the Lord with all your heart and lean not on your own understanding.' (Proverbs 3:5)"
Follow your calling
The Church of Scotland is actively looking for the next generation of ministers. We seek women and men of all ages who feel called to serve the Church and are considering entering our comprehensive ministry programme.
If you are feeling a call to ministry, you can explore our Vocations pages and get in touch with us at ministry@churchofscotland.org.uk
You can also read our monthly 'Talking Ministry' stories from those who have responded to the call to one of our four recognised ministries: full-time Minister of Word and Sacrament, Ordained Local Ministry (OLM), the Diaconate and Readership.