September 2021: Ministry and me?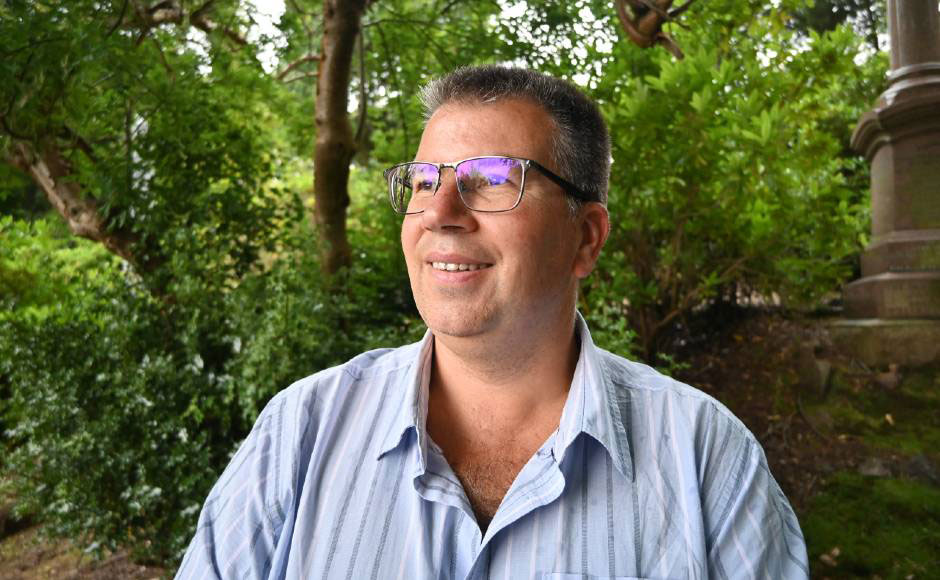 Each month throughout 2021, the Church of Scotland's 'Talking Ministry' series will share a personal story from those serving in Christian ministry, along with resources filled with questions, prayers and reflections to help encourage reflection on how God might be calling you at this time.
For September, Reader Tim Xenophontos-Hellen talks about ministry of the word and the conduct of public worship and we explore the theme: Ministry and me?
My ministry: Reader Tim Xenophontos-Hellen
Tim Xenophontos-Hellen has been attached to Dundee: Meadowside St Paul's linked with Dundee: St Andrew's since 2016 and was previously at Downfield Mains for 10 years. Before that, he was connected to Lochee Old and St Luke's for 10 years.
He is a reader whose duties are principally concerned with the ministry of the word and the conduct of public worship.
Readers can be attached to the ministry team of a parish and they can also be attached to a group of linked parishes, preaching regularly in one or more congregations, and sharing in pastoral work associated with worship.
Tim, 50, lives in the Menzieshill area of Dundee with his wife Stella and also provides pulpit supply.
He has worked for BT for 24 years and his current role is within the Business Continuity and Crisis Management team.
September Discernment Resources: Ministry and me?
When we start feeling a pull towards ministry, our call can sometimes seem as if it were a call to a busier form of life for God. We didn't do much in the Church before, and now we're being challenged to do a lot more. Or so it seems. But is it as simple as this? Consider the story of Mary and Martha:
Now as they went on their way, he [Jesus] entered a certain village, where a woman named Martha welcomed him into her home. She had a sister named Mary, who sat at the Lord's feet and listened to what he was saying. But Martha was distracted by her many tasks; so she came to him and asked, 'Lord, do you not care that my sister has left me to do all the work by myself? Tell her then to help me.' But the Lord answered her, 'Martha, Martha, you are worried and distracted by many things; there is need of only one thing. Mary has chosen the better part, which will not be taken away from her.'

Luke 10:38-42
This is a complex passage, which draws out some of the contrasts and paradoxes of ministry. We have the contrast of activity versus apparent inactivity. We see different understandings of what it means to listen to God, one focussed on tasks and another on spending time with Christ. We notice the contrast between a ministry based on practical service and administration and one focussed on teaching and prayer. We see that, though Martha opened her door to Jesus, we can open the door to Christ in one way while closing it in another.
Mary and Martha also remind us, however, that whether we seek to serve God with busyness or with deepening intimacy, God loves us the same. For while they served God differently, because they kept faith with him, he worked wonders for them, and raised their brother Lazarus from the grave.
Questions for Reflection
In my restlessness for something new, am I being called to do less or to do more?
Is ministry mainly about doing, or being who God wants me to be?
Am I being called to teach, or serve, or both?
Do I need to deepen my relationship with Christ before being ready to serve him?
What does it mean to lead?
Prayer
Lord Jesus, we do not understand ourselves. We rush to activity when we should rest, and slumber, when you would command our attention. Help us not to lean on our understanding, or on the opinions of those around us, but to lean into you, and there find our purpose, our identity, and our place. In your strong name we pray. Amen.
Each one of us has some kind of vocation. We are all called by God to share in His life and in His Kingdom. Each one of us is called to a special place in the Kingdom. If we find that place we will be happy. If we do not find it, we can never be completely happy. For each one of us, there is only one thing necessary: to fulfill our own destiny, according to God's will, to be what God wants us to be.

Thomas Merton
More information
If you would like to consider how God might be calling you to serve at this time, you may want to discuss further with your minister or be in touch with your Presbytery to explore local opportunities.
If you are interested in exploring a call to the recognised ministries of the Church, you can find more information on our vocations page and can contact ministry@churchofscotland.org.uk for a Discernment Conversation with one of the Recruitment Team.